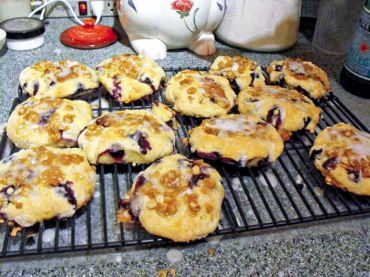 Scones
Ingredients:
2 1/4 cups flour
2 tsp. baking powder
1/2 tsp. salt
1/2 tsp. soda
4 tbsp. sugar
1/2 cup (1 cube) cold butter
1/4 cup buttermilk (Don't have any? Put some lemon juice into milk until it curdles; usually 1/4 cup.)
1 egg
3/4 cup blueberries
Grated zest from lemon (I couldn't find my zester and used a knife; the peels worked nicely; just don't include the white pulp!)
Streusel Topping
Ingredients:
1/4 cup oats
1/4 cup brown sugar
1 tbsp. butter, melted (microwave 10 seconds)
1 tbsp. flour
Lemon Glaze
Ingredients:
1/2 cup freshly squeezed lemon juice
2 cups confectioner's sugar
1 tbsp, butter, melted (put in your mixer)
Instructions:
1. Preheat oven to 400 degrees. Sift the dry ingredients of the scone into a food processor (or just mix in bowl). Cut the cold butter into cubes and put into bowl of food processor with the lemon zest. Pulse the mixture until the batter is the size of peas. (Or just put it all into a bowl and mix with your hands). Pour the mixture into a large bowl, add the blueberries and toss with the flour.
2. Mix together the buttermilk and egg and add to the dry ingredients. Fold mixture together gently, being careful not to break the berries.
3. Press dough into a large circle on a floured surface with flour on your hands and on the top of your scone circle. Cut out dough with a biscuit cutter or a large 3 1/2 to 4-inch glass.
4. Sprinkle streusel on top of scones and place on a cookie sheet covered in parchment paper.
5. Bake scones for 18-20 minutes. Watch closely. They come out just a little "golden."
6. Mix together the glaze, adding as much powdered sugar as it takes to make the consistency you want. Let scones cool a bit before drizzling with the lemon glaze. Serve while warm and fresh. Scones may be re-warmed in 350-degree oven for 5 minutes.