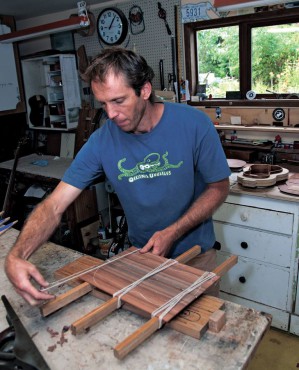 Although Zac Steimle is not a professional musician, he's been intrigued by the dynamics between an instrument and its player. That natural curiosity, along with a deep appreciation for the art of making string instruments, led him on a journey to start his own business — Oceana Ukuleles.
From his workshop in Port Orchard, Steimle has built ukuleles played by amateurs and professionals alike, often in front of audiences of tens of thousands of people.
What makes his ukes unique is his process — he seldom uses power tools, instead relying on simple hand tools such as chisels and hand saws.
"I don't think it slows me down," he says. "In some cases, it's even faster than using power tools."
Steimle learned this old-fashion style of craftsmanship as an apprentice for a third-generation master luthier in Ecuador.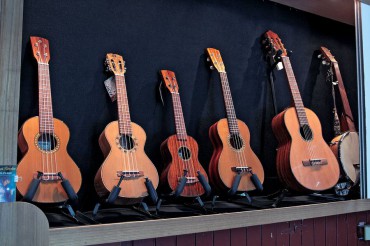 "In South America, they're built by hand because they don't have a lot of power tools. I've kept that tradition because I like working with the hand tools," he says.
By working with his hands close to the wood, Steimle also learned how the qualities of a piece of wood affect the sound of the instrument.
"Wood is like a palette an artist would use — you can have a spectrum, from light to dark," he says. "As a builder, I need to know how to achieve a specific sound."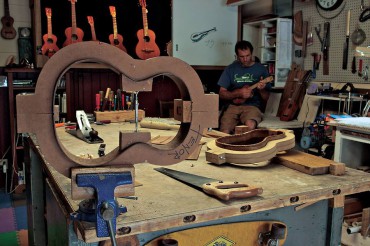 With sound as the most important quality of an Oceana Ukuleles instrument, structure, aesthetics and playability come next. His philosophy about aesthetics is "understated elegance" that gives the stage to the beauty of the wood.
"I believe wood is the most beautiful medium and my goal is to enhance it," he says.
Turning Passion into Business
Steimle was an amateur guitar player when he first lived in Ecuador, in 1995. He walked into a guitar shop with the goal of immersing himself into the Spanish language while making a little money. It's where the luthier bug first bit him.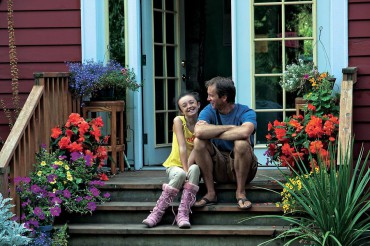 He returned to the country in 2002, bringing along his wife, Melody, and their young daughter. The couple volunteered there for eight years, providing medical and social services programs to underprivileged populations. When he met a master luthier, Steimle embraced the opportunity to become an apprentice for two years and learn an art that has been passed down several generations. The business idea came shortly after.
"It was not a calculated business idea at all," Melody says. "If we had known what it took to make a living at it, we would have looked at it differently." Still, she says she can't see it any other way — trading her husband's happiness for a regular job is not an option.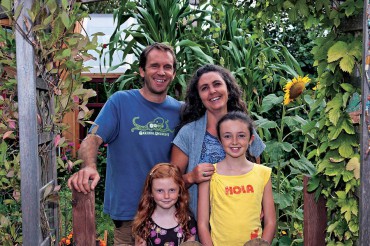 Melody, who works as a nurse, is a musician herself, and even has a recorded CD. Zac credits her with being an integral part of his work, although she's not involved in the business day to day.
"She is like my business coach. Without her, I don't think the business would exist — she's constantly pushing and inspiring me," he says.
Their daughters, Sequoia and Brisa, are also budding musicians and travel with the couple to music festivals and other events.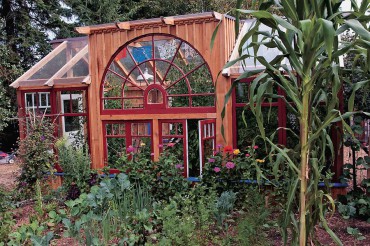 "It's fun to watch the girls living in this environment," says Steimle, who grew up in Southworth in a family of artists, including his grandfather and father.
When the family returned to the United States and started looking for a home, a workshop space was a requirement. Their 1937 Port Orchard home, where they've lived now for nearly two years, not only has such a space but also allows Steimle to spend some time on his hobby, gardening. One of his first projects was to use his carpentry skills to design and build a greenhouse, fulfilling a lifelong dream.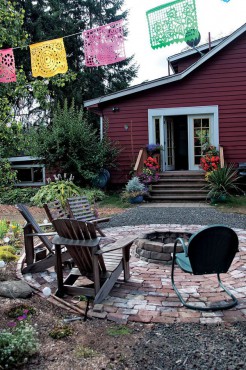 Spending time at home with his family, in fact, has turned out a wonderful side benefit of having his business.
"Being together with family is the best part besides the great pleasure of building an instrument," he says.
The Resurgence of Ukuleles
The ukulele comes from the guitar family but it's smaller (most resemble a miniature guitar) and has only four strings. Steimle says it plays more naturally and comfortably for a human body because of its shape and size. The size also gives it a unique sound.
The instrument originated in Hawaii in the 19th century and has seen several revivals since them. Steimle notes that in 2012, there were more ukuleles sold than guitars.
The latest resurgence started about 10 years ago, according to John Leder, founder and president of the Seattle Ukulele Players Association.
"It's highly popular around the world," says Leder, who's been playing the ukulele all his life and teaching it for about six years. He says one of the things that make it popular with musicians of all ages is the wide repertoire. "You can play any kind of music with it, from classical to rock," he says.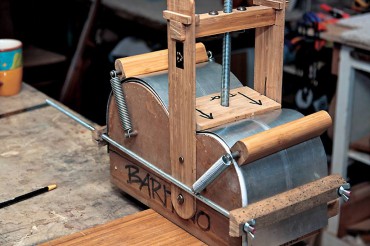 Leder met Steimle through the SUPA, which attracts 40 to 60 musicians to its meetings, focused on fellowship and playing together. "Zac is an honestly nice person and his whole family is involved in what he does," Leder says.
When Steimle offered to build him a uke, Leder was excited. He spent time at the Oceana Ukuleles workshop as part of the design process, working on the details with the luthier. Although he owns several ukuleles, Leder plays the Oceana one daily and uses it in his classes. He feels that the inscription inside the instrument —"made by hand, to be played with your heart"— says it all.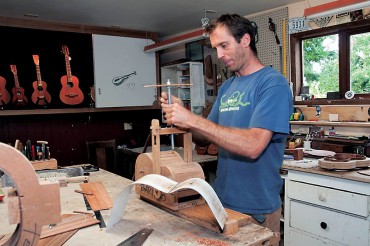 "It touched me a lot," he says.
It's not an unusual reaction to Steimle's work. It's his story that often attracts people to his instruments — but it's the instruments themselves that leave a long-lasting impression.
Grammy-nominated guitarist and vocalist Phil Keaggy was so moved by Steimle's story and quality of instruments that not only did he buy one when he met the couple at a conference, he wrote the family a song as a thanks.
Keaggy, who lives in Nashville and has won multiple Dove awards from the Gospel Music Association, has been performing around the country for nearly 40 years.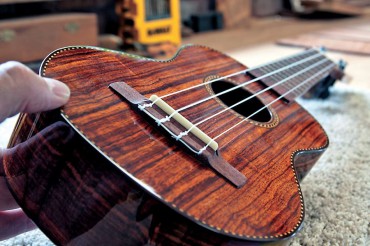 "Having been primarily an acoustic and electric guitarist, I hadn't delved into the world of ukuleles but now, since I own an Oceana ukulele, I'm picking it up often and exploring all the lovely places one can go with this sweet four-string instrument," he says. "These are really wonderful instruments (and) when you play an Oceana, the sound harkens back to sweet and simpler time of music — that's at least how it affects me."
The Sound of Magic
The Oceana ukes are owned by many professional ukulele musicians and many of Steimle's customers call the instruments magic. For Steimle, finding this passion has allowed him to not only develop his natural skills but combine several of his talents.
"My market strategy has been to build the best instrument possible," he says.
The strategy seems to work. And although Steimle has found a building method that has proven to him superior, he is always tweaking things to make them better.
"He found his niche," Melody says. "He's really quite an artist."
This article was first published in the Spring of 2013 print edition of the WestSound Magazine. Any discrepancies, omissions, or inclusions that seem incorrect are purely due to the age of this article. WestSound Magazine deemed this article useful and beneficial as a contribution to today's readership, and therefore is included in this site's online article archives. If you feel the content of this article is detrimental due to its age, please feel free to contact us to request removal or modification.