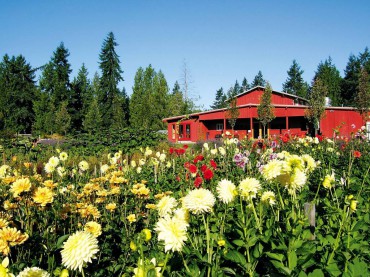 On a typical month, the Farm Kitchen in Poulsbo may host multiple sessions of commercial bread baking, canning or chocolate making; cooking classes on topics ranging from vegetarian meals to sushi; and several elegant weddings or corporate retreats complete with high-tech presentations. Using the same site for such a mixed bag of activities may seem impossible, but Farm Kitchen is a unique place that does it all with aplomb. Never mind the building was once the working barn (and butcher shop) of a farming family — except for the occasional tell-all sign and its story told by the current owners, the structure gives visitors barely a hint about its former life.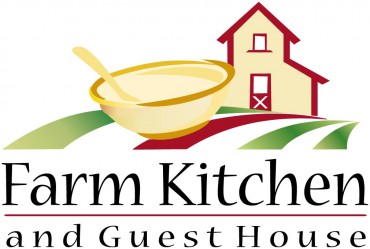 Life at Farm Kitchen revolves around the basic notions of enjoying good food and good company, building communities or creating memories. The business started with the dream of its creator, Hollis Fay, to provide a place where people could relish in the company of good food and each other, but has evolved into a hub that does much more.
"Our goal is to offer people in Kitsap a place to enjoy local food in a nice setting… and give the community a different kind of meeting (and event) space that's not available in other places," said co-owner Anne Thatcher. "We wanted to develop it, in a way, as a destination — it's an unexpected pleasure to arrive at a place in the country that's elegant in a casual way."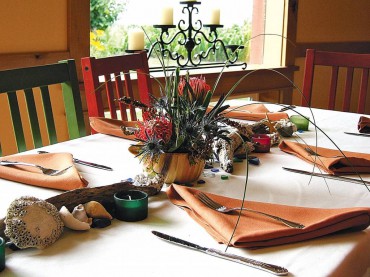 Farm Kitchen is located on an 18-acre farm that includes organic gardens, a guest house, a pasture and several acres of forests. The official greeter, a handsome Australian shepherd/lab mix, has an appropriate name: Rafir, which is a Celtic word for prosperity and abundance. The bucolic property is a picture-perfect farm. Beautifully landscaped, with brilliant flowers, two draft horses peacefully grazing in the pasture, a couple of rustic outbuildings (including a sauna-turned-groom's cabin), four arbors and an orchard, it beckons anyone looking to spend a leisurely day in the country.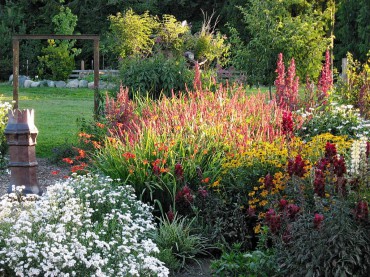 But on most days, the site is far from leisurely. While farmers, who lease the organic gardens originally developed by Fay, are busy working the land, a company may be engaging its employees in a team-building exercise or a presentation (the facility has Wi-Fi, television and projector), and the kitchen may be steaming with activity as bread is baked or jam is canned. And on the weekends, the grounds may look like pages from fairytales, as happy couples tie the knot.
The venue can now accommodate as many as 250 people for outdoor weddings, and smaller groups for indoor ones. It hosts about 30 weddings a year (only one wedding per day), and the weddings have exclusive use of the entire facility.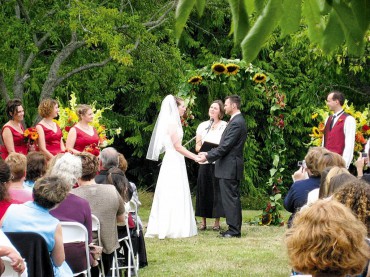 "We want people to feel like this is their special space for the day," Thatcher said about weddings. Fay and Thatcher, who co-own the business, don't just open the doors either. They help connect clients with vendors, spend time finding quality caterers for the preferred list, and continuously interact with clients during the wedding's planning stage. "We develop a good relationship with them during the planning. In many cases we stay friends and they come back for family reunions," Thatcher said. "That's part of the pleasure for us — it's not just (having people) in and out of the door."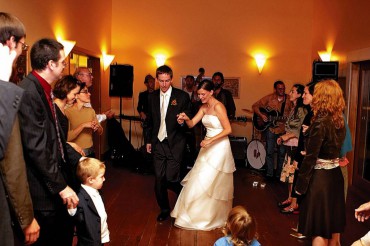 Fay initially bought the property to live in the main house and to turn the barn into a commercial kitchen for wholesale baking. At the time, she had owned Bainbridge Bakers for a decade, and was considering expansion. But that idea morphed into a new one very quickly: Instead, she envisioned the commercial kitchen as a place where bakers, chocolatiers and caterers alike could gather to build their businesses. Within a year, she sold Bainbridge Bakers and dedicated her time to the new space.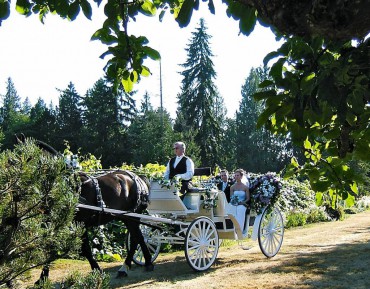 Several local businesses got their start in the Farm Kitchen, as nascent entrepreneurs experimented with their ideas and tested the market. Some have since moved into their own locations. Pasta, barbecue, candy, pickles, breads, salsa, jams — the kitchen has seen them all. Users bring their own ingredients, but regulars can rent storage space at the facility, which includes a room for dry storage, a huge walk-in refrigerator and several freezers. Bakers may spend as many as 15 hours at a time in the kitchen, which is open 24 hours a day. Average users usually only need six to eight hours.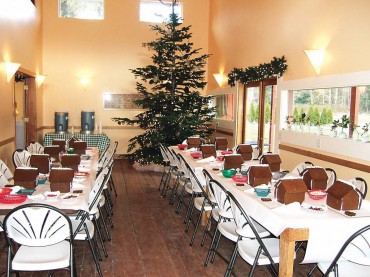 "We focus on being an incubator for small businesses," Fay said. "(Some people) test their business and grow it, and it's a way of doing it without having a lot of overhead."
At first, the fully equipped kitchen was the only area rented. As more customers asked for space rental, Fay and Thatcher decided to expand their mission. Thatcher designed the Garden Room, and the gardens were further developed to provide a scenic view from the large windows.
"People came to us and said, 'We love the flowers, we love the space, we'd love to have a wedding here,'" Thatcher said. So they cleared out more storage, and Thatcher designed the second space, called the Olympic Room. The large windows and glass doors create the feeling of unity between the garden and the indoors.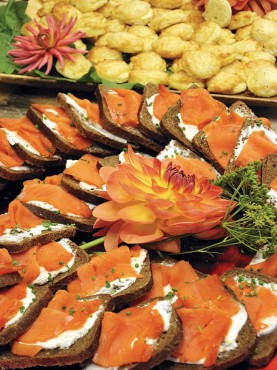 The "expansions" didn't increase the building's physical footprint — they simply cleared out and redesigned existing space.
All the remodels were done with the environment in mind. The Garden Room's wood floor was reclaimed from a barn on the Columbia River; the room's windows are also reclaimed. The trim in the Olympic Room was milled from trees that had been previously cut from the property. The Kitsap Conservation District helped design environmentally friendly roof runoff and drainage so the nearby Port Gamble Creek was protected. Conservation and environmental consciousness have been integrated into the business model.
"One of the things we wanted to do is reuse good materials and extend the life of nature, and help the environment," Thatcher said.
As the popularity of the farm grew for weddings, the business took yet another step, and Fay's home was turned into a guest house so wedding partygoers have a place to stay. The house can sleep 10, and includes a large kitchen with a pantry, three bedrooms and two-and-half bathrooms as well as a patio and a fire pit. During the off-season, the guest house hosts business travelers and such.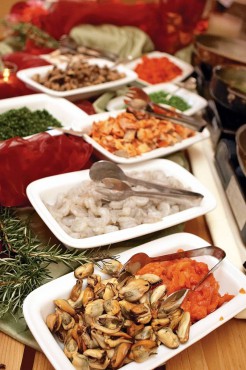 "It was a good decision. People loved it," said Fay, who had since moved to a new home nearby.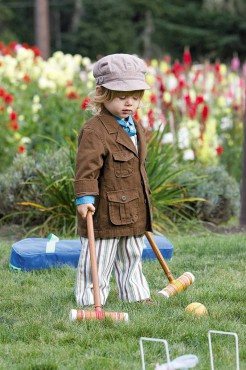 Staying busy to accommodate others is not enough for these two women, who share their love of food, community, and sustainable living. In addition to renting their space, they host their own events, which include classes, private parties, and their famous Saturday "Farm Fresh Breakfast." The classes range from basic cooking, seafood or bread baking to making pies and preparing for the holidays. Some are demonstrations, but most are three-plus hours of hands-on instruction by Fay, resident chef and Four Swallows Pantry master Barbara Jeantrout, or personal chef Petra Veli. The classes focus on sustainable food methods, such as using local and organic produce, wild fish, free-range chicken, and eatable flowers. Recently, an herb garden was added at the farm, so that fresh herbs could be used for the classes.
If the schedule allows, Farm Kitchen hosts private dinners, often featuring chefs such as Greg Atkinson. But for the general public, the treat of good food and good company comes once a month, every first Saturday. About eight years ago, the tradition started with pasties, but for the last five years has turned to full breakfasts. They are a time when Fay's baking talents get to shine.
Fay learned to cook at age 17 while living in a cabin and working on the Alaska pipeline, and started her food preparation career while living in Boston and Seattle. By the time she sold Bainbridge Bakers, it had become a community hub.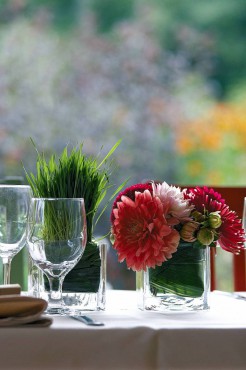 "My recipes and direction, and usually my labor, go into all the pastries (at the breakfast)," Fay said. The menu changes, but always features a main item, and an assortment of mouth-watering pastries such as cinnamon rolls, plum Danish, marionberry kuchen and cinnamon apple twists; the very popular rosemary apple sausage, made from scratch from sausage created right on the farm, is a menu pleaser and offered as an extra every week.
As if there aren't enough reasons to visit Farm Kitchen, during the holiday season, yet another special event comes back every year: making gingerbread houses. About 500 pounds of candy are ordered for the four of five two-hour parties. "For many families, it becomes a real part of their Christmas tradition," Thatcher said.
The 18-acre property has come a long way from those days when Fay bought it, aspiring to turn what she called a "cow palace" from a rundown structure into a community gathering place. Through sweat equity, creativity, and hard work, Farm Kitchen has become a place where memories are made and celebrations shared, and has warmed its way into the heart of the community, fulfilling that ambitious dream.