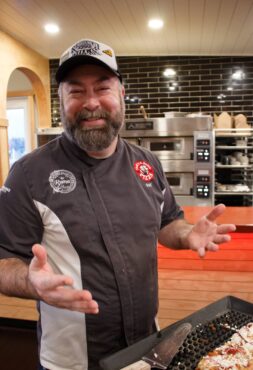 Will Grant, the owner of That's A Some Pizza on Bainbridge Island and Sourdough Willy's Pizzeria in Kingston, traveled to Tulsa recently to join World Pizza Champions in partnership with The University of Tulsa and set a new world record for World's Largest Pizza Party to benefit Make-A-Wish Oklahoma. The group set the record on Saturday, Jan. 21 and had a total of 3,357 participants.
The attempt is a charitable initiative of World Pizza Champions, as many members from around the country and world were in Tulsa to author a cookbook together.
World Pizza Champions team is a U.S.-based nonprofit made up of multinational elite pizza professionals. Through international competition, educational outreach, public demonstrations and community-based service, the team is dedicated to promoting pizza making as a respected craft and viable career choice. Members of the World Pizza Champions are carefully selected among world champion competitors and acclaimed industry leaders. Inclusion on the team is through invitation only and is based on skill, character, compatibility and selfless effort on behalf of the industry.
"This record attempt was logistically a challenge that took dozens if not hundreds of people to pull off," Grant said. "We are so proud of the way multiple entities came together for the sake of raising money for a well-deserving organization and in doing so put some serious funds in their corner and accomplished a huge title of World Record Holder of World's Largest Pizza Party."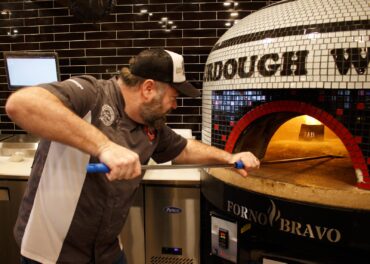 The event raised a total of $42,090 for Make-A-Wish Oklahoma. The nonprofit is confident this will allow innumerable wishes to be granted for kids and their families facing critical illnesses.
The attempt was part of the pregame festivities for the TU men's basketball game against Tulane. The official attempt lasted 15 minutes and a TU-sponsored after party, featuring additional pizza, drinks and a beer garden followed immediately after.
"We are so thankful the World Pizza Champions stepped up to this enormous challenge to put on what was not only an incredibly fun event, but also a largely successful one," said Jane Rohweder, senior director of development for Make-A-Wish Oklahoma. "We currently have hundreds of kids on a waitlist in Oklahoma alone. Events like these help us grant wishes to such deserving individuals and we are so excited to make some calls in the coming weeks to let our wish kids who have waited so patiently know that their wish will be granted with the money raised from this event."