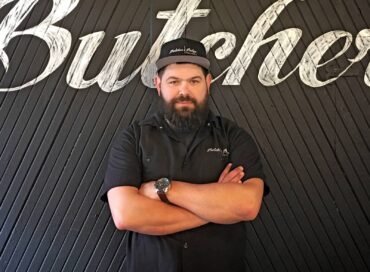 Chef Adam Sawasy and his team offer menu items as well as curated finds in their Provisions Market, located in the historic town of Port Gamble. Butcher & Baker Provisions features a boutique type butchery and bakery and seasonal menu, keeping a few favorite menu staples. Our favorite is the Fried Chicken Sandwich. Almost everything at Butcher & Baker is made or locally sourced from farms and artisans within the community.
What are your favorite restaurants?
Noi Thai in Bend, Oregon; Saigon Deli in Seattle; Philippe the Original in downtown Los Angeles and The Hat in California.
On your nights off, do you stay in? If so, do you cook, does someone else in the family cook or do you go out?
On my nights off, I stay in. I will usually order a pizza or eat charcuterie and cheese. Or, if there is cooking to be done, I do it.
What is your favorite seasonal Pacific Northwest ingredient?
Anything that I get the chance to forage, fish or hunt myself — wild mushrooms, berries, crab, salmon, oysters, clams, venison and wild bird.
When did you know you wanted to be a chef?
I knew from the time I was 14, working as a buss boy at a breakfast and lunch spot.
Who was your biggest influence in the kitchen?
Sean Knight, who was the chef at the first restaurant where I worked after culinary school in St. Helena, California.
Wine, beer or spirits?
Beer (IPA) or spirits (Old Fashioned).
What is the most exciting thing to happen in the world of food in the past 10 years?
Benchmade started making culinary knives.
Which cooking shows do you watch?
Recently, Chefs vs. Wild.
What's your favorite go-to dish that you cook when you're in a hurry?
Spam Kim Chi Ramen.
Favorite breakfast place on the Kitsap Peninsula?
Brass Kracken (amazing bloody marys).
Favorite dessert that you make or serve?
Blueberry Maple Bread Pudding.
What's the hands-down best thing you have eaten in the last month?
Thanksgiving with my parents.