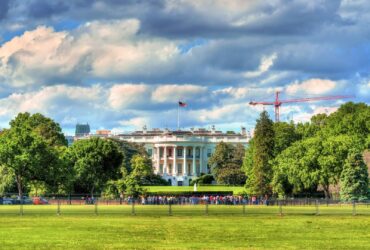 Americans vote on Nov. 3 for the president of the United States — the 59th presidential election since George Washington was elected in 1788.
Celebrate this quadrennial occasion by hosting a dinner party fit for a president, featuring food, libations and pastimes enjoyed by our chief executives. Besides getting to know our presidents on a deeper level, a host can build more bridges across the aisle in one evening than a member of Congress does in his or her first term.
Imagine the Possibilities…
Show guests of disparate political views just how much they have in common: Serve lobster and advise them they're enjoying a favorite of 27th President William Howard Taft (Republican) and 36th President Lyndon B. Johnson (Democrat).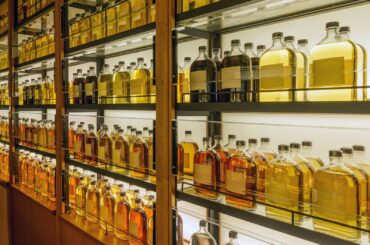 Show off some history smarts. Say a guest compliments the roast sirloin garnished with watercress and straw potatoes. Respond with, "This dish — roast sirloin vert-pre' — was served to guests of President Kennedy and the first lady at the White House on May 22, 1962." Then wow them with dessert of chocolate mousse or crème brulée, two Jacqueline Kennedy favorites.
Dole out some pork — as in roast leg or stuffed shoulder of pork, favorites of seventh President Andrew Jackson and 15th President James Buchanan, both Democrats.
And show guests just how much our nation's chief executives have in common with their constituents. Presidents are human, after all, and are much like We the People. Our 40th president, Ronald Reagan (Republican), enjoyed noshing on Jelly Belly jelly beans; have those available as a predinner snack. After dinner, serve vanilla ice cream, a favorite of third President Thomas Jefferson (Democratic-Republican) and 30th President Calvin Coolidge (Republican).
If the primary or general elections don't go the way your circle had hoped, serve some presidential comfort food. Pancakes, bacon and eggs, and fried potatoes were favorites of 25th President William McKinley (Republican). Meat loaf and tuna-and-noodle casserole were favorites of 33rd President Harry Truman (Democrat).
In this article, there are some recipes for food and fun to help hosts give their guests the presidential treatment — from pre-dinner to the evening's end. Enjoy!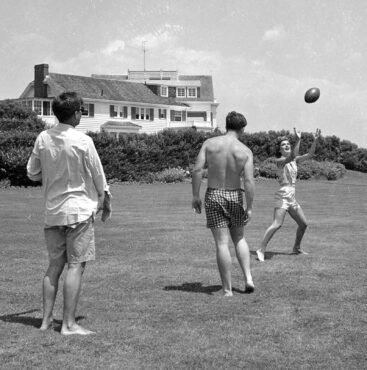 Break the Ice…
If serving a porter to guests, make a toast to our nation's first and second presidents; porter was Founding Fathers George Washington and John Adams' favorite brew, according to journalist Mark Will-Weber's book, "Mint Juleps with Teddy Roosevelt: The Complete History of Presidential Drinking."
Serving Champagne? Raise a glass to Champagne connoisseurs James Madison and James Monroe (Democratic-Republican); John Tyler (Whig); James Polk (Democrat); and Ulysses S. Grant, William Howard Taft and Richard M. Nixon (Republican). Your favorite Champagne will suffice, but if you've won the lottery, you might invest in a bottle of Château Lafite Rothschild, preferred by Nixon.
Here are some concoctions — reprinted with Will-Weber's permission — that will help get the party started.
---
McKinley's Delight
(Developed during Republican William McKinley's 1896 campaign)
3 oz. rye whiskey (at least 100 proof)
1 oz. sweet vermouth
2 dashes cherry brandy
1 dash absinthe
Shake it up, pour over ice. Serve in a double old-fashioned glass.
---
Mint Juleps
(A favorite of Republican Theodore Roosevelt)
10 to 12 fresh mint leaves "muddled" with a splash of water and a sugar cube
2 or 3 oz. rye whiskey
1/4 oz. brandy
Sprig or two of fresh mint as a garnish
---
The Coolidge Cooler
(Developed by Vermont Spirits Distilling Co. for Republican Calvin Coolidge's birthday)
1.5 oz. white vodka
1/2 oz. American whiskey
2 oz. orange juice
Club soda
---
Bermuda Rum Swizzle
(Favorite of Democrat Franklin D. Roosevelt)
2 oz. dark rum
1 oz. lime juice
1 oz. orange juice
1 generous dash Falernum (or other sweet syrup containing flavors of ginger, lime, almond, cloves or allspice)
---
Orange Blossom Special
(Favorite of Republican Ronald Reagan)
1 oz. vodka
1 oz. either grenadine or sweet vermouth
2 oz. fresh orange juice
Mix them up together in a barroom glass filled with ice.
---
Before-Dinner Entertainment…
This presidential trivia game will bring guests together for some bipartisan fun. It's based on Washington -—the Evergreen State, that is. (Answers appear at the end of this article.)
For prizes, consider Caswell Massey's Cologne Number Six (a favorite cologne of President Washington); Caswell Massey's Jockey Club (a favorite of President Kennedy) or Caswell Massey's Almond Cold Cream soap (a favorite of President Eisenhower).
Question 1: This president never visited Washington, but he signed the bill establishing Washington Territory.
Question 2: The first president to visit Washington state while in office was: a) Ulysses S. Grant; b) Rutherford B. Hayes; c) Benjamin Harrison.
Question 3: What year did President Theodore Roosevelt stop in Chehalis and give a speech from the stump of a Douglas fir tree?
Question 4: President Warren G. Harding gave the last public address of his life on July 27, 1923, at this sports stadium.
Question 5: President Franklin D. Roosevelt's visit to Lake Quinault on Oct. 1, 1937, influenced his decision to sign legislation creating this national park.
Question 6: He is the only president to visit Washington state three times while in office.
Question 7: A supporter reportedly yelled this from the crowd on June 10, 1948, as President Harry S. Truman spoke in downtown Bremerton.
Question 8: This future president lived in Seattle's Capitol Hill neighborhood as a baby.
Question 9: This president's grandfather's fortune began with a restaurant at 208 Washington St. in Seattle's Pioneer Square.
Question 10: How many U.S. presidents have visited Washington state while in office?
Moving on to Dinner…
Featured here are six main courses that were presidential favorites in more than one administration. Ingredients for these dishes would be easy to find in this area. The recipes — collected from archivists, curators and descendants and relatives of the presidents — are in collections of the Library of Congress and the Smithsonian Institution.
(Sources: "The First Ladies Cook Book" by Margaret Brown Klapthor, Smithsonian Institution; and Helen Duprey Bullock, National Trust for Historical Preservation)
---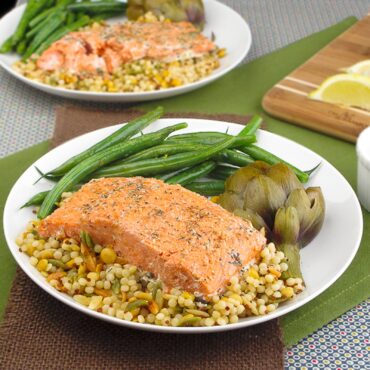 Baked Salmon
(Second President John Adams, Federalist; and 21st President Chester Arthur, Republican. The following is the recipe from Arthur's presidency.)
Ingredients:
1 salmon, split
1 teaspoon salt
1/4 teaspoon pepper
3 cups of bread, cubed
Butter, for basting
Instructions:
Wash and dry the fish. Sprinkle the inside with salt and pepper. Stuff with 3 cups seasoned cubed bread. Have ready a small grating in a baking pan; lay the fish on this, with bits of butter over it. Set in hot oven (450 degrees) for 10 minutes, then reduce heat to 425 degrees and bake 30 to 35 minutes longer, until tender.
Baste frequently and generously with butter. When the fish is nicely browned, butter a sheet of white paper and lay it over the fish, to prevent it getting too dry. Place it on a hot dish.
Gravy
Ingredients:
1 teaspoon milk
1 teaspoon vinegar
Pepper and salt
1 Irish potato, boiled and mashed
Garnish:
Cracker crumbs, browned in butter
Parsley
Lemon
Instructions:
Using the gravy in the pan, add 1 teaspoon milk, 1 teaspoon vinegar, pepper and salt, and a mashed Irish potato smoothly mixed in. Boil up one or twice and serve with the fish. Over all, sift browned cracker crumbs. Garnish with sprigs of parsley and thin slices of lemon.
---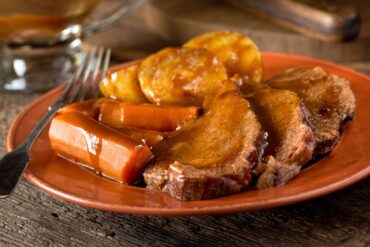 Beef A La Mode
(Third President Thomas Jefferson, Democratic-Republican; and 14th President Franklin Pierce, Democrat. The following is the recipe from Pierce's presidency.)
Ingredients:
3 to 4 pounds of round of beef
Pepper and salt to taste
Flour for gravy
Watercress, for garnish
Cloves, allspice (optional)
Dressing
Butter
Onion, chopped fine
Bread crumbs
Pepper and salt to taste
Pint of cold water
Instructions:
A round of beef is best for this purpose. With a sharp knife, cut incisions in the meat about 1 inch apart, and within 1 inch of the opposite side. Season it with pepper and salt, according to the size of the piece of meat.
Make a dressing of butter, onion and bread crumbs in the proportion of 1 pint of crumbs, 1 small onion finely chopped, and 1 ounce of butter with pepper and salt to taste. Fill the incisions with the dressing, put the meat in a pot, with about 1 pint of cold water, and cover it tightly. Let it simmer 4 hours or more until meat is tender.
Some stick in a few cloves, and those who are fond of spice add allspice. When the meat is done, dish it up, and thicken the gravy with a little flour. Let it boil once and serve it in a gravy boat. Garnish the meat with watercress. A few slices may be carved in the kitchen, before the meat comes to the table.
---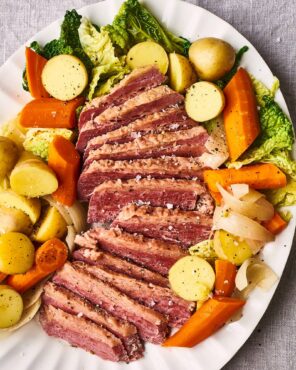 Corned Beef
(19th President Rutherford B. Hayes, Republican; and 31st President Herbert Hoover, Republican. The following is the recipe from Hayes' presidency.)
Ingredients:
5 to 6 pounds corned beef
Cold water
6 medium carrots or parsnips
1 pound small white onions
Large cabbage, cut into quarters
1 or 2 small red peppers
Little pieces of butter
Little pickles, for garnish
Instructions:
Put the corned beef into the pot with enough cold water to cover it. When it comes to a boil, turn down the heat so that it will continue to boil moderately. Too fast boiling renders meat tough, but the water should never be allowed to stop boiling until the meat is done. Skim often. Let it boil at least 4 to 5 hours, depending on the size and quality of the meat. It must be thoroughly done.
In England, where this dish is an especial favorite, carrots are always boiled and served with the corned beef. The carrot flavor improves the meat and the meat improves the carrots. However, do not put carrots or parsnips into the pot until there is only time for them to become thoroughly cooked (about 3/4 of an hour) before serving. Put in the onions so that they, too, will be thoroughly cooked only just before serving.
In America, cabbage is often boiled with the corned beef. If cabbage is used, add at the same time 1 or 2 little red peppers. When about to serve, press out all the water from the cabbage, adding little dabs of butter. Serve the meat placed in the center of the vegetables. Pickles may be used as a garnish, with or without vegetables.
---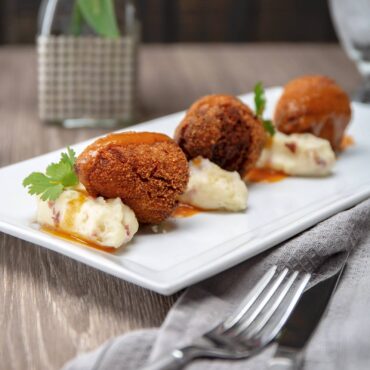 Chicken Croquettes
(Sixth President John Quincy Adams, Democratic-Republican; and 27th President William Howard Taft, Republican. The following is the recipe from Adams' presidency.)
Ingredients:
2 to 3 cups of cooked chicken, cold
3 to 4 slices of ham, cold
2 cups grated stale bread or bread crumbs
Salt and pepper
Grated nutmeg
1 teaspoon mustard
1 teaspoon ketchup
1/8 pound of butter
1 egg yolk, beaten
Drippings, for frying
Parsley sprigs for garnishing
Radish roses for garnishing
Instructions:
Take cold fowl with slices of ham, fat and lean, and chop them together very fine. Add half as much stale bread, grated or bread crumbs, salt, pepper, grated nutmeg, mustard, ketchup and butter. Knead all together well till it resembles sausage meat.
Make the mixture into cakes of the desired size, dip them in the yolk of an egg, beaten, cover them thickly with the rest of the grated bread or bread crumbs and fry them in drippings untill they are light brown. Serve hot, garnished with sprigs of parsley and radish roses.
---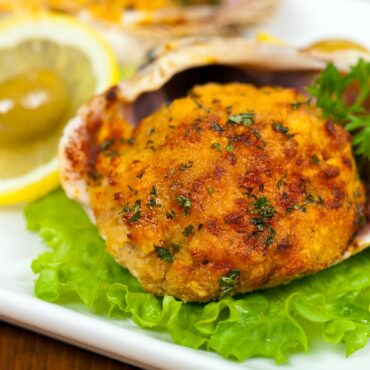 Crabmeat on Shells
(12th President Zachary Taylor, Whig; and 14th President Franklin Pierce, Democrat. The following is the recipe from Taylor's presidency, with dressings from Pierce's.)
Ingredients:
1 pound crab meat, well picked
1/4 pound butter, melted
12 salted crackers, crushed
1 tablespoon mayonnaise, beaten with 1 whole egg
1/4 teaspoon dry mustard
1 teaspoon fresh minced parsley
1 teaspoon Worcestershire sauce
3 tablespoons dry sherry
Salt and pepper to taste
Lemon wedges
Instructions:
Clean and butter 6 to 8 large crab backs. Over the cracker crumbs, pour the melted butter, reserving some crumbs for sprinkling over the top of the crabs. Add mayonnaise that has been beaten with whole egg, the seasonings and the sherry. Mix in crab meat lightly with fork to prevent breaking the pieces.
Fill the shells generously with the mixture, but do not pack down. Sprinkle with the remaining crumbs and bake in medium oven (350 degrees) for about 30 minutes. Serve at once with sprigs of parsley. Lemon wedges may be served separately.
Crabs can be dressed at the table with mustard, hard-boiled eggs cut in half, cayenne pepper, salt, oil and vinegar.
---
Fish Chowder
(Sixth President John Quincy Adams, Democratic-Republican; and 23rd President Benjamin Harrison, Republican. The following is the recipe from Harrison's presidency.)
Ingredients:
1 medium-sized shad or whitefish
2 cups finely diced potatoes
1/4 pound bacon or salt pork
1 medium-sized onion, minced fine
1 No. 2 can tomatoes
1 teaspoon salt
1/8 teaspoon pepper
1 pint milk
Cracker crumbs
Instructions:
Cut into small pieces the fish, the potatoes, the onion and the bacon or salt pork. Fry the bacon and the onions to a light brown. Put a layer of potatoes in the saucepan, add over that a layer of the fish, then a sprinkling of onions and bacon, then a layer of tomatoes. Sprinkle with pepper and salt, alternating the layers, until it is all in. Add enough water to cover, place over a low fire and let simmer for 25 minutes.
Boil 1 pint of milk, thickening it with cracker crumbs; let it stand a moment, and then add to the chowder.
Now stir for the first time, let boil an instant, season to taste. Serve hot.
---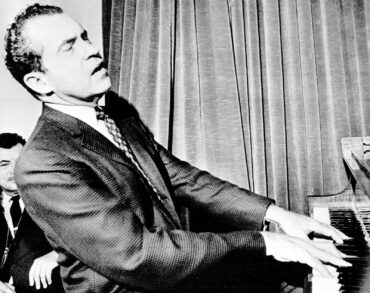 After-Dinner Entertainment
Thomas Jefferson's guests might sit down after dinner to a reading of Plato's "Republic" — not a common dinner-party activity in 2020. Modern-day guests will likely find these outdoor activities more appealing.
Chip, putt and drive: Get the golf clubs out and, depending on your property, let guests show off their putts, chips and drives. Several presidents have been avid golfers, but 27th President William Howard Taft (Republican) was the first to openly admit his love of the links.
Gather 'round the grand: Join guests around the piano and sing some favorite songs. Both 33rd President Harry S. Truman (Democrat) and 37th President Richard M. Nixon (Republican) were skilled pianists; Nixon even composed a concerto that he performed on a TV talk show.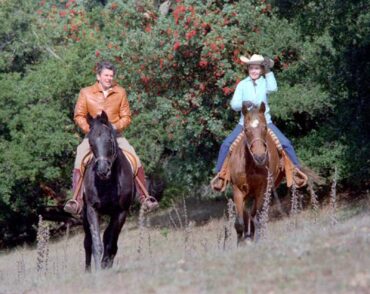 Toss a football: Several presidents have been football fans. When home on Cape Cod, 35th President John F. Kennedy (Democrat) and his siblings could often be found tossing a football on the family lawn. The 38th president, Gerald R. Ford (Republican), played center for University of Michigan and was offered contracts by the Detroit Lions and the Green Bay Packers.
Cast a line: What better way to relax after dinner than to cast a line in either salt water or pond? Fishing was a favored pastime of 39th President Jimmy Carter (Democrat). Promote bipartisanship and serve some of TR's mint juleps or some Coolidge Coolers.
Saddle up: Do you or a guest own horses? Saddle up for a postdinner ride and imagine you're galloping with the Gipper. The 40th president, Ronald Reagan (Republican), was an avid horseman.
Shoot some hoops: Some backyard basketball is a good way to build interparty camaraderie and burn off some calories. Basketball was a favorite pastime of 44th President Barack Obama.
Wrapping It Up
Celebrate our democracy, respect the political views of others, promote bipartisanship and friendship. And vote.
Trivia Answers: 1) Millard Fillmore (1853) 2) Rutherford B. Hayes (1880) 3) 1903 4) University of Washington Husky Stadium 5) Olympic National Park 6) Franklin D. Roosevelt (1934, 1937, 1942) 7) "Give 'em hell, Harry!" 8) Barack Obama (his mother was attending University of Washington) 9) Donald Trump 10) 15, according to HistoryLink.org: Rutherford B. Hayes (1880), Benjamin Harrison (1891), Theodore Roosevelt (1903), William Howard Taft (1909), Woodrow Wilson (1919), Warren G. Harding (1923), Franklin D. Roosevelt (1934, 1937, 1942), Harry S. Truman (1948, 1950), Dwight D. Eisenhower (1954), John F. Kennedy (1961, 1963), Richard M. Nixon (1974), Ronald Reagan (1986), Bill Clinton (1993), George W. Bush (2007), Barack Obama (2016)