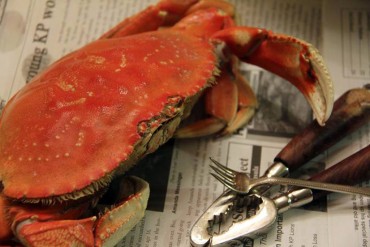 The Key Peninsula Civic Center invites everyone to its annual fundraiser Crab Feed on Saturday, March 12, 4-7p.m. In addition to the very fresh Pacific Coast Dungeness crab, the dinner will include spaghetti, salad, garlic bread and coffee and tea. Soda, beer and wine for will be available for an additional cost.
All proceeds benefit the Key Peninsula Civic Center, a nonprofit organization promoting the welfare of the Key Peninsula, its citizens and the surrounding area. The organization strives to instill civic consciousness through active participation in constructive projects that will improve the community.
Tickets are $30 for adults and $15 for children six to 12 years; children under 6 are free. As with past years, attendees are requested to bring their own seafood crackers and picks for crab cracking.
Tickets may be purchased at The Blend Wine Shop, Sunnycrest Nursery & Floral, Key Peninsula Civic Center and online at www.2016crabfeed.bpt.me. Tickets will be sold at the door, depending on availability.
For more information – contact the Key Peninsula Civic Center at kpcivicenter [at] centurytel [dot] net or call 253-884-3456.
Located in Vaughn, the Key Peninsula Civic Center is dedicated to promoting the welfare of the Key Peninsula. Since 1956, the KPCCA has worked to foster, protect and promote charitable, literary, youth, educational, civic, social, and other activities for the Key Peninsula.
Tenants and nonprofit groups enjoy discounted rates to help meet their needs for serving the local community. Individuals also find the civic center an affordable option for weddings, anniversaries, birthday parties, skate parties and other events.
Organizations that call the Civic Center home include Boy Scout Troop 220, Fresh Food Revolution Local Food Co-op, Key Peninsula Baptist Church, Key Peninsula Family Resource Center, Key Peninsula Historical Society, Key Peninsula Senior Society, Key Peninsula WIC and Two Waters Arts Alliance. The center also hosts events and programs such as a kids' indoor park, Little Buddies, Skate Night and classes.