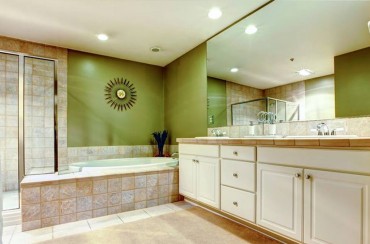 You have seen ads for companies that specialize in a brand new bathroom — in "just one day!" It sounds like a dream come true. Have you ever wondered if it can really be done?
Well yes, it can. However, there are a lot of limitations. The companies that specialize in this can do a great job, but you have to be flexible in the types of materials used.
Because all the work happens in one day, there are certain finishes that just can't be installed and completed. Ceramic tile, for example, once cut and installed, needs time for the mortar to cure and harden prior to grouting. Granite countertops are most often templated after the vanity is installed, though there are some ways around that if you are willing to use a thicker granite splash to cover any gaps.
These specialty bath-in-a-day companies use acrylic shower bases and walls, and some designs may have an embossed "tile" look since tile cannot be done in a day. For flooring, your choices are typically vinyl or other materials that can be installed quickly, with no follow-up.
One-day remodels also limit you to replacing "like with like," not allowing for moving any locations. While this is fine for freshening up an older space, it will do little to change floor plans or create better flow.
While you can get a new bathroom in a day, there are concessions. If specific materials and more detail in your finishes are important to you, then more conventional remodeling options may be your better bet.