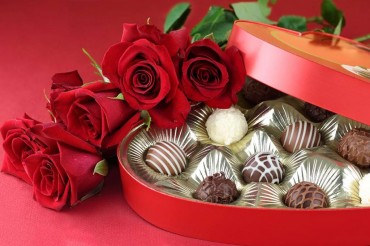 There's a sweet scent rolling across the fields. Can you sense it? Do you feel it? That's the aroma of new love in the air.
It's a glorious feeling, isn't it? There are secrets untold, mysteries yet to be discovered and new avenues to pursue. Finding a new love is like finding a new favorite movie — you're breathless and exhilarated and want to hang out with it again and again (preferably with food) until you've memorized every word.
But you must tread lightly. Love is vulnerable but new love is particularly fragile. One wrong move can send your beautiful new partner running for the hills. Or you could be the one who turns away, even before you get to explore all that unchartered territory.
Here are a few tips on how to navigate new love.
Don't be afraid of baggage. Unless you're still young, naïve and blissful, you have baggage. Chances are good that your new romantic interest does, too. When all that luggage starts weighing down our heartstrings, we have an urge to take off.
But no so fast, Cinderella. Weigh that baggage before you let it scare you away. If the sparks are flying and everything feels right, don't abandon the fireworks just because there are ex-spouses, or children, or debt. Keep it in mind, sure — but also keep it in perspective.
Unpack lightly. Now that we've handled the baggage on the other side of the romantic dinner table, it's time to assess what you're dragging behind you. You probably have a history. You may have children, an ex (or exes) or a bankruptcy that you prefer to keep under wraps.
Deception is never a good idea but it's also not a good idea to unload all your woes before you've even swapped middle names. Don't start complaining about your previous relationships before the second course of your first date unless you're not interested in a second.
Leave your bitterness at the door. If you're experiencing a new love, then you've probably experienced an old one. And maybe it didn't end so well. Don't judge your current relationship on your old one. New person, new relationship. It's simple as that.
Note those red flags. When we're entrenched in an exciting budding romance, there's a tendency to ignore the little dangerous clues that crop up. That subdued jealous streak that makes an appearance on date three may not be so attractive when you're one year into the relationship.
Don't ignore red flags of bad behavior, because they rarely stop flying; they usually just gain more wind in their sails.
Keep yourself open. New relationships can leave us gun-shy, especially if we've been down the same road before. But when you build a wall around yourself to keep out the bad stuff, you also keep out the good stuff.
Allow yourself to be vulnerable. Understand that you may get hurt but accept that it's OK. Life is about new adventures. Sometimes they don't go the way we planned; other times, it's a whirlwind romance that ends just where it should. You never know which way it'll go — but isn't that what makes it glorious?