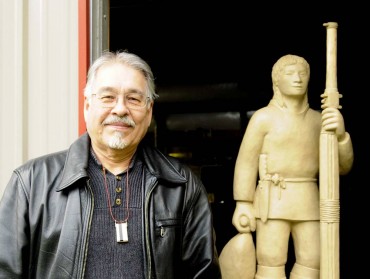 While many artists excel in a variety of mediums, it's rare to meet a master who is equally talented as a woodcarver, jewelry maker, painter, glassblower, printmaker and sculptor. For Larry "Ulaaq" Ahvakana, that's not even a complete list.
Known nationally for his sculptures — especially animals and Inupiaq figures — the Suquamish artist has built a body of work over 30 years that ranges from fused-glass pieces to wood masks. What ties it all together is Ahvakana's desire to use those mediums to express the traditions of his culture.
Ahvakana, who is also a performer with the Northwest Inupiak Dancers, has used his own experience to interpret moments from ceremonial dances and traditional activities like hunting.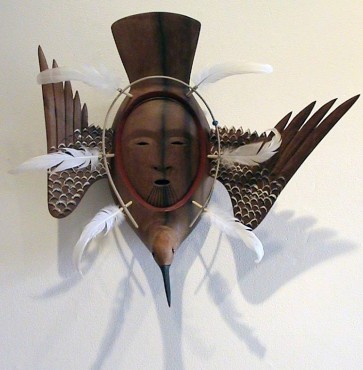 "You can use art as a medium to express your place within your tradition, family or tribe," he says. "How do you keep that tradition and explain it to other people?"
It's that tradition that led him to a path in art, although he never set out to become a full-time artist. Born in Fairbanks, Alaska, Ahvakana grew up in Barrow and Anchorage surrounded by the culture of the Inupiaq people of Northern Alaska. That included skin sewing — a traditional craft his mother excelled in.
"She really helped me gravitate to working with my hands and being an artist," he says.
Although he took various art classes in high school, his enrollment at the Institute of American Indian Arts in Santa Fe, New Mexico, was the true beginning of his journey as an artist. While there, he explored not only a variety of mediums but also how to express the emotions, ceremonies and traditions of his Native heritage.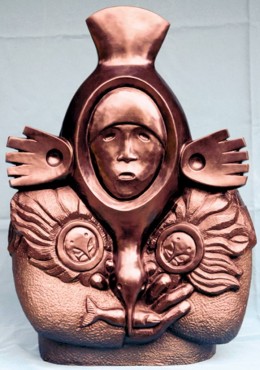 Through the years, he expanded both through experimentation (following his curiosity about new mediums) and further education — which included being recruited to the Rhode Island School of Design's minority program and learning glassblowing from Dale Chihuly.
"You explore the materials until you find the one you like working with," Ahvakana says.
In his case, that could be anything from red cedar to ivory and silver. Even his sculptures are diverse — they could either be carved in stone such as marble or alabaster, or sculpted with plaster and cast in bronze. But despite the diversity of materials and the fact that his art can be either realist or more expressionist, those sculptures bear an unmistakable signature, as if centuries of Native dances, oral histories and mythology have been frozen in time.
Ahvakana has an interesting way of borrowing from one medium for another. His cast-glass and fused-glass pieces, for example — which include the more utilitarian platters — incorporate designs from fabric patterns like parka trim.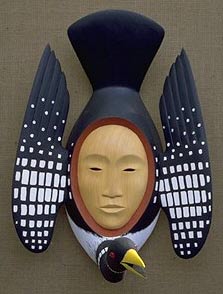 "I get ideas from traditional clothing and create those patterns on the glass," he says.
By contrast, some designs are more fluid, inspired by landscapes — and just as beautiful is the juxtaposition of the geometric and the organic.
"I get an idea and work on it and keep changing it," Ahvakana says. "It's almost like creating a storyline."
Even his jewelry is about storytelling. Making the jewelry — primarily from silver and ivory — is a very personal and demanding activity, he says. But that's not where the challenge comes from.
"The ideas are encompassed in a very small form," he explains.
Some mediums are more relaxing than others. Old-growth red cedar is a favorite because it's easy to carve.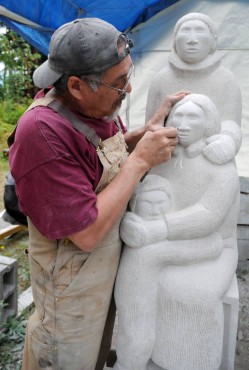 "When you get an idea, you work with it constantly," Ahvakana says. "You're not worried about the final end because you know it will turn out."
Ahvakana, who retired from teaching, gets especial enjoyment from working with his hands. Which is why he's making a return to glassblowing, building a special studio outside of his main studio space.

Glassblowing, as he explains it, is as much science as it is art.
"You're working with time and with heat," he says. "You need to know the glass formula and how long to work the glass, how flexible it is… Your ability to create is more critical and it's a lot more satisfying."
Ahvakana's work is part of many private and public collections, including several museums around the country. And although his achievements are remarkable after more than 30 years of exploring and fine-tuning his talent and skills, his quest for exploration doesn't seem to be even nearly complete.
He says in his artist statement, "The dances and songs of the Inupiaq tradition are our oral history — the emotional interpretation of our respect for and involvement with the environment of the North Slope of Alaska."
His work is certainly a remarkable testimony of that oral history — and Ahvakana's desire to express that history has created a moving reflection of his roots.