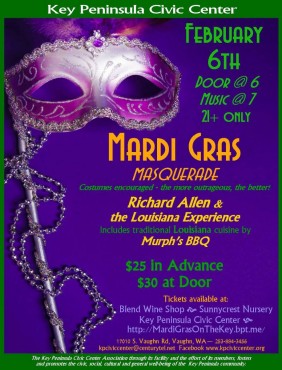 The third annual Key Peninsula Mardi Gras Masquerade is ready to celebrate Fat Tuesday on Feb. 6 in a unique Louisiana style at the Key Peninsula Civic Center in Vaughn. This authentic Mardi Gras celebration will feature Richard Allen & the Louisiana Experience's Creole and Zydeco music, an authentic Southern dinner provided by Murph's BBQ, a best-guest costume contest to crown the king and queen of the parade, and signature Mardi Gras cocktails to keep everyone hopping until the end.
According to the band, "When Richard Allen & the Louisiana Experience start to stir things up, you'll smell the Louisiana gumbo cooking. This is Zydeco with a heaping of joie de vivre tossed into the mix.
"While honoring the long-held tradition of making an Acadian musical brew that has been passed down for hundreds of years, Richard Allen creates a distinct blend of nouveau Cajun by incorporating his personal style of accordion. You'll know as soon as Richard and his band gets cooking, 'cause they're bound to radiate some heat. Oh yeah, baby! Laissez le bons temps rouler! "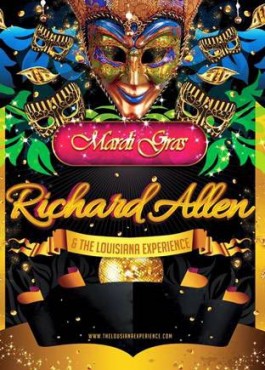 Back by popular demand — Murph's BBQ is returning with authentic dirty rice, pork sliders, red beans and rice, coleslaw and Louisiana Hots with both traditional and vegetarian options.  The Hurricane, always a favorite, will return as the signature cocktail at the no-host bar. Beer and wine will also be available.
Don't miss the crowning of the king and queen — selected from the best costumed of those in attendance.  These winners will lead the costume parade throughout the venue with the rest of the guests "second-lining" and joining in. The reigning royalty will be in attendance, King Robert Brightman Rigoni Jr. and Queen Santia Shaffer, to hand over their titles to the new royalty.
Tickets are $25 in advance or $30 at the door; price includes entry and meal.
Doors open at 6 p.m.; dinner served from 6 to 9 p.m. Event is only for ages 21 and over.
More information:
Tickets:
Proceeds benefit the nonprofit Key Peninsula Civic Center, home to several other local nonprofits as well as a venue for a variety of community and private events.