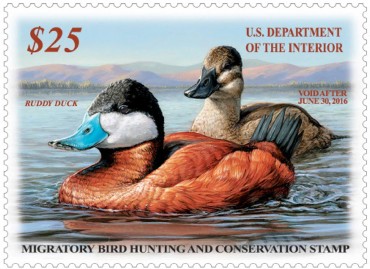 "…You don't have to be a hunter to buy a duck stamp. You just need $25. So go out and buy the stamp." Jim Williams, co-author of the book "Questions and Answers about Backyard Birds," made that statement in an article he wrote for the Minneapolis Tribune a few years back. It's good advice and should be mounted on the bulletin board above my desk.
Proceeds received from the sale of Duck Stamps go toward the acquisition of vital waterfowl habitat for the National Wildlife Refuge system. Birdwatchers use these refuges more than hunters. I look upon a Duck Stamp as a birdwatching pass. If I had to get it out every time I visited a refuge, I wouldn't forget to buy one at the post office.
J. N. "Ding" Darling was a famous cartoonist as well as a sportsman. He started the Duck Stamp program back in 1934, as a way to buy important waterfowl habitat for the refuge system. He also served as head of the U.S. Biological Survey. This was the predecessor agency of today's U.S. Fish and Wildlife Service, the agency responsible for our national wildlife refuges.
Darling's original artwork for that first stamp was a far cry from what is being used today. It was more like a sketch but it wasn't a cartoon. The black and white artwork consisted of a pair of mallard ducks landing in a wetland pond.
For decades, duck stamp art has been chosen from hundreds of paintings entered in the annual Duck Stamp Contest. The winner is announced in the fall and the winner's work graces the official stamp the following season.
The painting of a pair of ruddy ducks done by Jennifer Miller of Olean, New York, is shown on the 2015-'16 stamp. It will expire (for hunters) on June 30 of this year.
The artwork of Joseph Hautman of Plymouth, Minnesota, will be shown on the stamps for the 2016-'17 season. His painting of a pair of trumpeter swans was chosen and it was his second time to win the contest. For more information on these stamps and the contest: duckstamps.fws.gov.
Millions of waterfowl use the National Wildlife Refuges because they are located in important wintering habitat. Other refuges are located in important nesting areas. Preserving this habitat is vital if this wildlife is to survive. Not only do waterfowl depend on refuges but millions of nonhunted birds depend on them too.
This is their attraction for birdwatchers. In addition to the waterfowl that use the refuges, numerous species of songbirds, shorebirds, raptors and owls are found on them.
Two refuges are an easy drive from West Sound country. The Nisqually National Wildlife Refuge is off I-5, between Tacoma and Olympia. The Dungeness National Wildlife Refuge includes Dungeness Spit in Sequim.
Washington has 23 refuges throughout the state. At least 10 coastal ones spread from the San Juan Islands to Ridgefield near our southwest border. Others are located throughout the central and eastern portions of the state.
Checklists of birds that can be seen are available, as well as maps that explain the best way to see each refuge. Current information can be found on the U.S. Fish and Wildlife Service website at fws.gov/refuges.