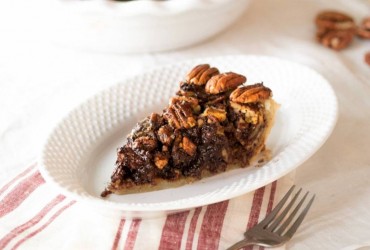 Even for talented cooks, dessert can be a different story, especially when you go beyond baking mixes to make pastries from scratch.
"Pastries, and the doughs that give them life, have daunting reputations, but they're not as complicated as they sound," says Russel Van Kraayenburg, food blogger and author of the new recipes and ratios book, "Making Dough." "Dough is often nothing more than butter, flour and water — a simple base for a never-ending variety of pastries."
To demystify the art and science of baking from scratch, Van Kraayenburg's book offers instructions for creating a dozen crucial dough types and recipes for using them. Here are some of his tips for improving your baking game, along with a recipe for pie dough.
Measuring: Since different ingredients have different densities, weighing them is the best way to produce precise results. (However, it is handy to memorize what 1 teaspoon of salt looks like in your hand. The same goes for baking soda, powder, sugar and any ingredient used regularly in small amounts.)
Storage: Flour contains a small amount of water. Over time, it can either dry out or absorb moisture from the air. When you open a paper sack of flour, transfer it to an airtight container and store in a cool, dry, dark place, such as a pantry or cabinet far from your oven. Keep both bread and cake flours on hand.
Sugar substitutions: Substitutions that can work in cooking won't necessarily work in the laboratory of baking. Certain sweeteners caramelize when heated; others leaven and aerate mixtures. Always use the sweetener the recipe calls for and never replace a sugar with a chemical sugar substitute.
Trial by hand: While a food processor or stand mixer could ease the dough-making process, try each recipe by hand at least once. Getting a feel for the dough, literally, will help you understand its characteristics.
---
Pie Dough
Van Kraayenburg offers this by-hand technique:
Ingredients:
6 ounces bread flour
2 ounces cake flour
1 tsp salt
7 ounces unsalted butter, cold
1/4 cup water
Directions:
Mix flours and salt in a large bowl. Chop butter into 1/2-inch chunks and add to mixture. Pinch butter into flour, breaking it into large-pea-sized pieces. Work quickly to keep butter from melting
Pour water into flour mixture. Mix dough with your hands or about 10 to 15 turns of a wooden spoon, until it just starts to come together. The dough will be tough and should remain in a few large chunks.
Place dough on a lightly floured surface and push chunks together. Knead 4 to 5 times, just until it holds together. Flatten into a disk about 1 inch think. Wrap tightly in parchment and let rest in fridge for at least one hour.
---
When it comes to pastries, don't be afraid to try your hand at doing-it-yourself from scratch.
More dough secrets and tips can be found at russellvankraayenburg.com.