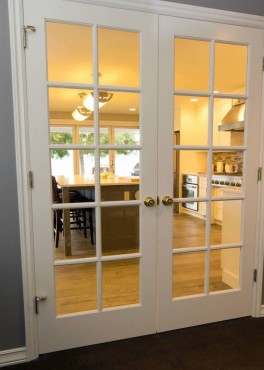 In the summer of 2014, when Lance and JoAnn Kahn first saw the 1970s rambler, they weren't all that impressed. The 40-year-old house was dated and the floorplan was decidedly quirky with long, dark hallways that ran like tunnels from either side of the front door.
However, the couple had to admit that the place had a few things going for it. For one, the waterfront setting on the Tracyton shore was practically perfect. For another, the house didn't have any steps.
The "no-step" part was a dealmaker for the Kahns. After living for 37 years in an Oyster Bay home with 32 steps from the road to the house, they were looking forward to a new home that required less effort simply to arrive home. They wanted waterfront without the walk.
For months, the couple had been searching for the right real estate. They'd toured many houses, none of which met their criteria. Then one day Lance Kahn — a confirmed outrigger canoe enthusiast — paddled along the eastern shore of Dyes Inlet, and there it was, a "for sale" sign on the beach and a rambler on the bank above.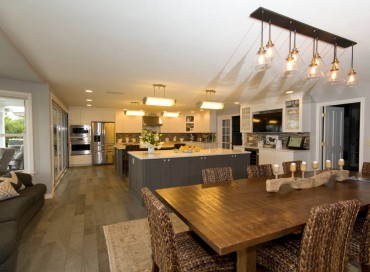 As they viewed the admittedly funky residence, the Kahns saw something else. The structure met their third and final requirement: It could be remodeled for a long run of open space.
This prerequisite wasn't merely aesthetic, it was a necessity for a family that includes not one, but two Irish wolfhounds. These regal canines, Tilley and Rafer, belong to one of the world's tallest breeds. They need plenty of room to navigate. Dogs that can rest their heads comfortably on the kitchen counter and reroute foot traffic wherever they recline belong in rooms as grand and graceful as they are.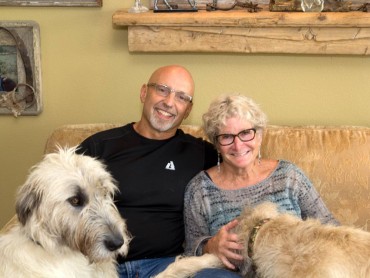 Immediately after purchasing the home, the Kahns set out to make it their own. Their first move was to bring in FPH Construction. The couple worked with project manager Kerry Chamberlin to craft a remodel that met all their requirements. Fortunately, as Kahn walked through the painfully 1970s-era kitchen, living room and dining room, he could visualize how the new space should look. A man with the gift of spatial imagination, he saw a great room of his dreams: a kitchen becoming a dining room that morphs into a living room in one smooth run.
In addition to providing enough room to dock the two wolfhounds, the Kahns needed a social space large enough to handle an extended family that likes to hang out in the kitchen. Two big islands would do the job. A window seat off the dining room added a resting spot for company to supervise the cooking with a cup of tea in hand.
As for the floors, the Kahns wisely chose a virtually indestructible porcelain tile, from Floor Decorators in Bremerton, that allows for crowd-sized foot traffic, games of fetch and overwatered plants while keeping its good looks.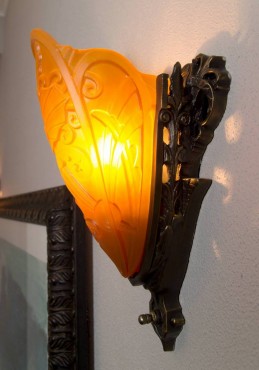 The view deserved special consideration. The couple's new home faces west across Dyes Inlet and the entire great room shares a uniquely Northwest waterscape of reflected sunrises and golden sunsets. They intended to enjoy every moment of their blue water vista. With this in mind, the Kahns chose great-room windows that ran nearly floor to ceiling. A LaCantina folding-glass door system opening to the patio continues the unbroken view.
Now that the structure was underway, it was time to add the accoutrements. In the kitchen, Ben Muhleman of Silverdale's Creekside Cabinet and Design guided the pair through the bewildering world of cabinetry and countertops. As the kitchen progressed, the Kahns made a bold and beautiful artistic move. They commissioned a glass-tile mural by Lisa Stirrett of Silverdale for the space where the gray tile backsplash widens above the stovetop.
In Stirrett's art, fat ponies worthy of a Chauvet Cave painting cavort — at home above the range. The piece is a testament to JoAnn's lifelong love of horses. Her love of riding continues to her office, where a rope-'em-and-round-'em-up theme is a reminder of her and Lance's annual summer vacations to Idaho to help ranching friends ride out and bring in the herd.
Far from being passive observers in their home's design, the Kahns were involved every step of the way. As their home evolved, the couple watched the work closely and collaborated on every detail.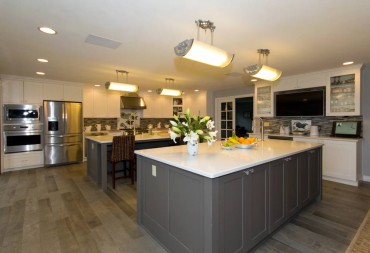 "As soon as we picked out one thing, something else would follow," Lance Kahn says.
In this way — owing to expert advice, the Kahns' creativity and JoAnn's innate color sense — the ragged rooms revived like wilted flowers in a long rain.
When the time came for interior décor, Kahn's hobby leapt to the forefront. A confirmed repurposer, he has a way with old wood. In his hands, time-worn panel doors become picture frames. An oxen yoke becomes a candleholder, and an elderly barn door is morphed into a headboard. Ornate corbels and mystery beams with keyed tenons become a fireplace mantle — capping a hearth of vintage brick, each one hand-picked by the couple.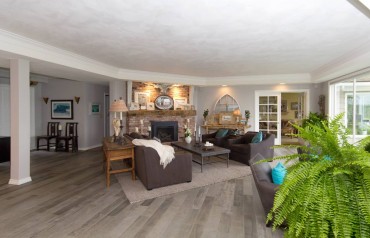 For 20 years, Kahn has been searching out the funky and fusty and remaking it in his own mental image. His secret, he says, is imagination: a vision of what something can become. The couple's favorite source of architectural salvage is Earthwise in Tacoma, where they've uncovered many treasures. Although many of these finds are ready to be repurposed, some are perfect just the way they are. A notable find was an elegant 100-year-old art deco light fixture of amber glass that now hangs in the entryway.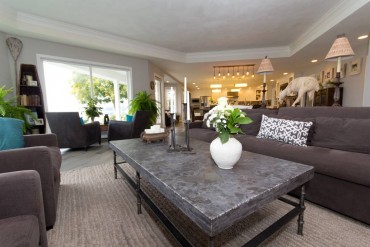 In December 2014, the Kahns moved in the week before Christmas. There was no kitchen, no heat, and the oil tank promptly sprung a leak. One year later, they were preparing to celebrate their first Thanksgiving in the new home. With a guest list of 20, Lance and JoAnn Kahn were very happy that theirs was a kitchen built for a party.
As the sun sets behind the Olympic Mountains and dinner comes out of the oven, one thought is foremost in their minds:
"(We) can't believe we're living here."