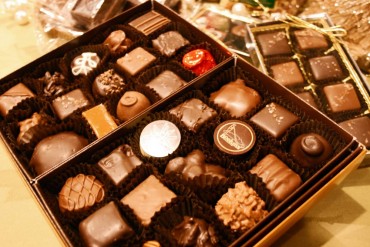 Hand-dipped. Carefully crafted. Family recipes. Locally made. Quality ingredients. There is nothing like handmade chocolate. Who wouldn't want to receive a beautiful box of chocolates as a holiday treat?
Candy and chocolate have always been a part of holiday celebrations, and in the West Sound you can choose yours from some of the finest chocolatiers in the state. Don't just give any old chocolate — give freshly made, Pacific Northwest chocolate.
Take our chocolate tour and discover the bounty of goodness for your stocking stuffers, hostess or corporate gifts, or special treat for someone you love.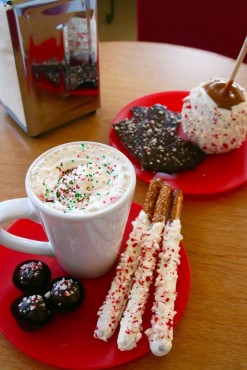 (Or just for you. We won't tell! You deserve it after all that shopping!)
Boehm's of Poulsbo has been serving up beautiful and delicious chocolate on Front Street since 1984. This family-operated store honors family friend Julius Boehm, who brought his Austrian-Swiss candy-making genius to Washington in 1942.
"I learned from the master," says Suzanne Suther, owner of Boehm's of Poulsbo. "Julius was amazing and I knew chocolate was my destiny."
Today, Suther's daughter Karen runs the store — and has since 1991 — serving up the delicious and varied selections to weekly regulars as well as visitors from all over the world.
"When people taste the chocolate for the first time, they are hooked," Karen Suther says. "We have regular customers, who may have only visited the store once, but they order by mail and we ship all over the country. "
It really is that good.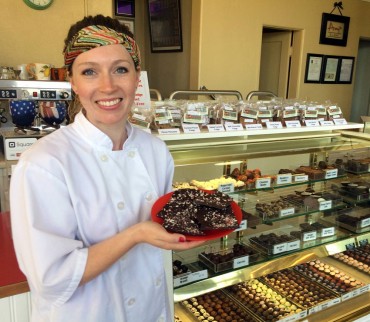 Boehm's has premade boxes of its bestsellers but encourages you to mix your own gift pack. The shop can package for you and cater to your theme for gifts, weddings or holidays. Staff can also work with you on corporate gifts, large or small, including placing your logo or custom message on the box or the chocolate itself.
The beautiful store in the heart of downtown Poulsbo is a great destination for holiday cheer, with decorations and gift items providing a festive atmosphere for holiday revelry.
Amy's Decadent Chocolates of Bremerton is another family story. Learning from her mom while growing up in Michigan, Amy Jablonski started making Christmas and Easter gifts for family and friends. After working the retail side for another chocolate store, she opened Amy's Decadent Chocolates just off Callow in 2006.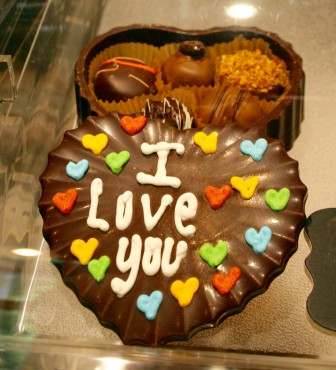 Amy's serves up exquisite caramels, chocolate-covered caramel, salted caramel and caramel apples, in addition to an amazing variety of hand-dipped chocolates.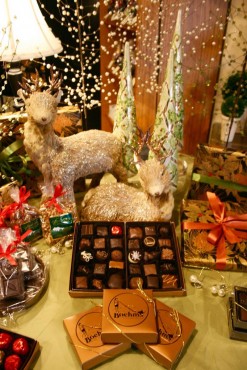 "During the holidays, our peppermint caramel is a special treat, and our truffles (including the Harvey's Butter Rum Truffle) make delicious gifts," says Liz Wing, store manager.
"I enjoy both the creative chocolate-making side of my job and the customer interaction," Wing adds with a smile. "Especially the kids during the holiday season."
The store is decorated for the holidays and you need only step over the threshold to find gift ideas for everyone on your list. Place a special order for events or corporate gifts, including hand-dipped strawberries year 'round for events. Amy's will gift-wrap for free and assist you in creating the perfect gift or stocking stuffer.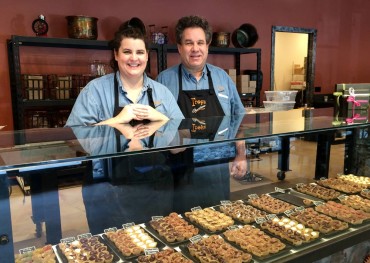 Trop's Chocolates is the new kid on the block in its recently opened Gig Harbor store. But Trop's Chocolates isn't new. Heather and Larry Trop have been making delicious chocolate for years, but now you can watch the process in their new retail location.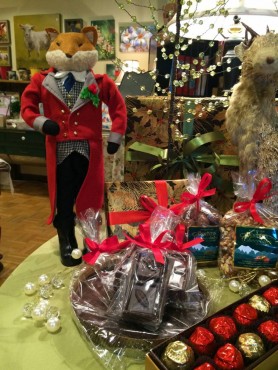 "We had a chocolate store in South Coast Plaza in California," Heather Trop explains. "When we moved to Gig Harbor, we began a wholesale business. Our customers made requests for our ganache and we started making flavorings for coffee drinks."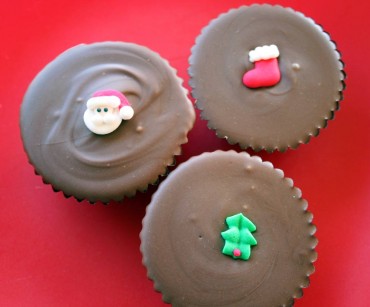 Working out of other catering kitchens, the couple found a following locally for their one-of-a-kind chocolates, based on recipes Larry created 35 years ago.
"Eventually, we got so busy, we found investors and opened this store on July 11 of this year," Trop says.
Today, you can visit the store for chocolate and coffee and watch the candy-making process taking place right in front of you. Trop's offers its signature holiday "sleigh" box made from chocolate and staff will personalize it while you wait. Additional personalized gifts and favor boxes are available for weddings, corporate or stocking stuffers.
"We are all about personalized, family and fresh," Larry Trop says. "Gig Harbor is a very loyal community. It's a great fit for us. Very family friendly — and we love having kids come into the store."
Chocolate! It's what's for Christmas.