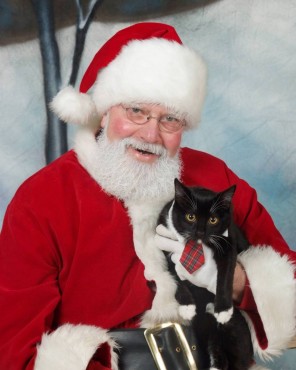 Many people who own pets in Kitsap or Mason counties are familiar with Jeff Berger — especially if they take their pets to Christmas photo sessions at the Kitsap County Humane Society or the Humane Society of Mason County.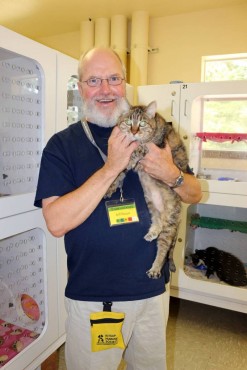 To them, of course, Berger is known as Santa. For years, he's been a fixture at the Humane Society of Mason County's Photos with Santa Paws and the Kitsap County Humane Society's Santa Pet Pics.
"Everyone, including me, loves his rapport with the animals, his obvious love of animals, his happy personality," says Barbara McDowell, volunteer treasurer at the Humane Society of Mason County. (He's) very photogenic — the pics always look great."
Berger's claim to fame, however, goes beyond his photogenic good (Santa) looks. He's been featured on television on a cooking show, and has a clogging routine that has been danced all around the country and beyond. While Christmas festivities keep him busy, his schedule is filled year-round — this Santa uses his "off time" not only to enjoy his many other passions and talents, but also to give back in other ways.
"I like doing different things and I like being involved in my community," Berger says. "When I do the stuff I do, I'm doing it because I enjoy all of it but I also do it to encourage other people to get involved somehow."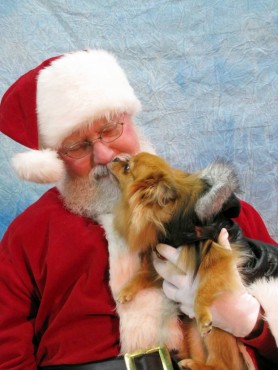 Santa a la 'Miracle on 34th Street'
Berger, who retired 10 years ago from the Washington State Liquor Control Board, sports a neatly trimmed, short, white beard year-round. But starting in July, he lets it grow wild in preparation for his Santa Clause duties.
"I see myself as the 'Miracle on 34th Street' Santa, with a close-cropped beard," he says.
He's also a bit quieter as Santas go. He says he sometimes has a tough time with the "ho-ho-ho," loud persona that ol' Saint Nick is typically portrayed with. Luckily, his furry audience doesn't much care.
"For the animals, that doesn't matter," he says.
There's one more thing that he likes about the four-legged portrait subjects.
"The pets don't ask me any questions — they don't ask if my beard is real," he says.
The shorter beard and calm demeanor may not be a common look for the jolly old fellah, but it does earn Berger quite a few compliments.
"Jeff is a great Santa. Not only does he look like the 'real' thing, he is very patient with the pets," says Blanche Valverde, a volunteer on the board of Humane Society of Mason County. "The pet parents love him because he is good with their pets, and we get many compliments from them and other shoppers who come by our setup at Ace Hardware in Belfair and Port Orchard, where we hold our event."
After playing Santa for Kitsap since 1991 — both at indoor and outdoor venues — and for Mason since the inception of the event eight years ago, Berger has posed with hundreds of animals (and their humans). While the majority of the creatures are dogs, he has also seen many cats as well as the occasional lamas, horses, ferrets and even chicks and flying squirrels.
He's learned a few tricks along the way. Some dogs, for example, jump right into his lap but others need a chance to smell him before he can make eye contact.
"You have to be patient," he says. "I think I'm probably more patient as Santa than I am as Jeff, and my wife would probably agree with that."
As much as he loves the animals, Berger enjoys the people too. He recognizes many of the families year after year.
One large, multigenerational family is especially memorable. They come every year to the Belfair Santa Paws, and one time even drove out to Bainbridge when they missed him there. The family includes an adopted girl who is autistic.
"The first year, it took her a while to warm up to me. The second year she came, she was so happy to see me and gave me a big hug. It was like a breakthrough for me," he says. "It makes me feel good to see her once a year and give her a hug."
Another memorable photo session was with a 103-year-old woman.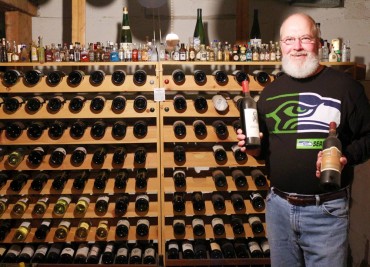 "She was very good natured. I just had to have a picture of just her (and me)," he says. "You meet some really nice people."
Occasionally, Berger will take on a paid gig. During a corporate holiday gala party, he even got to sit in a sleigh on the stage of Admiral Theatre. He says if someone makes a really good case for it, he'll consider a private appearance, but has one request: The private party must make a donation, equal to his Santa pay, to the Kitsap Humane Society.
Last year, Berger almost hung up his garb for good because of growing scheduling conflicts, but was convinced by Kitsap Humane Society staff to stay on. He's happy to keep brining merriment to the local pets and humans, but says he can't be Santa forever.
If anyone is interested in doing it "and would like some pointers, I'm your guy. Come see me," he says. "There's more to it than putting on a red suit."
And speaking of the suit. Berger's special outfits have been sewed lovingly through the years by his mother-in-law. But she's no longer able to do it. So Berger has a request.
"If you're a suit maker or know someone who is, Santa could sure use another suit," he says.
More than Santa
Berger and his wife, Ruth, moved to their home near Wildcat Lake 25 years ago after living in Seattle. He came over with the liquor-control job (he worked there 31 years, including 18 as district manager). When he saw an ad in a paper about the need for a Santa, he thought it would be a good way to be involved in the community.
Since then, Berger has been one of the Kitsap Humane Society's most devoted volunteers. During the rest of the year, he can be seen helping out with various needs. Every Wednesday afternoon, for example, he socializes cats in the "cattery" or evaluates them for adoption. He is also involved with special events like Animal Krackers. He's been described as compassionate toward both pets and humans as well as committed to the shelter's mission.
"I can always trust that he'll do a great job in any volunteer role he fills and that he'll make the experience enjoyable for anyone who has to work with him," says volunteer coordinator Sarah Moody-Cook.
Kassie Olmsted, the KHS development and marketing associate, says it's amazing that Berger has been volunteering there for more than 20 years.
"There have been few people who have stayed with the organization for that long, much less an unpaid volunteer. It's definitely a testament to his love of animals and his dedication to community service," she says.
Pets are not the only ones who have a special spot in his heart. Berger is also a longtime volunteer with the American Cancer Society as a driver for the Road To Recovery program. Through the program, cancer patients can receive free rides from volunteer drivers to medical treatments.
Berger says he was compelled to help out because he's lost friends to cancer. He got to really appreciate the program when he met a 78-year-old Seabeck man who used an oxygen tank. The man would have to take a bus at 8 a.m. for a noon cancer treatment that only lasted 30 minutes, and didn't get back home until 3 p.m.
"By the time he got home, he could barely walk to his front door," Berger says. "When he found out about us, he was so delighted."
Special Olympics (he worked with children with disabilities when he was young) and the Nature Conservancy are two other organizations he supports, in this case through financial contributions. The two, along with Kitsap Humane Society, are also included in his will.
Berger says he wants to encourage everyone to volunteer, whether it's to work with animals or people, even if it's only an hour a week.
"Whether it's due to minimal budgets or the desire for community involvement, nonprofits count on volunteers to help accomplish their goals," he says. "Quit talking yourself out of it… Just do it."
Dancing, Cooking and More
Beyond his Santa persona, Berger has a bit of a secret life. Though perhaps not so secret for anyone who recognizes him either clogging with the Country Cloggers at community events like Kitsap Fair, Viking Fest and Allyn Days; or playing his guitar at the Silverdale and Bremerton farmers markets.
Clogging and music, along with wine and cooking, are Berger's other passions, keeping him plenty busy when he's not out delivering Christmas merriment.
Raised by a single mother, Berger began cooking when he was 9 or 10 years old. At first, his mother left him directions for making meals, but eventually he began experimenting with his own.
That interest never waned — and even landed him on KCTS Cooks, a now-defunct show on the local PBS station. As part of a fundraiser, KCTS solicited recipes from viewers, selecting the top dozen or so to be demonstrated live on air. Berger made the show not once, but twice, and has had his recipes published in other places.
He's also developed a bit of a reputation for his wine appreciation, even having his basement cellar featured in the Wine Spectator magazine in 1992. In addition to writing wine articles himself and teaching classes in the past, he's been a longtime wine reviewer for a blog on Grocery Outlet wines.
And in the clogging circles, Berger is known for a few choreographed routines. One routine "took off like wild blazes," he says. It's been danced from California and Arizona to Texas and Canada, and even in New Zealand. The music for the routine is from Sky Boys, a band responsible for getting Jeff and Ruth together — the pair met while dancing to the band in Seattle-Tacoma area.
Perhaps it's not surprising that the couple are still enjoying dancing together. Ruth, in fact, was responsible for getting her husband into clogging after seeing an advertisement for a class in the Olympic College's continuing education program.
"She said, 'How would you like to take a clogging class?' I told her, 'You're out of your mind, not a chance,'" Berger recalls. "Now she likes to tell folks I'm a better clogger."
While some of his passions seem unrelated, for Berger it's all about enjoying life in Kitsap — he says he and Ruth love the area and have a difficult time now going to Seattle. And it's also about giving back.
Humane Society's Olmsted says it's rare to see Berger without a smile on his face.
"He may only play Santa once a year," she says, "but his jolly spirit is apparent throughout the year."
Jeff Berger's Spicy Prawns with Creamy Mascarpone Polenta
This recipe was selected by KCTS Cooks for a recipe book and was demonstrated on air.
Ingredients:
16 medium-sized prawns, cleaned, with tails removed
5 cups water, boiled in a medium-sized, heavy pot with 2 tsp kosher salt
1 cup uncooked polenta grain
1 tbsp butter
3 tbsp (heaping) mascarpone
Salt and fresh-ground pepper
Jeff's special dry rub (recipe below)
1 tbsp extra virgin olive oil
Instructions:
First, make the dry rub, then pour some of it into a small bowl and coat each prawn. Be sure to shake off any access rub but also that the prawns are well-coated. Place them on a plate and keep refrigerated for cooking later.
Prepare the polenta by bringing the salted water to a boil and slowly pouring in the polenta grain, stirring constantly. Reduce the heat to avoid the lava-like bubbling of the polenta out of the pot.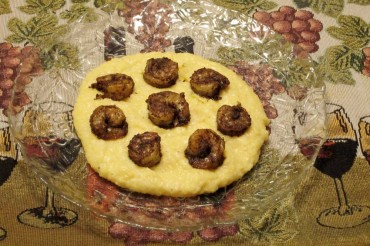 Add the butter. Keep stirring for about 10 minutes until the polenta is almost completely cooked, then reduce the heat to a simmer.
Stir in the mascarpone and keep stirring until the components of the pot become thick and creamy. Add salt and fresh-ground pepper to taste.
Keep on low heat and cover. If the polenta becomes too thick, add water or chicken broth a little at a time, until it reaches your preferred consistency.
To make the prawns, heat a frying or sauté pan over medium heat and add the extra-virgin olive oil. When the oil is hot, add the prawns and cook briefly on each side until the prawns become opaque.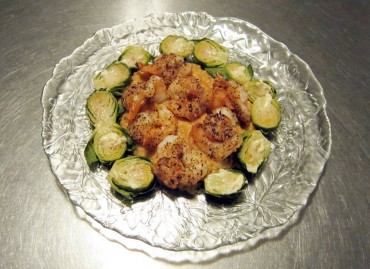 Place 3-4 large spoonfuls of the polenta on a plate and top with 8 of the cooked prawns. Serve with a green salad or your favorite green vegetable and a glass (or two) of sauvignon blanc, semillon, white Bordeaux or pinot gris. Bon appetit!
Jeff's Special Dry Rub
Ingredients:
2 tbsp dried lavender buds
2 tbsp fennel seed
2 tbsp fresh rosemary leaves
1 tbsp cumin seed
1 tsp black peppercorns or peppercorn blend
1 tsp kosher salt
1/4 tsp cayenne pepper
Instructions:
Put all the ingredients into an electric coffee-bean grinder (used only for herbs and spices) and grind until all ingredients are well integrated.