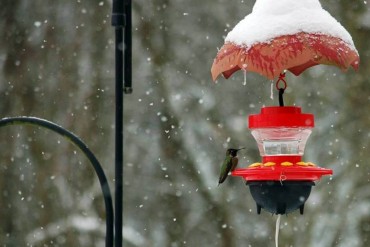 "Happiness is a new spotting scope," especially if you are a birdwatcher — or birder. When it comes to Christmas gifts for those interested in birds, optical gear is perfect for both beginning and experienced birders.
Let your pocketbook be your guide. Excellent binoculars can be purchased for a variety of prices. Spotting scopes are expensive. Number one rule if you are considering these for a gift is, choose quality.
Take a good look through the viewing area and consider how your eyes feel. Are you squinting? Or, do your eyes relax? Eye comfort is important.
Power and weight are equally important. Your arms can get tired when you are looking through field glasses for several minutes, trying to find that bird flitting through the treetops. The more power you have is important, but consider the weight you are holding. Lightweight binoculars have improved so much that a good pair can be purchased for a reasonable price.
A gift I never tire of receiving is another feeder. After all, feeders do wear out or become almost impossible to clean. New designs are constantly coming on the market. A feeder is a gift that will always please — especially if you add a bag of those expensive, shelled sunflower seeds.
When it comes to bird feeders, there is a new one that would be a happy surprise under the Christmas tree. A heated hummingbird feeder is very timely as we go into the coldest time of the year.
"Hummers Heated Delight" is made in Albany, Oregon, and is the creation of the late Laurance Bolen. His wife and sons have carried on the work since his death in November 2014.
The product uses the popular plastic hummingbird feeders we are familiar with, but with one difference. A nightlight is installed in a plastic bowl that is fastened under the feeder. This creates enough heat for the syrup in the upper part of the feeder to thaw or keep thawed.
You do need an outside outlet to plug in the electrical cord. You can see more about these feeders at www.hummersheateddelight.com.
Books are always a popular gift. When it comes to books for birdwatchers, the choice is almost endless. From field guides to human-interest stories, bird books run the gamut.
"The Fastest Things on Wings" by Terry Masear is a wonderful little book about rescuing hummingbirds in Hollywood. How do you take care of injured hummingbirds or raise orphaned baby hummingbirds? The collection of stories in this book is a sampling of hummingbirds treated by rehabilitators in Southern California. They rescue more than 500 orphaned or injured hummingbirds each year.
This newly published book was recently released by Houghton Mifflin Harcourt and is available in both paperback and hardcover.