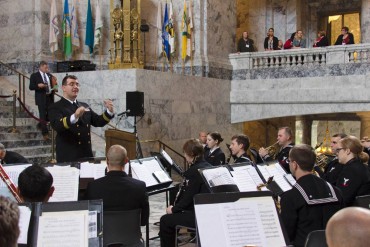 The Navy Band Northwest production "Home for the Holidays" will include a performance in Bremerton on Dec. 10. The performance, which is free, begins at 7 p.m. at the Bremerton High School Performing Arts Center.
Bring your loved ones for an evening of delight featuring the jazz ensemble and the rock band "Passage" that Josh Kerns from KIRO radio calls "a contemporary face on the fighting force."
The music will feature timeless classics such as "Frosty the Snowman" as done by Harry Connick Jr., "Please Come Home for Christmas" as done by the Eagles and many more traditional songs.
The 35 Navy musicians are quite popular, called upon to perform an excess of 400 engagements each year, both military and civilian events. The Navy Band Northwest is the premier United States Navy musical organization in the Northwest, under the leadership of director Lt. Bruce Mansfield, and falls operationally under the command of Rear Adm. Jeff Ruth, commander of Navy Region Northwest.
For other performance locations, visit the band's Facebook page.
Frequently Asked Questions
How do people get chosen to perform with the band?
The first step is to contact a Navy recruiter for an initial screening interview. All applicants must audition live at any Navy band or the Naval School of Music. Taped auditions are not accepted.
The perspective musicians must demonstrate the ability to read music at an advanced level, perform at a mature musical level and be well versed in different styles (jazz, classical, rock, Latin, etc.).
The audition report is sent to Fleet Band Activities (headquarters) in Millington, Tennessee, for evaluation. Applicants found to be musically qualified are guaranteed an enlistment and shipped to boot camp in Great Lakes, Illinois. Upon successful completion of boot camp, each sailor is assigned to the Naval School of Music in Virginia Beach, Virginia and upon completion, assigned to one of nine fleet bands.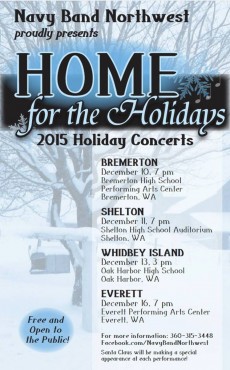 What is the average tenure with the band?
A normal first enlistment is four years. Musicians are given the opportunity to renew their enlistment toward the end of those four years. Members stay in one band for about two to three years.
What is the practice schedule like?
Other than the typical "military band," musicians can be divided into smaller groups such as rock band, jazz combo, chamber groups, solo pianist, solo vocalist. Every group has a different rehearsal schedule depending on the nature of the upcoming performances.
Members also practice individually outside of working hours. They rehearse on average six to 12 hours per week/per group.
Are performances just in the United States?
There are nine fleet Navy bands around the world and they have their individual area of responsibility. Navy Band Northwest covers the Pacific Northwest region — specifically, Alaska, Washington, Oregon, Northern California, Nevada, Wyoming , Idaho, Montana, Utah, Colorado, Western Nebraska and Western Kansas.
Are there special performances or venues that are noteworthy?
Navy Band Northwest is often invited to perform before Mariners baseball and Seahawks football games, to perform the National Anthem and sometimes at half-time. The band is invited annually to Navy Day at the Olympia State Capitol, Seattle's SEAFAIR and Fleet week the Portland Rose Festival Grand Floral Parade and Portland Fleet week, just to name a few. In the past, Navy Band Northwest has performed Fleet Weeks at San Francisco, Denver and Salt Lake City.