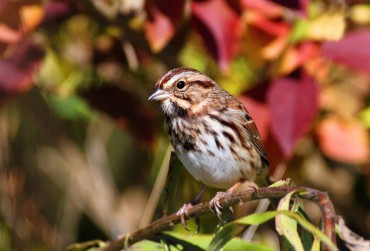 During the month of November, one bird is in the minds of many West Sound residents. While the Thanksgiving turkey may be the Bird of the Month, other birds are getting their share of attention. They are the ones that will be counted on Thanksgiving Day.
Throughout the West Sound and the Western states, hundreds of people will be tallying birds they see in their designated "count circle."
You don't have to be an expert to take part in this count. It is simple and doesn't cost anything. Only one hour of time on Thanksgiving Day is needed. You choose the hour.
Experts studying bird populations in eleven Western states and Alaska will use the collected data. While the bird in the oven is being roasted, friends and family gathered for the big meal can share in the tallying of birds seen in your designated count circle.
How to Do It
Establish a 15-foot-diameter circle that you can see from a comfortable spot. Areas that include feeders or birdbaths are popular places for these imaginary circles. Count only the birds seen within those confines.
Imagine the circle as an invisible cylinder that also reaches upward to a height of 50 or 100 feet. Birds seen within this invisible cylinder are also to be counted.
If flocks of birds like the juncos and pine siskins visit the area, count the birds in the flock every time. At the end of the hour, use only the highest count taken at one time. Don't lump all of the visits into one final total.
The same works for individual birds. Count the robin in the birdbath as one bird unless more than one are seen together during the count hour. The highest number of a species seen together is to be the final tally on each species. One woodpecker may visit the circle several times during the hour, but only count it once — unless another woodpecker joins it.
When compiling the final count figures, make three columns on one sheet of paper. Head up the columns as "Species," "In" and "Out." If an owl shows up but isn't in the circle, you can still report it under the "out" column.
As part of your report, include the following information: name, address, location of your count; the date, temperature, time started, time ended, weather, habitat type, type of feeders and birdbaths; number of feeders and birdbaths.
Send your report to Dr. John G. Hewston, Natural Resources Bldg., Humboldt State University, Arcata CA 95521 or submit it online by emailing thanksivingbirdcount [at] gmail [dot] com.
Hewston has been compiling the Western Thanksgiving Count results for almost 25 years. He took it over in 1990 from the founder, Dr. Ernest Edwards of Sweet Briar, Virginia, who started it in 1966.
Participants will receive Hewston's "Spring Bird Awareness Newsletter" once the results are in.