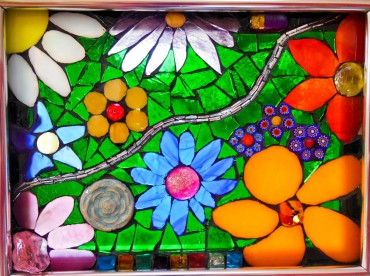 Louise Martin's mosaic art integrates many components: stained glass, beads, glass rod, smalti, ceramic tile, mirror, rhinestones, Polish pottery. The most potent part of her work, however, is not the material itself, but the palpable connection of the artist to the world around her.
Martin's work reflects a woman whose creativity is fueled by being an attentive listener: to others and to the universe. When she sought to develop her artistic skills, she reached out to others, asking to glean a glimmer of what they knew. With each mentor, she found a unique inspiration. Different teachers have shared favorite materials, each material has inspired new themes and each completed project shapes the next. Martin is open to her work developing organically.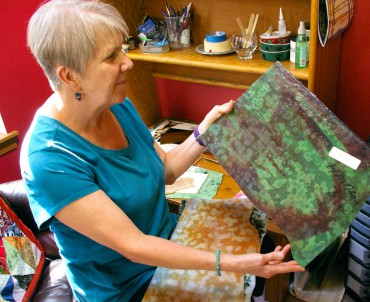 When she began making mosaics, her projects were for practically adorning the garden: stepping stones, benches, tables and planters. Her first mosaic, a birdbath, features a glistening, green frog submerged and seeming to swim in the pool of water.
Flowers, insects and fish are immortalized in commissioned pieces and gifts for friends. When she makes a mosaic for someone, the design is carefully chosen to reflect the person's taste and interests. From children's book characters to caricatures of President Obama, quilt patterns and people's pets, Martin's subject matter is diverse and personal.
Being a spiritual person, she values the inspiration that comes from meditation. She believes that creativity is a gift from the universe through a bevy of channels and often unknown sources. Symbols such as angels, lotus flowers and the tree of life are prominent in her work. In fact, she likens the detailed work of mosaics — choosing, shaping, placing and gluing each minute piece — to a meditative exercise.
When Martin speaks about the process of completing the largest and most elaborate works in her portfolio, she talks about the "labor of love," how she feels joy in each moment of the process, not unlike creating a mandala. (Mandalas are colorful, geometric patterns made in many cultures to focus attention and aid meditation.)
For many years, Martin indexed medical books, so she's adept and patient with detail. When she retired from indexing and was looking for more creative and inventive work, she joined the Society of American Mosaic Artists (SAMA) and began exploring the breadth of professional art.
She attended a SAMA conference, conveniently hosted in Tacoma in 2013, and took classes on layering glass and using beads in mosaic. During the conference, she visited extensive exhibits of mosaic work from all over the world displayed at the Museum of Glass and the Tacoma Public Library. Entranced since then with "glass-on-glass" techniques, she builds many mosaics on mirror and artfully embeds tiny beads in her designs.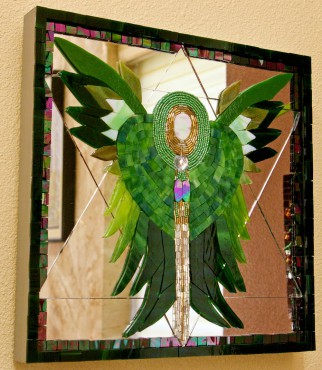 The conference introduced her to local artists and online forums where relationships with others continue to fuel her imagination. It was one of these forums that inspired her to leverage her skills to help others.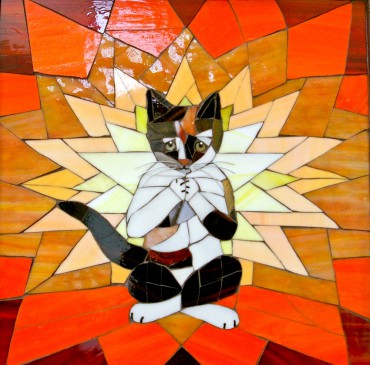 "I realized I can help people with my mosaics. By donating my time and materials, I can somehow make people's lives better," she says.
Martin is referring to a recent commitment to make angel trivets to donate to the online GoFundMe campaign for Angel Martos, a friend she met online who needs a kidney transplant. The mosaics Martin lovingly creates are gifts given to those who make a donation to assist Martos.
One way Martin hopes to positively influence the world is through community mosaics. She studied under Laurel True of True Mosaics in New Orleans with six others from around the country in a seminar titled "Making Beauty in the World." She learned how to work with high-fired tile on massive projects that are designed to withstand outdoor elements and are built collectively by neighborhood members.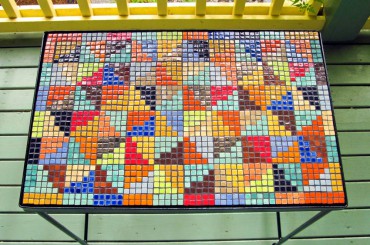 Martin helped create a wall-mounted mandala, which she admits required heavy equipment and very physical work that she doesn't think she's up for recreating. How she will use her community mosaic skills is something she says she has "put out to the universe." She believes her work as a hospice volunteer and her interest in the Harmony Hill Retreat Center in Union may evolve into a community mosaic project where she can make a difference.
Martin's motifs are often whimsical. In fact, one of her focuses is cats and dogs. After getting the permission of artist Dan Borris, whose photographs feature household pets holding yoga poses, Martin now works with clients to select a pose appropriate to their pet and creates a mosaic with their likeness.
She has featured many different breeds including calicos, tabbies and German shepherds. Yes, even cats in the "downward-facing dog" pose. A regular practitioner herself, she named her business Yoga Mosaics and her business card shows a placid-looking tortoiseshell kitty in the lotus pose. Many pet owners have worked with Martin to memorialize their departed furry-ones doing yoga or simply as a portrait. Her ability to capture a pet's personality is uncanny.
You never know what gifts will come your way, Martin believes. Earlier this year, after an article appeared in a local newspaper about her work, she was contacted by Haldean Windsor, who gifted her with a lifetime's collection of glass, a light table and partially constructed tiffany lamps. Windsor had been a stained glass artist and hospice volunteer herself and after reading the article, she felt an immediate connection to Martin. Martin is grateful for the unexpected relationship and is using Windsor's glass to create the mosaics she donates to fund Martos' kidney transplant.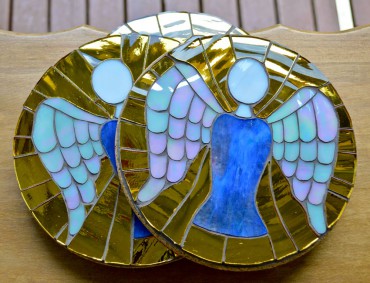 One of the spiritual symbols Martin uses in her art is the chakras, centers of energy in the body. In the secluded garden she tends with her husband, Clyde, a 4-foot, round table provides a stunning focal point to their shady sitting area. The table was painstakingly covered in a pattern of vivid colors that represent the seven chakras.
Composed of 3,000-plus individual, hand-cut pieces of stained glass, the project took two months of daily work to complete. It is the intensive process of creating art with care and love that brings Martin peace of mind and attracts people to her work.