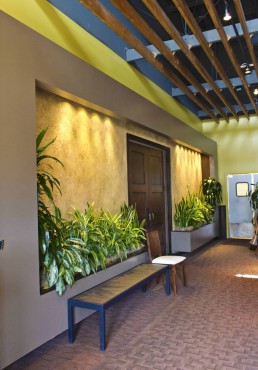 Gig Harbor's Green.House has all those things you'd expect from a fine-dining restaurant: classy décor, white-linen napkins, elegant food presentation that makes your mouth water. But don't worry if you don't feel like changing out of those jeans, or hiring a babysitter, for that matter.
This is a place where both casual attire and children are welcome — there's even a kids' menu, and Happy Hour is not restricted to the bar.
"We enjoy kids," says Gail Fuller, who owns the restaurant with her chef husband, Scott. "We want to be able to cater to everybody, and we do have a lot of families coming in."
But there's one more distinction from the typical fine-dining establishment, according to Scott.
"We use simple and very good recipes, not fancy-dancy," he says.
Though simple, perhaps, is in the mind of the beholder. The Green.House fare includes entrees such as Butternut Squash Ravioli with Wild Maine Lobster, Roasted Duck Breast with Orange-Chipotle Sauce and Wild Dungeness Crab Cakes.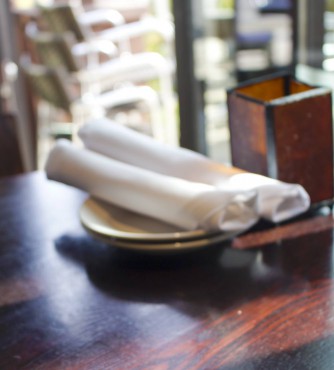 Some products are sourced from around Puget Sound — bread from Alkai Bakery in Seattle, sandwich meat from Olympia and desserts from Tortes N Tarts Bakery in Gig Harbor, for example — while many ingredients, including the dressings and stock, are made in-house from scratch.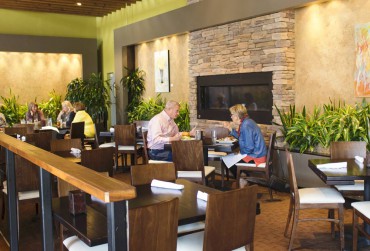 Popular items include the fresh-herb roasted chicken, BLTA sandwich (A stands for avocado) and the Croque-Monsieur (hot, grilled ham and gruyere cheese on sourdough with garlic aioli). Gale says customers also rave about the steak and the half-pound hamburger being the best in town.
Chef Fuller's focus is on fresh, seasonal ingredients, which is why he rotates the menu three to four times a year.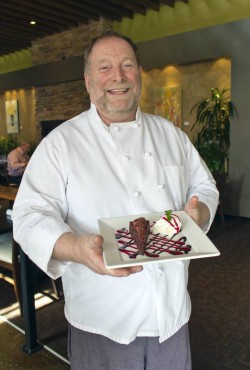 "But there are some things we don't dare take off the menu," Gail says.
Among those permanent dishes are pork chops, ahi tuna and seafood cioppino. "Those are signature dishes and people come in just for them," Scott says.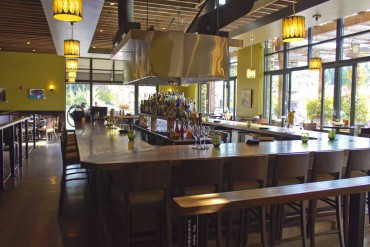 In addition to the lunch and dinner menus, Green.House serves Happy Hour as well as a "twilight menu," which is a three-course meal for $19, served Sunday through Thursday.
"There's something for everyone," Gail says. "We could be running happy hour, twilight menu and regular menu all on the same afternoon."
Scott Fuller has more than 30 years behind his belt as a chef, renowned especially for his seafood. He worked for more than 20 years as executive chef at Salty's at Redondo Beach in Federal Way. In 2001, the couple became partners in Olympia's Budd Bay Café but after 12 years there, they were "ready for a change," Gail says.
They loved Gig Harbor and found it similar to Olympia, so they moved to the area in 2013 and began looking for their own restaurant. Green.House, which had been open in Uptown Gig Harbor since 2011, wasn't for sale.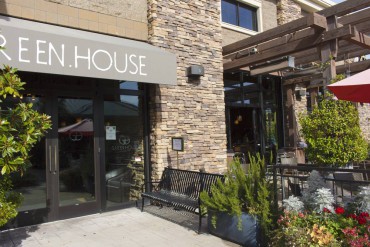 "We wanted it," Gail says. So they made an offer anyway. "It was providence," she says.
The Fullers changed up the menu and expanded it — with Scott putting his own spin on it. They also created bigger portions and added a fresh touch to the atmosphere by creating an art gallery of sorts. The walls are decorated with Gig Harbor artist Jennell Watson's paintings, which are for sale.
Gail says the business was slow when they took over, but now it's "busy-busy." She says they no longer advertise — and the only advertising they did, for a year, was at the Galaxy Theatre, located just across the parking lot.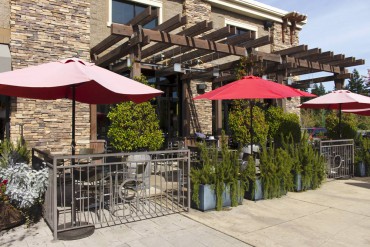 "Our business has grown and the community has noticed it," she says. "It's a tight community and word gets around quickly."
The Fullers say the success of their business rests with their employees. Among them is chef Jose Guillermo, whom Gail calls "the heart of the kitchen." Guillermo has been working with Scott Fuller for 24 years, following him at three locations.
"Our employees rock it," says Gail, who works the front of the house. "They're all about service and we do enjoy ourselves — and our customers tell us that it shows."