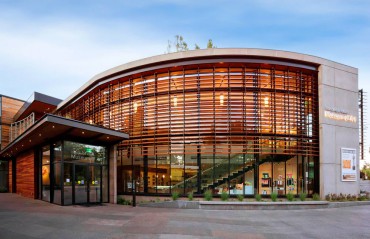 The Bainbridge Island Museum of Art (BIMA) will host an exhibition celebrating the Mexican cultural celebration Dia de Los Muertos (Day of the Dead) in its Orientation Gallery for the second year.
Expanded from one day in 2014, this year's exhibition will last Nov. 1-8 during regular museum hours (10 a.m. – 6 p.m). Like regular visits to BIMA, this exhibition is free.
Dia de los Muertos is a colorful Mexican holiday comprised of gatherings of family and friends to pray for, remember and support the spiritual journey of friends and family members who have died.
Traditions connected with the holiday include building private altars, called ofrendas, where visitors honor the deceased. Visitors often leave sugar skulls, marigolds, favorite foods and beverages, possessions and photos of the deceased.
BIMA's installation will feature a self-guided ofrenda that will be flanked by two large, brightly colored textile works by Bainbridge Island artist Araceli Cruz. The altar is accessible to everyone Nov. 1-8 for contributions from the public.
In addition to the weeklong installation, BIMA has planned the following special events:
Sunday, Nov. 1: Opening Celebration
10:30 a.m. – 11:30 a.m. Hosted celebration kick-off, ofrenda (altar of offerings) and public remembrances
Noon – 2 p.m. Face painting, papel picado (cut paper) and tissue-paper flower activities in the classroom
11:30 a.m. – 6 p.m. Hosted ofrenda: public contributions to the altar
Mexican hot chocolate, pan de muerto and authentic tamales in the Bistro while supplies last
Saturday, Nov. 7
11 a.m. – 2 p.m. Art in Action: Dia de los Muertos-themed monoprint activity with Xio Lugo
Nov. 1-8
10 a.m. – 6 p.m. Self-guided ofrenda/public contributions to the altar
Bainbridge Island Museum of Art is an educational institution whose mission is to engage a diverse population with the art and craft of our region and our time. The art museum exhibits, interprets, preserves, collects and promotes works of proven cultural value as well as new works by emerging artists and craftspeople.
On view now: Steven Maslach: New Light; Group Show: Thought Patterns; Caroline Cooley Browne: Goings and Comings; Nancy Thorne Chambers: A Story Place; Artist's Books Chapter 6: Regarding nature… or disregarding it; Heikki Seppa: Master Metalsmith. 2015 exhibitions are sponsored by US Bank and Kitsap County – 2015 Lodging Tax Fund.