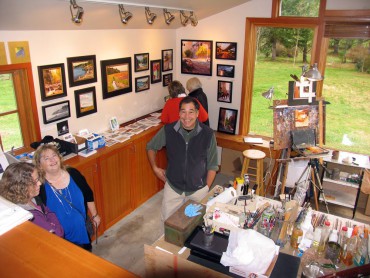 "Art In The Woods" is a unique, self-guided art studio tour throughout the North Kitsap area, Nov. 6-8, 10 a.m. to 5 p.m. each day.
What makes "Art In The Woods" unique? Visitors are invited into the actual studios to see and purchase current work, observe demonstrations of the processes and visit with talented professional artists in the community.
Painters, sculptors, printmakers, jewelers, woodworkers, glass and ceramic artists, textile and encaustic artists — the quality and variety of work on this studio tour is amazing. "Art In The Woods," now in its 14th year, is unique because it was started and continues to be shaped by the local artists.
This year's color-coded map takes you to single-artist working environments and groups of artists in larger venues in Poulsbo, Suquamish, Indianola, Kingston and more. Some studios are in town, like Sydney Sterling's painting studio in Indianola, and some are nestled deep in the woods, like Sherri Underwood's ceramic studio in Kingston.
Each studio is a special experience for the senses — even for foodies! Plan your own tour to fit your interests.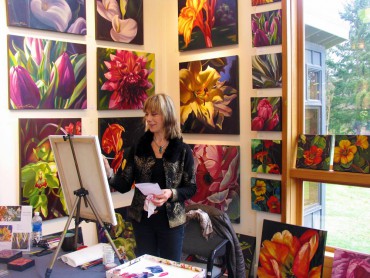 The brochure and map of the tour are available at www.CAFNW.org. You can also order one to be mailed to you when you visit the website.
Art In The Woods is primarily sponsored by the Cultural Arts Foundation NW (CAFNW), a nonprofit organization formed in 1985, dedicated to encouraging the arts, furthering creative potential and involving the community in the enjoyment and appreciation of the arts in Kitsap County.
CAFNW offers scholarships and grants to advance the creative talents of student and professional artists exploring a range of artistic expressions, including music, dance, drama, sculpture, visual arts and more. In addition, CAFNW sponsors the annual Poulsbo Arts Festival and the Art In the Woods Studio Tour to showcase the achievements and varied talents of community artists for the enjoyment of residents and visitors alike.
More information can be found at www.cafnw.org.
Leigh Knowles Metteer is the Art In The Woods Studio Tour coordinator.