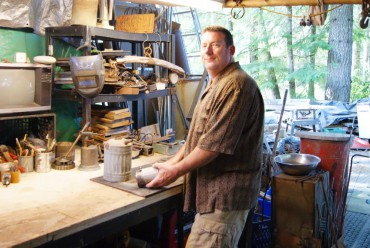 When Jeff Yeager goes to a garage sale, he heads straight to the pile of unsightly junk — old toolboxes, rusty equipment, obsolete metal parts and the like.
To the untrained eye, it all looks like a heap of unusable thingamabobs. But Yeager is like the proverbial kid in the candy store.
"I always want the stuff nobody else does," he says.
Car fenders, brass hose nozzles, old mailboxes, shock absorbers, horseshoes, brake rotors — Yeager's never turned down a piece of perfectly rusted or beat-up metal. He collects as many of those pieces as he can.
Lest you think it's some strange hoarding affliction, a walk through Yeager's yard makes his obsession with metal clear.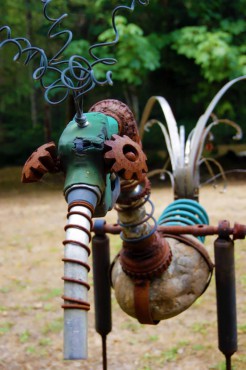 A giant bird at the end of the driveway is the first thing you see when you visit Yeager and his wife, Trudy. With a gas tank for a beak, a body made of a rock and a shock-absorber spring, and metal straps for the tail, the whimsical bird is one of many similar creatures in the couple's yard. A crab sports a torque converter for its body, wrenches for claws and "shoes" made of brakes. A frog's body is made of a barbecue (doubling as a planter for sedums), feet from bicycle pedals and eyes from gauges.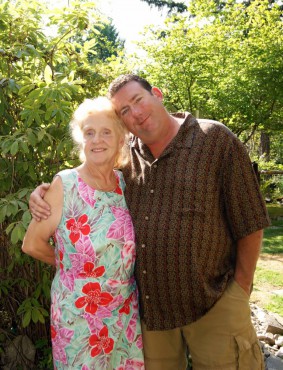 The list goes on. Emergency brakes, dumptruck air brakes, rebar and windshield-wipes motor housing become a flamingo. A mailbox, shock absorbers and muffler parts get a new life as a rocking horse. A muffler, bike suppression forks and a pan handle turn into a goat. You get the idea.
While this playful menagerie is part of Yeager's private collection, the public, too, can enjoy his sense of humor — and artful skill that turns junk into treasured pieces. Yeager sells his work at the Saturday Gig Harbor Farmers Market and other local events.
"I've had people call me an artist but I've always had a problem with that," he says. "I tell people I just make rusty junk."
Turning Junk Into Art
Yeager was inspired to create metal creatures after seeing similar art at a Seattle home and garden show.
"I fell in love with it," he says.
But before he could make anything, he needed a sizeable collection of "junk" — it takes a lot of pieces before something could come out of them, he explains.
"My wife was getting worried because I wasn't making anything but I was collecting all these pieces," he says.
After about four years of this hobby, the number of yard creatures kept growing and Trudy suggested he try selling some.
"That's how we started selling at the farmers market," Yeager says.
He started out slowly four years ago, then after Trudy became severely ill, he ramped up the hobby into a steady business to help pay for medical bills. These days, he gets home shortly before 4 p.m. from his full-time job, and between 5 and 10 in the evening can likely be found at his shop, tinkering away.
"Out here, it's not a job," he says. "I have a lot of fun doing it, creating different things."
One-Man Recycling Operation
A visit to Yeager's makeshift workshop in Port Orchard is a study in all things mechanical. The modest shop — located outside and covered, partly, by a tarp — looks a bit like a recycling operation.
Neat piles of sorted out pieces are everywhere, while smaller items like nuts, knobs, nails and bolts are tucked into drawers — thanks to Trudy's handy work and several weeks of organizing. Old gears hang off the ceiling. Beyond the sheltered space, mounds and mounds of both common and unusual finds like car bumpers, pruners, cream separators, backhoe teeth, brake rotors and various whatchamacallits that in another life would have ended up in a scrap yard.
"I like that it's not going to the junk yard and it's getting reused," Yeager says of his extensive assortment.
And they're far from nameless rusty parts to him. Yeager can tell you what every single item is, with a few exceptions. Many of them are bits he painstakingly disassembled from a piece of machinery or such.
"I have a lot of fun taking everything off," he says.
Yeager does buy a few things, like rebar and ballbearings. He also finds metal in places like the side of a country road or at mechanic shops. People familiar with his work — including customers — drop off supplies as well or call him up for a pickup. During one such trip (which took him to Twisp, a 13-hour round trip), he helped a friend clean out an old barn, unearthing such treasures as an antique Army helmet and old road flares (round-shaped, metal lamps that were filled with kerosene or oil to light up roads in the '20s).
His mother is one of his biggest suppliers. Yeager says she fills up her truck several times a year, scavenging for metal.
"It's like treasure hunting for her," he says. "It's like Christmas every time."
Yeager admits he never turns down a piece of metal. He'll recycle what he can't use, and he has one rule: If something is still usable for its original purpose, he just doesn't have the heart to turn it into pieces for his art.
Love Beyond the First Rust
Yeager gets excited when he talks about metal. He loves the patina of the rust, but he loves the creative process just as much.
It's much more than welding together a few bits and pieces. Despite the rustic look of the art, there's a lot of finish work involved. Among other things, Yeager uses a cement mixer filled with sand to clean out the parts and a grinder to smooth out sharp edges. His tools — some of which look so loved, they blend in with the other scrap — include a chop saw, wire bristles, wrenches, hammers, chisels, anvils, punches and so on.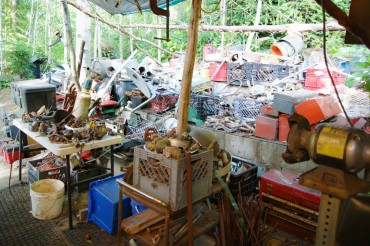 He toils in his open-air shop rain or shine. Here, railroad spikes get turned into cute little slugs, rakes become caterpillars and cast-iron pots become birds. Sometimes, inspiration comes just from looking at a rusty hunk.
"I don't have to make things a certain way," Yeager says.
He loves when people bring him their own metal pieces and ask him to create custom work. All the work has lifetime warranty, too. If it breaks, Yeager says, just bring it back and he'll fix it.
Yeager's work has evolved through the years. Originally, he also did inlaid rock designs, using the rocks' unique colors as a painter would use watercolors. The work was extremely tedious — a fountain, for example, took about 160 hours.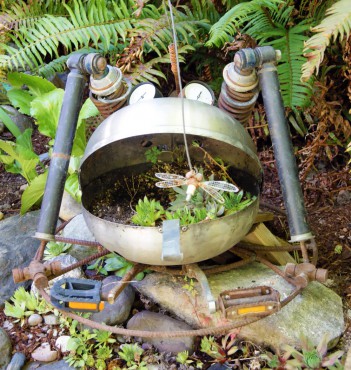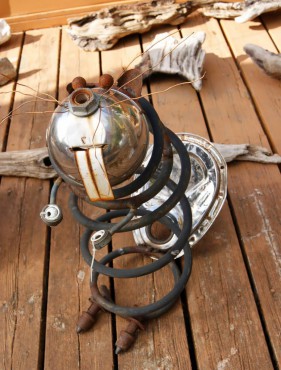 These days, Yeager sticks to metal creatures. There have only been a few exceptions to his animal creations, like a Space Needle made of brake rotor, valve, pulley and pipes.
"I have to constantly come up with new stuff," he says.
Customers seem to appreciate his wild imagination, chuckling at the site of things like a dog made out of a toolbox with license plates for ears. At some events, Yeager quickly sells out of the more popular items.
"One of the things I like the most is when someone walks up and starts laughing or says, 'That's clever,'" he says. "They get what I'm doing."