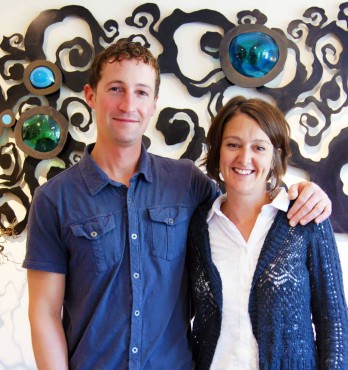 Since opening their business, Grounds for Change, 12 years ago, Stacy and Kelsey Marshall have been an example of not only building a sustainable company but also of giving back to their local and global community.
Grounds for Change joined 1% for the Planet, an organization that provides a framework for businesses to give back to environmental nonprofits. To date, with support from its loyal customer base, Grounds for Change has donated more than $150,000 to local, regional and national organizations.
Grounds for Change also became involved with the Café Femenino project, which is focused on supporting women coffee farmers in Peru. The roastery became one of the first in the United States to roast and sell Café Femenino coffee, which has become one of Grounds for Change's most popular single-origin coffees. The business has donated more than $25,000 back to the communities that produce Café Femenino.
Additionally, through the Café Femenino Foundation, Grounds for Change has funded grants for communities in Northern Peru, including for the development of a children's education center, dental health education program, chimney construction for indoor cook stoves and cervical cancer screening.
Perhaps the most personal community-service project for the couple, however, is Owen's Playground, initiated in January 2014 after losing their 6-year-old son, Owen, in October 2013. This project was in response to the need for outdoor play and recreation spaces that speak to the unique needs and abilities of all in the community.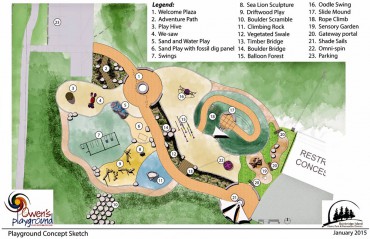 "What started out as a project driven by generous memorial funds and the need to work through significant grief and create something meaningful, has become a project fully embraced and celebrated by the community," Stacy says. "Hundreds of volunteer hours, from so many, have already poured into this project. It is truly a collaborative, community effort."
Owen's Playground, to be located at Rotary Park on Bainbridge Island, is a partnership with the Bainbridge Island Metropolitan Park and Recreation District, Chris Cain of Studio Hanson Roberts, the Bainbridge Island Parks Foundation, Rotary Club of Bainbridge Island and many volunteers who have contributed to fundraising and outreach.
The project broke ground in September 2014 and raised $156,000 for the first phase, as well as $60,000 of $205,000 needed for the second phase. Work was slated to begin at the end of June. (For more information, see www.owensplayground.org.)
The Marshalls said their philanthropic work was inspired by the role models in their lives — their parents, and mothers especially. Kelsey's mother, Leslie, lives on Bainbridge Island and volunteers her time for organizations such as Zero Waste, Coal Free Bainbridge, Bainbridge Performing Arts and many others. Stacy's mother, Janet Chalupa, lives in Bremerton and gives regularly of her time and resources.
"Both women exemplify the meaning of compassionate giving," Stacy says. "They truly make the world a better place."
The Marshalls says they couldn't give back without the support of their staff and customers
"It certainly would not be an accurate or holistic reflection of the philanthropy work that we do at Grounds for Change without recognizing the incredibly thoughtful engagement and activism of our customers and the dedication of our exceptional staff," Stacy says.
Best Part About Being Involved
Stacy: Owen's Playground had given me the opportunity to work with so many amazingly talented individuals at the park district, Studio Hansen Roberts, Rotary Club, Bainbridge Island Parks Foundation and the dedicated, passionate volunteers such as Sarah Brandt-Erichsen, Allyson Brown, Felicia Burzell, Shannon Ferrara, Aimee Hayes-Herb and many others.
The volunteers truly inspire me. Their personal lives are so busy yet they feel so strongly about the need for a play space that thoughtfully and creatively serves all in our community, that they are dedicating their valuable time to help see the project through to completion. I love connecting and collaborating, meeting new people and having the opportunity to learn and grow personally.
Kelsey: The best part of being involved with the Café Femenino project has been in watching it grow and flourish over the last decade. There are now Café Femenino producer groups in many different coffee-producing countries and the impact of funneling the coffee profits and grant donations back to the women in these communities has been tremendous.
The Biggest Challenge
Stacy: Being mindful of living a balanced life. There are days when, regardless of the many wonderful hats that I get to wear, I'm reminded that the most important one is that of mom, wife, family member and friend. The work Kelsey and I do is very public and those quiet, private times that we share with family and friends are some of the most valuable. Those private connections are what fuel the energy and passion for regularly engaging our "public" community.
Kelsey: With Café Femenino, the biggest challenge has been choosing which grant requests to fund each year. The needs are so great and the grant requests are so targeted and well-developed, it makes for a difficult choice. The flip side of this is getting feedback on the results of the funded grant projects after they are being implemented or have been completed.
Why Be Involved
Stacy: All of the work we do stems from our own value set. We believe its essential to support sustainability efforts and workers at home and abroad. We believe that everyone in a community benefits from inclusive play and multigenerational, public spaces. If looked at altogether, these are really matters of compassion and empathy. Kelsey and I both believe that is what the world needs now more than ever.
Kelsey: Our desire to become involved with the Café Femenino project has to do with our belief that if you empower the women, you will improve the community as a whole. Women tend to invest their profits back into their children, families and communities. This strengthens cooperatives and improves the quality of life for everyone in small, rural coffee- farming villages.
Best Compliment
Stacy: "Thank you for the opportunity…" from Owen's Playground volunteers. I believe we all want to be a part of something meaningful.
Kelsey: For Café Femenino, the best compliment that we have received has been "thank you" messages from the women coffee producers involved in implementing the grant projects that we have funded. There is great satisfaction in knowing that you have made a difference in improving the quality of life for a whole community.
Things I Can't Do Without
Stacy: Fishing on a quiet lake with my husband and 6-year-old son, Elliot. Hiking in the Olympic Mountains with friends. Campfires and storytelling. The opportunity to grow beautiful things in my garden.
Kelsey: I can't do without coffee, salt and family.
Things I Do To Relax
Stacy: Being out in nature relaxes and recharges me. I love waking up with my husband and son, in the backcountry, in our tent, and hearing the soft sounds of the birds at dawn as this part of the world wakes up. It gives me great peace. Hiking, biking, kayaking, camping, fishing, gardening and cross-country skiing are activities that I enjoy tremendously. Sharing these experiences with family and friends makes them even more enjoyable.
Kelsey: My favorite way to relax is hiking in nature, be it beach, mountain, forest, desert or prairie. I enjoy traveling, cycling, fishing with my family and working in the garden — watching things grow gives me satisfaction.