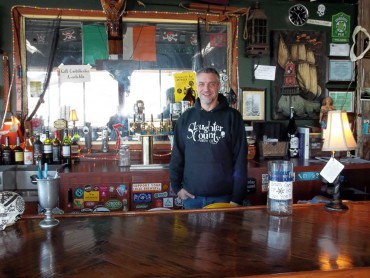 Before starting his Slaughter County Brewing Co., Scott Kirvan had been home-brewing for about 30 years.
"That's how I got started, and Slaughter County Brewery is my first time doing professional brewing," he said. "'Been doing this, at this location, for about two and a half years now."
Part of those 30 years he was an electrical engineer and software developer.
The path that led him to where he is now started in community college in Minnesota after a rugby practice, when a friend invited him to taste some of the beer that he had home-brewed. They went to the back of the friend's car for the beer.
"I didn't know you could make your own beer at that point. I was fascinated, so I asked him about that and he taught me how to brew," Kirvan said. "Then a friend and I put our money together and bought a brew kit and learned to brew ourselves, and I have been pretty much home-brewing off and on ever since."
Since then, he's had a lot of informal training.
"(I've been) taking as many workshops and classes as I could find, reading a lot of books — nothing really formal because there was not anything formal offered back then," he said. "But now there are brewing technology courses. I recently attended a technical workshop on mead in Portland, Oregon, that was really interesting."
With Kirvan's driving curiosity and creativity, he found brewing fascinating. It led him to the history, the chemistry of home brewing and the problem-solving in the brewing environment. He said that it was a lot of fun and intellectually consuming.
Kirvan likes the variety and complexity of the different beers and says that it's always an interesting learning experience.
After he sold his software company, he took a few years off trying to decide what to do. He took about two years, one year pondering, trying to decide if he wanted to turn this thing he loved doing — a hobby — into the job of brewing. Then another year of business planning.
"Business planning for a brewery is also a lot of fun," Kirvan said. "You get to travel around and interview a lot of brewers and go to a lot of breweries."
Kirvan explained how the brewery's name came about.
"When Washington Territory was organized in 1853, the Kitsap Peninsula was a part of two counties, King to the east and Jefferson to the west. Slaughter County was Kitsap County's original name," he said. "Before it was Kitsap County, it was a big territory, part of King County, that included Jefferson, Kitsap, Mason and probably a couple of other counties. Of King County's 238 voters, 139 were living on the Kitsap Peninsula, including Bainbridge Island. They lobbied to have the territory broken up into smaller counties.
"Local representatives introduced bills to create a new county called Slaughter, commemorating Lt. William Alloway Slaughter, who had been killed in a Native American skirmish near Auburn. So when the Territorial Legislature broke up the massive King County into smaller counties, they first named it Slaughter County after Lt. Slaughter. Slaughter County was born on January 16, 1857. The local residents didn't want to live in a place called Slaughter, so they built a county seat and held their first election and within six months of that same year, they got the name changed to Kitsap County."
Kirvan selected the location of brewery because of the beautiful views, lots of parking and room to grow.
Presently Slaughter County Brewing has a menu that includes a food selection of gourmet pizzas, small plates and snacks, plus beverages. In addition to the Slaughter County beers brewed onsite, the brewery offers a rotating selection of guest beers and other drinks. Growlers, bottles, sodas and coffees are available in-house or to-go. (Slaughter County beers are available from the taps and in growlers, and will be available in small bottles later this year.)
The three core beers produced are a premium and a light version pilsner, a traditional Irish stout called O'Cairdubhain's Irish Stout because of the family's name, and an Ol' One Eye IPA. In addition, there are many other varieties and seasonal brews in regular rotation.
The Regimental Ale, which is one of the hardest to make, is very popular. At Christmas time, Slaughter County makes Jul Fruktsoppa, a winter ale. Pumpkin Porter is one that Kirvan has been making for 20 years, and it has taught him a lot about making fruit beers and getting other types of flavors to come through. That's a really popular, really good beer.
Tap beer prices currently range from $3.25 (12 ounces) to $10.79 (22 ounces).
The menu states: "We strive to produce the best pizzas, the best beers and the best craft beer experience on the Kitsap Peninsula."
Future plans: The plan for 2015 is to start bottling and self-distribution. Kirvan wants to keep the distribution local, no further than Portland, but into Kitsap County and the Peninsula as well as Seattle. Many of the brewing medals won recently have been in Kitsap County because the breweries here are pushing the limits.
"We all work together, we are all expanding and growing," Kirvan said. "It's great for me to be in Kitsap County."