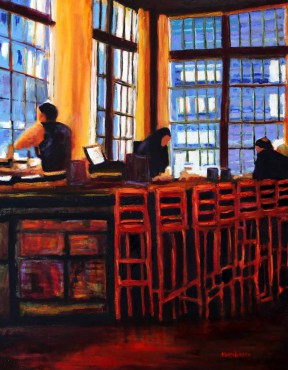 Contemplate one of Marti Green's destination or landscape paintings long enough, and you'll start making plans to visit the place. The Port Orchard artist's work — whether in watercolor, oil or acrylic — uses vivid colors that make the paintings come to life. Even winter scenes include colors like bold blues and purples.
"I like bright colors. In Washington, you can paint any scene but if it's dark and on an overcast day, people won't like it," Green says.
It's those bright colors that likely make her work recognizable to friends and fans of her work, she suspects.
"You can usually tell an artist by their palette," she says. "A lot of them won't give up their palette because it's like their recipe."
It may be debatable whether Green fell in love with colors or paints first. As a young child, she was fascinated with crayons and couldn't wait to cover a blank page — and soon, she began to mix her own crayon colors.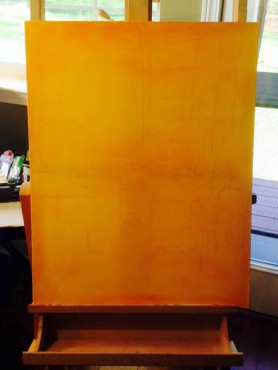 Green continued to sketch, doodle and generally stay preoccupied with art (sometimes to the detriment of school studies). As an older child, she got in trouble for painting things she shouldn't have. That's when her mother bought her the first set of art supplies.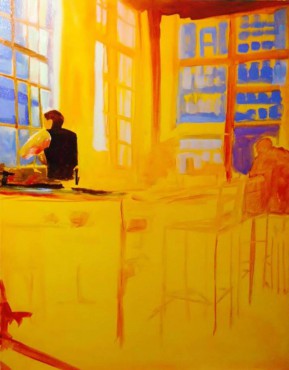 When she finally got a little more "serious" about her work, taking an art class in high school, Green was encouraged to submit two paintings into the Mason County fair — winning first and second prizes. That may have given her an idea about a potential career as an artist, but it would be another 25 years before that passion turned into her full-time "job."
"What started me back [painting] was traveling abroad with my husband," Green says. "I was tired of knickknacks and souvenirs, so I started sketching."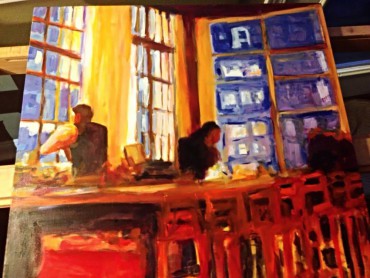 She also took photographs that would later become paintings — a habit she maintains. If she goes someplace for more than two days, on vacation or otherwise, her camera comes along.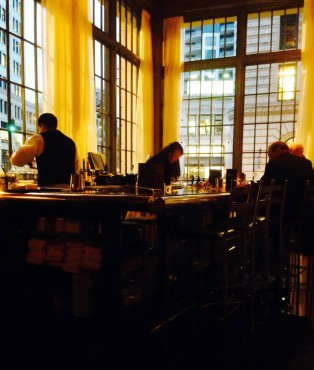 Green paints from her photos, but she adds her own twist, usually to make the colors bolder. Beaches, boats and bars are the "three Bs" that inspire her the most.
"I love the beach because that's where I would go for art, or to get away — the sound of water and nature, you can process things," she says. "I like bars because they pull in people and everyday life."
The Right and Left Sides of the Brain
Green studied commercial art and design in college and took a job with the ski maker K2, silk-screening and designing before the age of computers. But after she and her husband, Steve, moved to Port Orchard from Vashon Island in the '80s, she couldn't find work in the field — so she returned to her earlier career, in banking.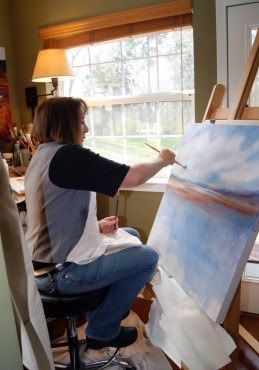 Raising her family kept Green busy but she couldn't ignore her passion for art.
"I'd come home on my lunch hour and paint," she says.
Soon, she developed a part-time business selling her work. And when a health diagnosis required her to take on a less stressful job about a decade ago, Green turned to her first love for good.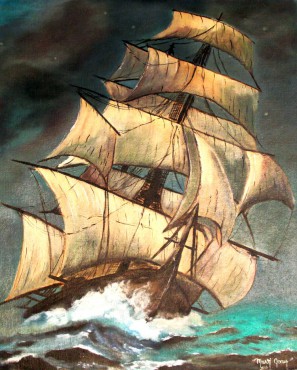 Being a full-time artist is far from a strictly right-brain endeavor (scientifically debunked "left vs. right" theories aside). Green treats her art not only as a full-time job but also as a business. That means not only maintaining a strict schedule (no "painter's block" allowed) but also doing things that many artists hardly enjoy — marketing, selling and such.
Green is up at either 5 or 6 in the morning, depending on the season, and ready to paint. But sometimes she'll dart out of bed in the middle of the night, determined to sketch out an idea she'd just dreamed about.
During those times when she's getting ready for a show, her painting schedule could stretch late into the evening hours.
"If you're not careful, you can eat, sleep art," she says.
Oil paints take much longer to dry than watercolors and acrylics, so it could take three to four days just to prepare for an oil painting. But typically, Green has five to seven pieces of art in the works, alternating among them.
Often, she'll paint upside down. If she's stumped, she may turn a painting around for a few days, and then try to figure out what's wrong with it. Or she may take a photo and send to artist friends for critiquing.
She often gets lost in her work while listening to music in her studio.
"When you read a good book and you're done, you miss it. It's the same with a good painting — when it's done, I miss it," says Green, who also sells her photography.
Painting is perhaps a bit of an addiction. Green says if she gets tired of it, she'll try to take a trip or a vacation.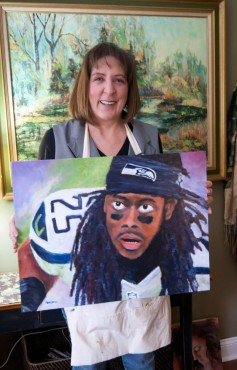 "But after the vacation is over, I can hardly wait to get back into my studio," she says.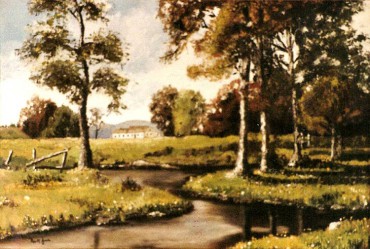 Painting the places she's visited is almost like retaking those vacations, too — the finished pieces are her souvenirs.
"I'm creating memories," Green says.
Perhaps she's creating memories for others, too. Many people buy her work because it reminds them of their own vacation or some other happy memory.
"I paint something that comes from here," she says, placing her hands on her heart. "But people who buy the paintings do it because they find meaning in them."