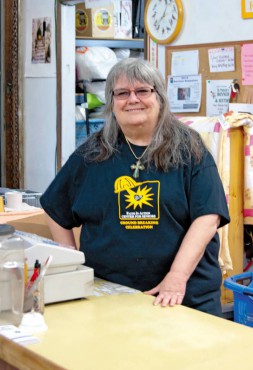 Faith in Action Senior Services, based in Belfair, was founded in 2001 with the mission of supporting independent living for seniors and disabled individuals. The nonprofit provides a variety of free, volunteer-based activities such as escorted transportation, respite care, housework, yard work and minor home repairs, along with emergency financial help.
A free medical equipment bank lends wheelchairs, walkers, hospital beds and other equipment. Faith in Action also provides referral and advocacy services, and partners with other organizations to host classes and seminars. The organization operates a thrift store that helps support operations as well as provides free goods to individuals and organizations in need.
Last year, volunteers donated nearly 8,000 hours to help provide services 1,245 times. In partnership with the Mason County Housing Coalition, Faith in Action provided more than $29,000 in emergency assistance and donated $21,000 to individuals and another $18,000 to other nonprofits in in-kind goods.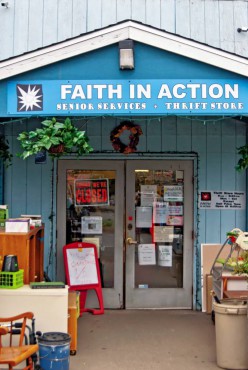 For the last few years, Faith in Action has been working on a dream of building a senior center to give seniors a permanent place for recreational and social opportunities. The nonprofit has been raising funds since 2009 and broke ground on the building last year. Funds are still being raised but the center is expected to open this fall.
Recently, Faith in Action was the first-ever recipient of the North Mason Chamber of Commerce nonprofit of the year award.
Patti Kleist has been serving as the executive director since 2007 and has been championing the senior center project. Last year, she was recognized by the veterans' organization Forty & Eight for her work with seniors.
Kleist serves on the Mason County Mental Health and Substance Abuse Advisory Committee and on the Mason County Housing Coalition. She is the founder and leader of North Mason Caring Action Network (NM CAN); a member of the North Mason Rotary, the Allyn Community Association and the Grapeview Community Association; and is active at New Life Church.
She has a long list of other community service commitments, past and present, including North Mason Chamber advisory board, Habitat for Humanity board and Mason Thurston Area Agency on Aging Advisory Board.
Best Part of the Job
I am energized by the smiles of clients whose burdens are lessened not just by what we did for them, but by the fact that we listened and care.
Biggest Challenge
Not having the money, time and resources to help everyone who comes to us in need.
Why Do This Work
Our seniors dedicated their lives to our wellbeing, health and happiness. We need to do the same for them. As we grow older, even basic activities become more challenging. It is our responsibility to come alongside and help where we can.
Best Compliment on the Job
That something I said or did gave encouragement and hope.
Things I Can't Do Without
My relationship with my God, who strengthens me and grants me peace (when my ego and self-will don't get in the way).
Hobbies Outside Of Work
Crafting, reading, gardening and playing cards with friends.
Best Way To Relax
Spending time (even moments) appreciating and reveling in the beauty of God's creation. I know that sounds corny, but it's really what brings me peace.