It's an appropriate saying for this year's Gig Harbor Garden Tour from an 86-year-old gardener who has opened her magnificent garden to thousands of viewers over the last 15 years.
For the last 17 years, the Gig Harbor Garden Tour has dedicated its profits to helping people of all ages gain the gift of literacy.
When you buy a ticket to see the beautiful gardens of Gig Harbor and the surrounding area, you are also providing the joy of reading to a worthy child or adult. Grant recipients from the 2014 tour's profits include Discovery Elementary School, Communities in Schools — Peninsula, Key Peninsula Cooperative Preschool, Friends of Pediatrics NW for Reach Out and Read, Evergreen Elementary School and Tacoma Community College with specific programs for literacy.
The 2016 Tour
The Gig Harbor Garden Tour has a reputation for selecting a diversity of gardens; the purpose of the tour is to not only entertain and delight the eye, but also to educate and inspire. The hope is that people will go away with new ideas and ways to improve and enjoy their own gardens.
The participating gardens are within a reasonable driving area. Three of the gardens are on Fox Island, two are in downtown Gig Harbor and one is located halfway between those two areas. This allows visitors to break the tour up into two easy days or to see one area in the morning, have lunch and visit the other area in the afternoon.
Guest Speaker: Dan Hinkley
A real treat is in store this year for ticket holders. Included in the price is a talk by internationally known gardening celebrity Dan Hinkley on the evening of Thursday, June 25. His topic will be "My Life in Plants: The First 60 Years."
Hinkley gained prominence in the gardening world as a "plant hunter" 22 years ago. Traveling to innumerable countries in the Far East, Tasmania and Canada, he brought back fabulous plants that he tested and propagated at his Heronswood garden in Kingston. He is well-known in the horticulture world not only as a great plantsman but also as a writer and lecturer.
Tickets for the talk will also be available for0 $10 to those who may not be able to attend the garden tour. To purchase tickets and reserve a spot, call 253-853-7979 or email pattimcferran@comcast.net.
The Gardens
The gardens are all creations of the individual owners. The host gardeners will be available for your questions. There also will be knowledgeable volunteer docents on hand.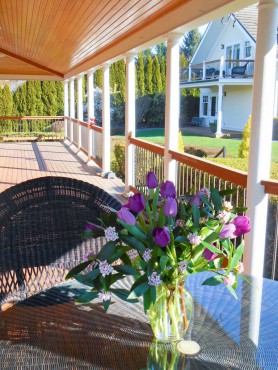 Two of the Fox Island gardens are large properties whose owners have equestrian stables. One stable will be open for walk-throughs and visits with some beautiful and gentle horses. Both of these gardens include large, deer-fenced vegetable gardens with lots of great ideas for raising edibles, including fruit trees and vines.
The third Fox Island garden is meant for entertaining. It has a spacious lawn for sports activities as well as a lovely swimming pool. The party pavilion extends above a boathouse that faces Tanglewood Island, providing a great place to take a break and enjoy the view during the tour.
The "in-between" garden is a home gardener's delight in a quiet, friendly neighborhood. The circle drive in front is chock-full of lovely plantings with a wide, covered front porch and comfortable seats for flower viewing.
A work area on the side of the house will give garden aficionados many ideas about how to organize storage and chores. In the back garden, there is an extensive lawn for children's games and a large cottage garden that includes both perennials and vegetables as well as fruit trees.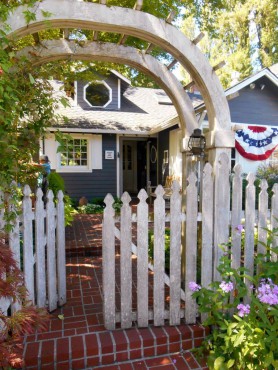 The two downtown gardens are within walking distance of one another and the two gardeners have been friends since grade school days in Gig Harbor. Though their gardens are similar in some ways, they both have unique traits that reflect the owners' individual tastes.
One of the homes is known as the Shaddock House, the oldest house in Gig Harbor. Both have English cottage-style gardens that feature boxwood parterres and old-fashioned flowers. One has a delightful upstairs art studio with a peekaboo view of the Harbor. The other has a different perspective of the Harbor from the gazebo and a garden shed that is worthy of being a feature in The English Gardener magazine.
Garden Demonstrations and Talks
An added bonus for every ticket holder includes demonstrations at some of the gardens during the tour.
Sue Goetz will speak on the Sunday of the tour. A successful garden designer and owner of The Urban Garden Co. in Tacoma, she recently published "The Herb Lover's Spa Book." Details will be listed in the ticket brochure.
Vendors
Vendors selling garden-related items and crafts will be located at some of the larger gardens. A sampling of offerings includes gorgeous fuchsias by The Secret Garden, pottery by Nature's Lover Clay Works and specialty plants by Blue Frog Nursery.