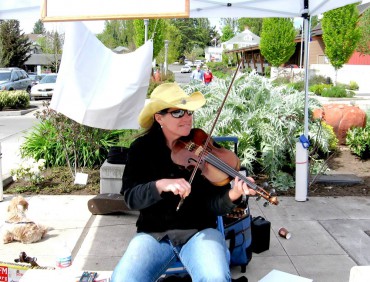 For the past 20 years, Bainbridge Island resident Tami Allen has had a "secret." A sailboat captain for Lille Danser Boat and Breakfast and a Bainbridge Island Police Department harbormaster by day, she's also a Cajun and zydeco music performer.
Currently a vocalist and fiddler with a band called WHOZYAMAMA, she performs about once a month and has done gigs like the Northwest Folk Festival.
Not that Allen is trying to keep her talent a secret on purpose. But when people in her professional life hear about her performing, they're usually surprised.
"Not many people at work know that I do music," she says. "And the music community knows I'm a boater and a captain, but they don't know what that means."
Allen is one of many West Sound residents with hidden talents — some better known than others. Their music is different, as are their interest and commitment, but they all follow their passion for music on the side because it brings them — and others — joy.
Transported through Music
For Allen, the love for the fiddle began in fourth grade.
"The fiddle allows me to play any style. It sounds like a human voice and is so flexible," she says.
But until she was in her 30s, she only played to herself. Then, after discovering a cassette tape with Cajun music in her father's stereo in the early '90s, she was hooked.
"I didn't even know what it was called," she says. "I've never heard that music before."
Traditional to Louisiana, the upbeat Cajun music has its roots in the Canadian province of Nova Scotia and the ballads of France. Some of the songs are 100 years old, but the music typically is not written, so you learn from other musicians.
Two years after her first encounter, Allen attended the American Fiddle Tunes camp in Port Townsend with accordion player Claudette Boudreaux (the two are now married) and fellow fiddler Claudia Anastasio.
"I was afraid of playing in front of people. The music camp cured me of that," she says.
Eventually, the trio became part of a six-woman, all-acoustic band Les Femmes d'Enfer, and a decade later transitioned to WHOZYAMAMA, which also includes Allen and Bourdeax's 17-year-old daughter, Alexina. The pair also teach every summer at a camp in Mendocino, Calif.
"What I really love about it is that you're not in a fixed auditorium with chairs. And you can just close your eyes and play," Allen says. "I love the fact that we can start playing a tune and be transported, like reading a book or taking a hike."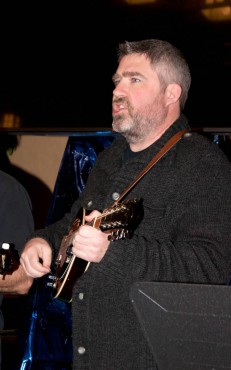 Music as a Heart Language
Dan Whitmarsh also got hooked in fourth grade. His instrument of choice was the trumpet. Growing up in a family of church musicians and singing since high school, Whitmarsh wanted to become a music teacher and majored in trumpet in college.
"Music to me is a language. It's a heart language," he says. "It's how my soul operates in the world."
Whitmarsh never landed that professional musician career — his high point was playing the lead trumped in a semi-pro performance of Handel's Messiah. Instead, as he explored his teaching path, he became involved with youth worship and music at the local church, leading him into full-time ministry.
A pastor for the last nine years at the Lakebay Community Church on the Key Peninsula, Whitmarsh curtailed his trumpet playing after having children (it's hard to practice with babies, he says).
But he didn't give up his passion for music. He can be found playing the mandolin and singing locally with the Bluegrass Minstrels, a band whose regular venues are retirement and assisted living facilities in the Gig Harbor area.
Bluegrass Minstrels was an offshoot of bluegrass jams that another local pastor started several years ago, and their main repertoire is gospel bluegrass. Whitmarsh, who can play half a dozen instruments, took advantage of a 100-year-old mandolin his father gave him.
"It's great to be a minister and still have an outlet for music," says Whitmarsh, who does find similarities between being a musician and being a pastor because they both require a collaborative process in which everyone has a role.
After moving to Washington state, he performed with the Gig Harbor symphony and a brass quintet at one point, and still gets wistful at orchestra concerts. He doesn't discount the idea of returning to brass music some day.
Whichever music he keeps pursuing, Whitmarsh sees it as a tool — for "connecting people, creating bonds and transcending culture" and getting people to work together on something bigger than themselves.
"I love being able to share music with the community and other people so they can enjoy it," he says. "It touches and encourages them."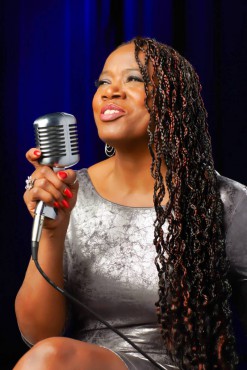 Sharing a Gift with Others
Eugenie Jones is motivated to sing by the same thing — she wants to touch other people.
"Our gifts are meant to be shared with others and to touch them," she says. "If you create (music) and it's in your closet, what's the point?"
Jones was introduced to singing around first grade by her parents in church. She didn't think much of it after becoming an adult until after the death of her mother, Tommie Parker.
Parker, who in her final years moved in with Jones and her two children in Bremerton, had a beautiful voice. Missing her — and inspired by her — Jones began to sing again. A few jams and jazz workshops later, she was off to performing gigs.
"I would find myself in moments of disbelief because it was a newly discovered talent I didn't know I had," says Jones, who works full-time as a community relations and development manager for Kitsap Community Resources. "I realized it was a great mode of communication, and I liked the performing side — so I was hooked."
Since her first paid jazz performance in July 2011, Jones has been developing her buddying musical career on the side. She does four to eight performances a month, and is in the process of producing her second CD.
Her debut CD, "Black Lace Blue Tears," reached No. 108 of 832 on Jazz Week Review. The majority of the songs in the album are her own — a year after she began performing, Jones started writing lyrics and composing her own songs.
For Jones, a former business owner who has a master of business degree, music is about performing but also about marketing herself.
"I look at everything I do from a business standpoint as well as creative," she says. "I have a message. I feel very strongly about the music I write but if I don't do the work, it will not be heard and appreciated."
Jones, who also teaches fitness classes for the Y and is a marketing adjunct professor at Western Washington University, keeps a busy schedule. But she says the most important job for her is being a mother to her teenage sons. And she hopes to see her musical career continue to grow.
"I'm a complex person in terms of interests and I'm constantly striving to be better and be more," she says. "I've always had multiple irons in the fire — that's just who I am."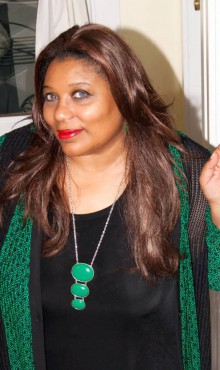 Performing on the Fly
Keeping multiple irons in the fire suits Doña Keating as well. The president and CEO of strategic leadership and management consulting firm Professional Options, she has multiple talents and interests, including singing a variety of music, from opera to pop.
"I probably prefer jazz, particularly torch songs, because it sets a relaxing tone and allows me to play with my voice as an instrument," she says.
Keating, who lives on Bainbridge Island, doesn't seek out paid performances but she's been asked several times by famous performers to join them on the stage. Impromptu performances are a common occurrence for her — a more recent one being at a waterfront hotel club in Budapest.
"I've been offered gigs in the past but haven't focused on doing any the last few years," she says.
Keating has been singing since childhood, and was once a first soprano in a chorale where she was regularly doing solos. She's never pursued any other training — and says discovering her talent "just happened."
"I have a passion for the arts and music — listening to it, singing it, creating it, dancing," she says. "When others heard me, they tended to rave and ask why I wasn't performing, so once in a while I explored that avenue."
She's performed in venues across the country, including Chicago and East Coast. Closer to home, she was a guest performer at Unity Church in Manette and at an anniversary party at the former Lighthouse Café and Wine Bar in Silverdale.
Karaoke, talent shows, theater, fundraisers — she's done a little bit of everything, including being one of seven finalists in the Seattle Kobe Sister City Association's female jazz vocalist audition at Dimitrou's Jazz Ally in 2010.
An introvert, Keating says she has to overcome her natural disposition to get out there and do it — and she finds similarities between her musical endeavors and her professional career.
"In both cases, you have to be prepared, know your strengths and limitations, be willing to challenge yourself and push beyond perceived boundaries, meet and exceed expectations," she says.
Asked why she continues to perform it, she says, "because it gives pleasure to others and it adds a positive and beautiful energy to the universe."