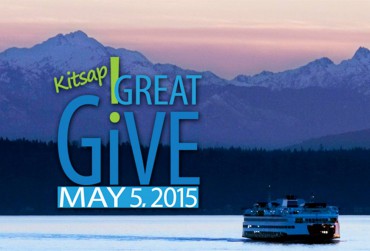 The Kitsap community "stunned" organizers of Kitsap Great Give last year, donating more than $500,000 in 24 hours to 200 local organizations. This year, the ante is up — the goal is to raise $750,000, some of which will be matched by sponsors.
The Kitsap Great Give, organized by the Kitsap Community Foundation and presenting sponsor United Way of Kitsap County, is a fundraising telethon of sorts — done completely online. Nonprofits register for the event in advance, and on May 5 supporters can donate to their favorite charities online during a 24-hour period.
Donors can give to more than one charity in one transaction, and a ticker will show totals raised so far. A leaderboard will also show how the nonprofits' donations compare, as well as prizes they win throughout the day from various sponsors.
Among the prizes is $1,000 "early bird" prize, from Suquamish Clearwater Casino, for the organization that raises the most by 9 a.m. on the morning of the Give.
The causes championed by this year's organizations range from social services, youth and arts to education, animal welfare and homelessness. Some serve their hometowns or the larger Kitsap community, while others make a global impact.
Below is a sampling of what some of the participating nonprofits would use their Kitsap Great Give funding for. Visit www.kitsapgreatgive.org for a complete listing of all participating nonprofits; each organization has its own page on the website, listing its causes and needs.
Holly Ridge Center: Build a new, onsite, all-accessible playground for toddlers served by the organization
Bicycles for Humanity: Help pay for transporting bicycles to those in need and purchase parts, tools and containers
Bainbridge Island Special Needs Foundation: Hire a music/dance coach for participants as well as upgrade cookware, small appliances and tableware for the lunch programs
Bremerton Backpack Brigade: Continue expanding the weekend feeding program for children in need
Canterbury Manor: Buy an emergency generator for the residents of the independent retirement center (and for the community in the event of a major emergency)
Friends of Silverdale Library: Expand support for library programs and reading opportunities throughout the Central Kitsap area and start critical planning of programs and support areas for the new Silverdale Library
CSTOCK: Help send kids to summer theater camp
Kingston High School Athletic Booster: Buy uniforms, upgrade equipment, hire supplemental staff and pay for other general needs
South Kitsap Fire and Rescue Volunteer Association: Renovate and refurbish the SKFR Fire Prevention/ Education Support trailer, which contains bicycle medic units for rapid response to medical emergencies at large community events in South Kitsap
North Mason Resources: Provide funds to help those in need
Hospice of Kitsap County: Pay for uninsured patient care, complementary therapies (massage therapy, therapeutic music, pet therapy), community grief support and other needs
Kitsap Foster Care Association: Help fund the Dream Project, a program that helps restore normalcy to the disrupted lives of foster children by awarding them money to be used toward nonschool expenses payments
Lindquist Dental Clinic: Provide general funding that helps serve children whose families may be financially challenged by out-of-pocket copays or may be uninsured
North Kitsap Soccer Club: Provide scholarships for area youth to participate in soccer programs at academy, recreational or select levels
Kitsap County 4-H Youth Development Program: Provide scholarships for 4-H youth leaders
My Jewels of Hope: Help fund cancer research as well as support prevention and early detection of ovarian cancer