What do you do when you own a beautiful piece of waterfront property on Mason Lake, and you're not sure what to do with it? You build your forever home on it, of course.
Mason Lake is one of those special places that many people in the West Sound region have heard of, but are somewhat clueless about where it's actually located, not to mention how big, beautiful and peaceful a place it is. Located just south of Allyn in North Mason County, it started out for many as a place to escape to but has become a serene haven for folks from all walks of life.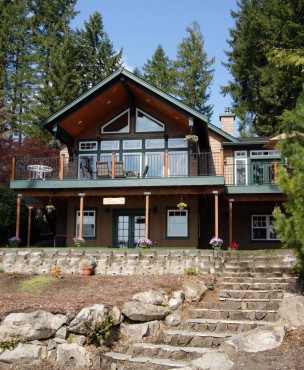 At over 1,000 acres, with almost 11 miles of shoreline, Mason Lake is the largest and deepest lake in Mason County. It's a popular place in the summer for swimming, boating, fishing, water and jet skiing. Green Diamond Resources (a subsidiary of Simpson Timber) has long owned a large park and retreat facility on the lake for its employees to use as well.
"We used to take our kids out here to a friend's place when they were 7 or 8," said Jerry Deeter, who along with his wife, Becky, built a 2,200-square-foot lakefront home — 3,000 if you count the semifinished basement — three years ago, moving in during the July 4th weekend in 2012.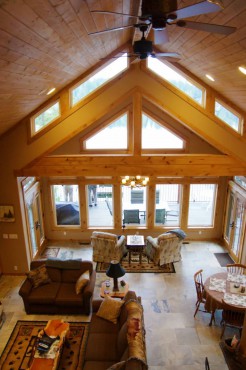 How they came to own the property is an interesting story. Knowing how much their kids enjoyed the lake, Jerry, who retired from Kitsap County as the director of Environmental Health not too long ago, explained that he and Becky had originally owned a rental house in Bremerton, and were able to acquire the lakefront property via a 1031 tax-free exchange for that house.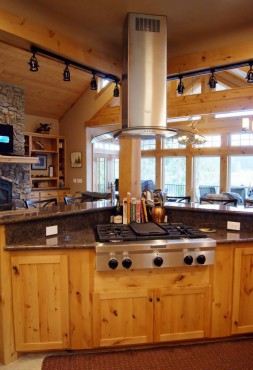 "We would come out here and enjoy ourselves, but really weren't sure what we would eventually end up doing with it," Deeter said. "And when the kids went off to college, it was pretty difficult for us to do anything. But when they graduated, we decided we needed to either do something with this place or sell the property. So I took out a loan and we built this house."
The craftsman-style home has a distinct country flavor inside, with lots of knotty alder trim, including all the cabinetry, while 24 squares of clear cedar shingles adorn the exterior — with each individual shingle hand-stained by the couple.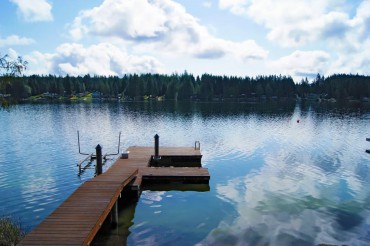 The home was designed by Justin Ingalls of Kitsap Trident Homes in Poulsbo and built by Seabeck's Wayne Soberg of Sunburst Development. Upon arrival, the numerous different roof pitches are the first thing that catch your eye. While defining the home's exterior charm, they also add much to the unique character of the interior, both visually as well as functionally.
As you enter through the front door, you'll be walking on autumn-colored, natural slate porcelain tiles, which grace all the main living areas on the ground floor. To the right is a beautiful set of etched-glass double doors leading to what appears to be a den or study, but thanks to a folding wall bed — what's often referred to as a Murphy Bed — it can do double duty as a guest room if needed.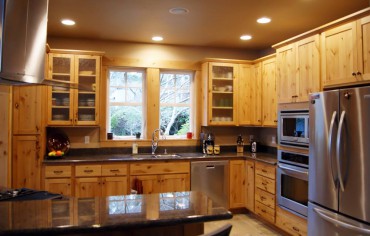 Ironically, the striking-etched glass doors' picture appears to be the scenic local view of the Olympics from the lake. However, that's not what it is — the doors were not even a matched set, according to Deeter. but they go so well together, you would never guess that by looking at them.
The kitchen is an open design showcasing an attractive blend of rustic-looking alder wood cabinetry and modern, stainless steel appliances. The gemstone granite countertops are mounted at bar height, with stools on the outside looking in. The stove is propane-fired and restaurant-grade, with a custom-made stainless hood above it venting out the roof.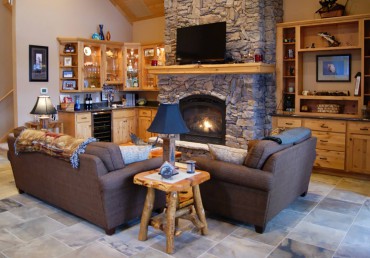 The kitchen is just one example of where all those different roof pitches come into play. The high ceiling gives the room a feeling of added spaciousness and openness, making it seem larger than it actually is.
The focal point of the living room is a ceiling-to — loor, rock fireplace featuring Teton Eldorado Stone, which, while appearing natural, is in reality man-made rock. Every single stone in that fireplace was positioned by hand, and like the kitchen and the rest of the home's heating system, it's fueled by propane. However, the flame it displays appears to be that of a natural wood-burner.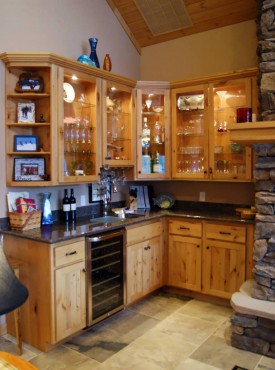 The Deeters are both wine aficionados and make it a point to visit the vineyards in Sonoma and other places on a semiregular basis. So naturally, the living room also has a built-in wine cooler to the left of the fireplace that's tucked beneath a wet bar topped with the same gemstone granite as the kitchen counters.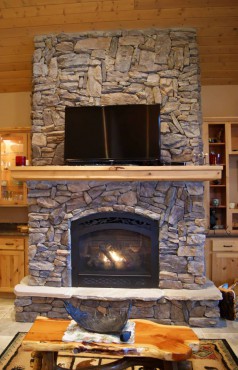 The roof pitches come into play once again upstairs, where there is a second-floor guest bedroom and bath, as well as a small reading area off what is almost, but not quite, a mezzanine.
The cozy little escape with a steeply pitched ceiling is just perfect for a child — or grandchild — to while away time buried in a book.
But nowhere are the roof pitches more dramatic than in the high-ceiling, open living room area, which is framed by two stories of windows fronting the lake and capturing the peacefulness of the view looking over the expansive deck.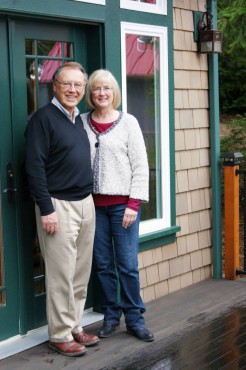 The large master suite also takes advantage of the varying roof pitches and looks out onto the lake, opening out onto the deck as well via a set of French doors. It's an inherently serene and peaceful room — just perfect for the rest and relaxation it's designed to provide.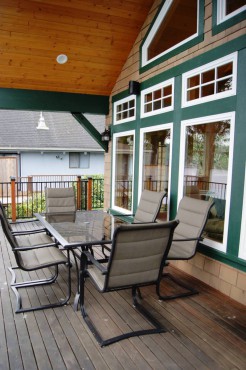 The deck surface is stained ironwood and framed with a black railing topped with a decorative, solar-powered light on each post. The deck overlooks the terraced landscaping that features stone walkways leading to a cozy fire pit constructed from manufactured Bitterroot Eldorado Stone. There's a natural stone pathway down to the boat dock on the shoreline. The dock itself was actually built off-site by Mason Lake resident Jim Palmer, floated down the lake and secured into place.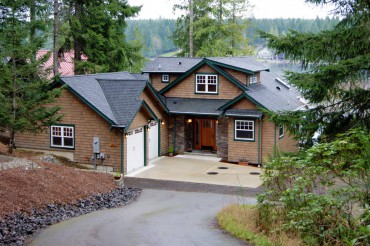 The walkway stones are held firmly in place by a product called Gator Dust. Packed between the stones about an inch deep and swept into place, it's a unique mixture of polymer binders and calibrated crushed-stone dust. When misted with water, it acts like a cement, but it is actually a natural stone product.
The Deeters find themselves spending more and more time at the lake instead of their longtime Poulsbo home. And it's easy to see why — it's a great place for entertaining friends and neighbors, as well as just being able to kick back and peacefully enjoy a glass of fine wine surrounded by the quiet, serene setting Mason Lake offers. As someone once said, "It doesn't get any better than this."