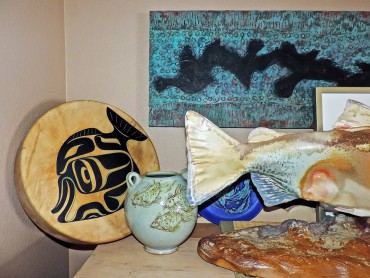 Just the title, "Finding a Place for Art," somewhat connotes that art is playing second fiddle, as if even asking whether there is room for art means one considers not including art.
Being in the art and design business for many years, I've often discussed the topic of collecting and displaying in one's home, especially in this day and age with downsizing, space-greedy windows, electronics, huge screens and trendy minimalism.
Rules change quickly, and this goes for art in the home. It used to be that paintings weren't on the floor, leaned against a wall. But go ahead, especially if you are a collector.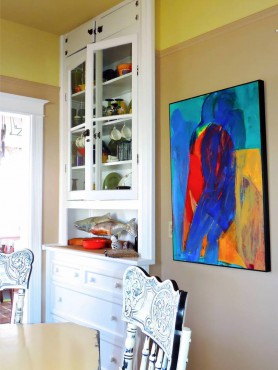 Even one painting in front of another could be acceptable if precautions are taken.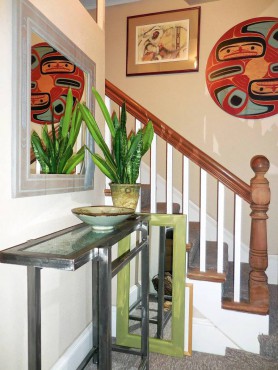 Art is a visual attraction to an area. Where once it was considered improper to hang paintings low, below eye level, now designers have a more open reign.
An interior designer once showed me how a small painting tucked low behind a table lamp could be interesting.
Here are a few location ideas for art that might not have been considered. As previously stated, art does not have to be exclusive to hanging on a wall. Setting paintings on something is very acceptable — on a shelf, a sideboard or even above on kitchen cupboards.
The kitchen is not usually an exhibiting area, but I find most kitchens have some great unused wall space that could be designed nicely with art, as with hallways.
I have a bright large Larry Parker painting in my kitchen. Also entries are underutilized, sometimes because lighting may be in question.
Style is a big factor. I see this all the time, especially with inherited art or seniors' leftover art after downsizing and restyling their lives. I hate to say, but most often there is no place for some art.
But sometimes I will counsel where living styles can be combined. Again, I use my décor as an example. My dining room is somewhat vintage traditional and colors are neutral, but one of the highlights of the room is a large abstract by Joan Prater.
Finding room? It can be done, I want to say — but sometimes it cannot be done.