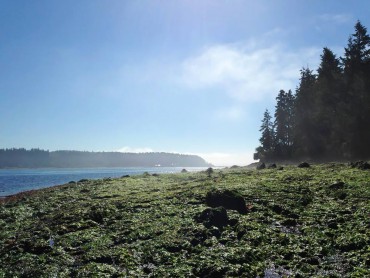 There is nothing more refreshing then slowly paddling through the beautiful estuary we call home.
Puget Sound is the second largest estuary in the United States. Fresh water enters Puget Sound through more than 10,000 rivers and streams all across Washington, and salt water is brought in from the powerful tides of the Pacific Ocean.
This mix of water creates a magical environment for nature to flourish. One of the many ways to enjoy exploring nature is by human-powered kayaking. Kayaking has many benefits to both humans and the local environment.
Kayaking allows you to enjoy nature up close and personal; this is a fantastic opportunity to relax and observe the scenic views of our environment.
Many animal species can be easily seen by kayaking in different locations around Puget Sound. Common native birds include the bald eagle, our nation's symbol; blue herons, often seen along the water's edge searching for a meal; and the double-crested cormorant, spreading its wings out to dry.
Often when the water is calm, the familiar face of a harbor seal will pop up to observe you in the distance. A much larger marine mammal, like the sea lion, may be spotted chasing the native salmon populations.
Hidden below the kayak is a whole new world. In shallow water, colorful sea stars and anemones live. Crabs scurry, fish swim in search of protection, and jellies wander to the flow of the tide.
Many people use nature to relieve stress, mediate and exercise. Living in a place with easy water access makes kayaking an ideal way to get off the couch and outside.
Studies show that surrounding yourself with nature actually reduces the levels of cortisol, a stress hormone. Kayaking allows you to feel powerful, in control of your path and like a leader on your water-level adventure in the environment. A little exercise in the great outdoors is a fantastic way to boost your mood.
The health benefits from kayaking easily translate to environmental benefits. When kayaking, you are the motor. Aside from the fuel it takes to drive yourself to a boat launch or public dock, there is no risk that powering your kayak will result in an oil or gas spill.
By powering your adventure in a way that doesn't require fossil fuels that can harm living things, you are insuring that your fun will not harm wildlife. As your arms push the paddles, you cruise along to places that may seldom be accessed by the every-day beachgoer.
As your strength builds, so will your speed and perhaps the length of your trip.
There are many places to rent kayaks along the Kitsap Peninsula and it's an easy adventure for all ages. Just because it's winter doesn't mean that you shouldn't get outdoors and relax.
Remembering a life jacket for safety and warm clothes will make your trip more pleasurable. Never pass up the opportunity to enjoy Puget Sound by kayak — you won't regret it!