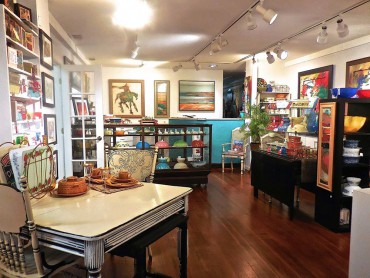 On Feb. 6, a new business project began in downtown Bremerton that does not include the famous little Pyrex Museum. For 10 years, the Amy Burnett Gallery provided commercial space for the not-for-sale vintage bowls and cookware that once so captured hearts and still does.
The Pyrex is still there, most now being for sale, and the 1,500-plus pieces have been relocated to merge with the Amy Burnett Gallery. Now it will be referred to as Amy Burnett Gallery & Pyrex. The shop is located in the 4th Pacific Arts Building next to Purpose Boutique.
It may seem to be a strange concept, but definitely interesting, and will still be a tourist attraction.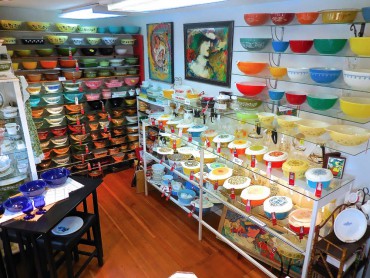 In the 10 years, thousands and thousands have visited the Pyrex Museum from all over the world. No one could have ever imagined it would explode like this!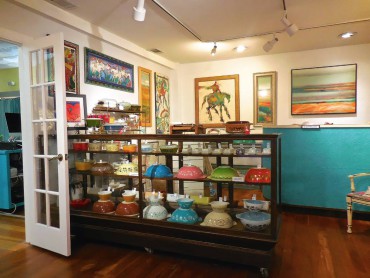 A small, sharing project I initially called an art performance piece kept growing until it began expanding outside its designated perimeters and was infringing into the art gallery.
The museum was shown five times on the television show Evening Magazine; was included in two Seattle Magazine features, Washington state's oddities book and Washington State C.E.O. Magazine; and is on the state's tourism register. It also has had full features in the Seattle Times, Tacoma Tribune and local Newspaper Group publications.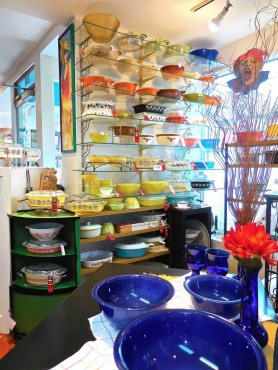 For two years, I have produced a weekly half-hour show on Bremerton Kitsap Access Television (7:30 p.m. channel 12 and WAVE channel 3) called "Amy's Pyrex People the Reality Show." The show is still airing and daily posting can be seen on the Facebook page, Pyrex and Amy Burnett Gallery.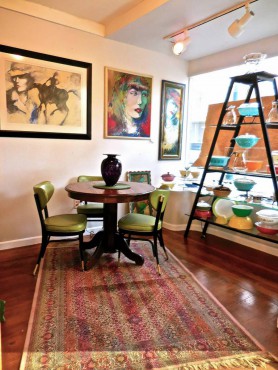 The new gallery/shop is a delightful visual presentation, different but inviting. Most of the Pyrex is opal, meaning it is white inside, and was produced in the late '40s until 1986.
Over half of the pieces have never been used. It was an era when things weren't taken back or exchanged like today. Back then, if Aunt Sarah came to visit, at least her wedding gift was in the cupboard.
A good percentage of the Pyrex are promotional pieces that were produced in limited quantity for season or occasion. When those pieces sell, most can never be found again.
It will be sad to see the Pyrex pieces selling. I have cared for them and was delighted with the concept, but it is time to think about retiring and winding down.