Walking into any shop is a sensory experience — the smell of dust and oil pervade the nostrils and a bevy of interesting tools and projects in all stages of completion draw the eye.
Entering Elijah Burnett's shop enlivens new senses — the dry heat of the fiery forge warms the air and evenly roars along with the radio. The clang of metal sounds out, taking a different pitch depending on how it's being manipulated and with what tool. Watching a blacksmith at work is a fascinating show that makes you feel as though you have stepped back in time.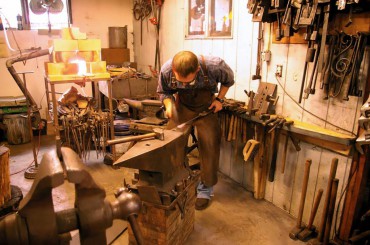 With deep roots and a disciplined European tradition, blacksmithing is an ancient craft. Burnett is a youthful artist blacksmith who practices old-world methods in his Poulsbo workshop, Burnett Forge.
At 14, Burnett began hammering metal to shoe horses and found his calling creating beautiful, custom works such as lighting, gates and furniture. His passion for the trade is clear as he demonstrates the craft while discussing how he chose his seemingly old-fashioned vocation.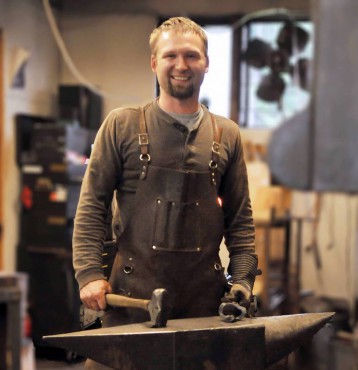 "This craft has made an artist of me," Burnett says as he places a rod into the glowing forge.
From forge to anvil then back, he ponders his enjoyment of "shaping metal and making it move." His work holds a keen sense of movement, learned while apprenticing with many masters. Now he, too, is sharing his skills with others, even as he continues to advance his own blacksmithing knowledge.
Not only has Burnett worked with masters around the state of Washington, firstly with DJ Stull in Winthrop, later with Jerry Culbertson and Russell Jaqua in Kitsap; he has traveled to Italy and France to learn from old-world masters. Next stop: Spain.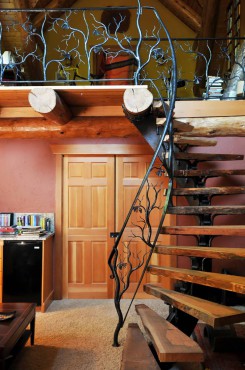 "I try to use traditional methods. I'm not a purist, but aesthetically I want to see every hammer blow in my handiwork," he says. "I make all my own tools. After all, who will do it for me?"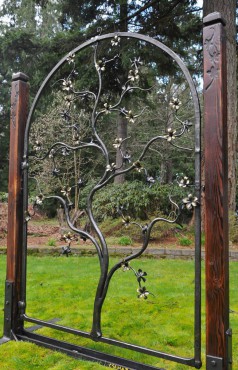 Blacksmithing is not easy to learn and it takes patience to earn the variety of technical skills needed to be considered a master. To even be accepted as a journeyman, one has to do a working interview to prove aptitude. In Europe, there is a rigorous certification process; in the United States, there is no formal path.
"I'm just lucky and blessed to learn from so many great masters. I also have found that I have to stick to my focus and say no to the kind of work that I don't want to do. I want to make art; I am not a welder or an iron worker," Burnett says as he works a lifeless, straight rod into a delicate leaf shape with spiraling tendril. All this with deliberate hammer blows.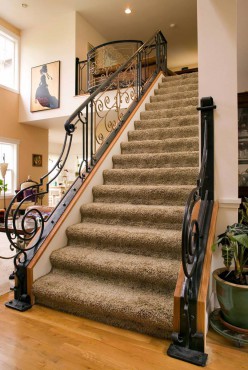 Blacksmiths like Burnett work with the forgeable metals — mild steel, bronze, copper, stainless steel, aluminum. Raw material in the form of bar stock or plate is cut to length and heated in the approximately 2,200-degree forge to make it malleable, like clay. The primary tools are anvil, hammer and vice.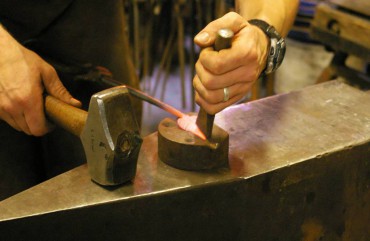 "The king of tools is the anvil," Burnett notes as he dances between the anvil and the fire. He points out that he uses different surfaces of the anvil to make it "2,000 tools in one."
His studio features a dizzying array of tools down to the touchmark he stamps into each of his pieces — a traditional signature a blacksmith invents for himself. He holds up the bottom of the piece that now bears a stylized "EB" before sticking it back into the fire to prepare for the next round of manipulation.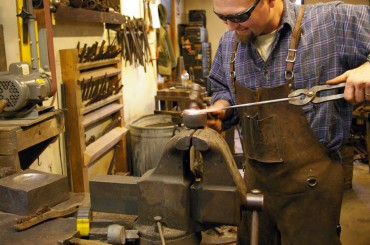 Making the red hot metal "move" with a series of hammer blows is dangerous business. Burnett describes how one learns to "massage" the metal to know when it is hot enough, to use the resistance of the metal to shape it as it cools. Different metals require different temperatures, and the size determines the rate at which it will lose heat.
All of this he knows by feel. "Brawn and finesse are needed in varying degrees in blacksmithing. And if you try to work it cold, you'll hurt yourself," he says. "There's an old saying, 'If you try to forge cold steel, the devil will get you,' and it's the truth."
One formidable and imposing tool demands notice. The power hammer stands 8 feet tall and bears a placard of its crafting: Boston, Massachusetts 1895.
"I'm the fourth owner," Burnett says. "It does the grunt work and saves the blacksmith's arm but it's also dangerous. If you move your hand the wrong way, or try to hammer cold steel with it, you could really injure yourself."
Burnett suspends the conversation to operate the hammer with his foot, pounding a metal rod to make it thinner and longer. He has started on a tiny sculptural piece that will turn out to be a snail.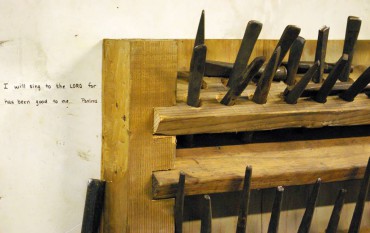 "Nature is a big inspiration to me and I like my pieces to have an organic feel to them," he says while using his vice to twist and curl the metal into a spiral shell shape.
His finished pieces echo the curves of seaweed, fiddlehead ferns, twiggy branches, pinecones, flowers and of course, animal shapes. Some pieces have a lifelike quality, others are delightfully abstract. He hammers and splits the end of the rod into a snail's antennae in a practiced and sure manner. Blacksmithing may have old world roots, but Burnett's skill and interpretation make the medium current and relevant.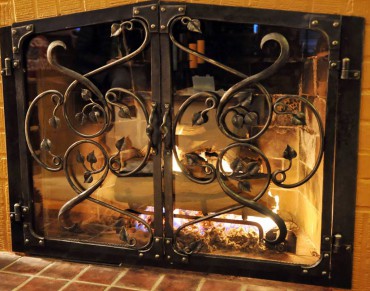 Completing the snail requires some brushing and buffing with a wire wheel.
"How I finish a piece will depend on where it's going to live," he says. "Usually its either wax or lacquer. Of course, a driveway gate will require a waterproof finish. Whatever I do to it, I want it to have the natural iron patina of firescale."
Burnett dusts some blackish silver flakes off the anvil and into his upheld palm, explaining how firescale, a layer of oxides caused by heating the metal, is where the name blacksmith originated. He puts the snail onto the hearth of the forge to heat it briefly before coating it with wax using a worn paintbrush. The wax smokes as it is applied and the snail turns glossy and evenly colored.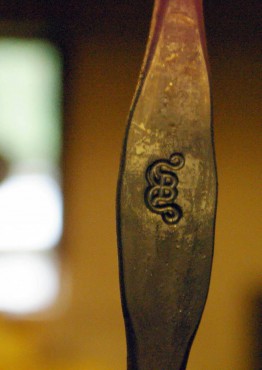 The snail and other, larger garden themed pieces such as benches, gates and trellises are sure to be a big hit at the Northwest Flower and Garden Show, where Burnett Forge will have a retail booth. This show and the Bellevue Art Festival in July are the two main annual public exhibitions of his artwork. In between creating unique, custom-designed pieces for clients, such as hand railings, he makes towel bars for kitchen and bath, candle holders and other, smaller pieces that can be ordered straight from the Burnett Forge website.