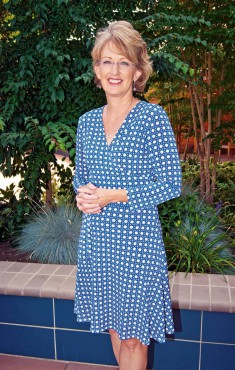 Stephanie Cline has served as the Harrison Medical Center Foundation's executive director since June 2002. She has been involved with philanthropy and nonprofit fundraising and development for nearly 30 years.
Since taking the helm of the foundation, Cline has successfully expanded the hospital's fundraising program, now raising more than $1 million annually through special events, annual giving, major gifts and planned giving. During her tenure, the foundation has grown significantly, having raised more than $13 million in the last decade to benefit important healthcare programs at Harrison, such as cancer care, cardiac care, pediatric rehabilitation and access to diagnostic screenings for low-income women.
Harrison Medical Center Foundation nurtures community support — charitable giving and volunteers — to benefit Harrison Medical Center. Both giving and volunteers are an essential component to providing of providing great healthcare to the community.
Cline's role includes being responsible for the hospital's volunteer force — more than 400 individuals who actively support in-hospital programs and special events through the foundation, or are members of a community-based auxiliary or guild. This thriving network of volunteers generates more 40,000 hours of volunteer service annually to benefit Harrison Medical Center.
Visit www.harrisonfoundation.org for more information about the foundation.
Why Become Involved
I came to philanthropy in 1986 through a job early in my career with Children's Home Society of Washington doing nonprofit marketing — surprisingly a new concept back then. I quickly learned, however, that marketing in nonprofits was all about telling the story in ways that inspired people to become involved as volunteers, advocates and donors. The work was incredibly meaningful to me and I have never wanted to do anything else.
The Importance of the Work
Working in development is so much more than just raising money. It's actually a value proposition for both the organization and the donor. Obviously organizations receive essential resources to support their work, but donors get to connect to what gives meaning to their lives. In the process, we all benefit from the quality of community life that is the result of these expressions of value, whether it is the hospital, the college, the theater, youth programs, the food bank or any number of other very worthy organizations that comprise our communities.
Best Part of the Work
Undoubtedly, the people. I never get tired of hearing people's stories; whether it's their personal story of how they came to be at this point in their life, or how they came to be involved with the organizations they support. I always tell our new employees in orientation that I have the best job in the hospital, because almost every day I get to hear a story about a great care experience at Harrison that made a difference. It's very gratifying to be a part of something like that. How many people get to say that they work in a place where miracles happen literally every day?
Biggest Challenge
Too often, our impact is hampered by the erroneous belief that there is no capacity for philanthropy here in Kitsap County. That is just so not true! Philanthropy is not about wealth, but about generosity of spirit. Many very ordinary individuals have the capacity to make extraordinary gifts to their favorite charities, particularly if they look beyond their checkbook to their accumulated assets. One of the more significant hurdles is simply redefining who can be a philanthropist and how might those gifts be made. It doesn't have to be millions of dollars to be meaningful.
Best Compliment on the Job
Recently one of my colleagues referred to me as "the heart of Harrison." I can't imagine a better compliment than that.
Things I Can't Do Without
A box of notecards and my favorite pen. Today in organizations, fundraising involves a fair amount of technology; however, at the end of the day, it is supported by well-developed relationships. In this crazy, chaotic world, we are all looking for connectivity. Over the years, I have found that writing personal notes is a very effective way to communicate; plus the activity just brings me joy. I also couldn't do this work without my team at Harrison. I've been blessed always to be surrounded by people who are bright and talented and feel equally committed to the work at hand.
Best Way to Relax
Good friends, good food, a bottle (or two) of wine and lots of laughter. I also like to hit the couch with my daughter on the weekends for destination TV, either watching movies or plowing through a new favorite series.
Hobbies Outside of Work
As the mother of a teenage girl who is pretty active at Bremerton High School, I don't have a lot of time for hobbies. Though in the last 10 years, I have reclaimed running (slogging actually) for recreation. In addition to keeping me reasonably in shape, it is something I share with a few close friends. It also gets me outside in all seasons, which I love, and makes me feel like I really know my neighborhood. I love living in Bremerton and being able to watch it transform.