Sisters Jean Boyle and Bethany McDonald live in Suquamish just a short walk from each other. They are often mistaken for twins but one is actually older than the other by nearly two years. McDonald has gardened in Suquamish for 35 years, but Jean became an avid gardener only 18 years ago when she and her husband purchased an old farmstead replete with a 1905 cabin, an old barn, some chickens, an assortment of cooing doves and birds from the parrot family. West Sound residents may remember Boyle from her time at the Visitor and Convention Bureau based in Port Gamble or enjoyed her exquisite photography.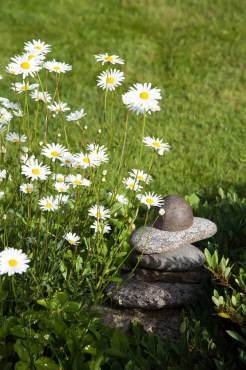 Many may remember McDonald from her decade at the Bloedel Reserve on Bainbridge Island or her tenure on the North Kitsap School Board. Each sister and their husbands are pretty much retired. However, Boyle and her husband, Jim, launched Kitsap Tours in their retirement and McDonald's husband, Kevin, a renowned cabinet maker, hangs out most days in his cabinet shop even though he's retired.
"Jim and I are ready to retire again, but we need just the right buyer to continue the Kitsap Tours business," Boyle says.
"Maybe Kevin spends so much time in his workshop so he can escape weeding in the garden," McDonald says.
Sunrise Acre
The property and gardens of Jean and Jim Boyle are sited atop high-bank waterfront in Suquamish. It was christened Sunrise Acre by the past owner because it faces east and much of the landscaping is kissed by the sun.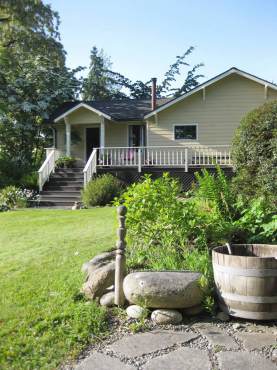 "Things grow so well here," Boyle says. The property is perhaps remembered most for its historical significance as the home of the Suquamish village blacksmith. A 1905 cabin is used as a guest house for relatives and friends who come to visit. A bedroom and bathroom were added in the 1920s.
A gravel drive leads up to the home. Along the drive are several different gardening zones, each flowing appealingly into the next. One zone is filled with water-tolerant plants. Water flows onto this area from neighboring lands and from the road bordering the property, all creating a seasonal pond. Boyle has planted several varieties of willows, red twig dogwood and other moisture-loving plants, many from cuttings.
The two sisters pick bouquets of pussy willows for their mother each year.
"We've planted a giant pussy willow and a black pussy willow around the seasonal pond and we pick bouquets for our mom each spring," Boyle says.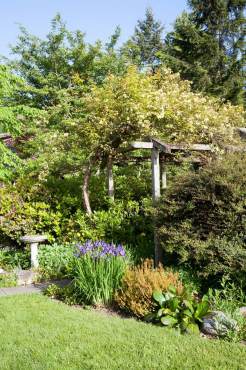 Some of the willows were started by "just sticking the bouquet stems directly into the ground. In fact, most of the water-loving plants in this area were started from cuttings." "I love how it's all kicked in; it started with twigs and is now maturing," she says.
"We had originally planned to restore the very derelict barn, but when we looked at this area, it was so sunny and rich with years of good soil from the farm animals, we decided to tear it down and use this area for food gardening," she says.
It now contains raised vegetable and herb beds, along with a small orchard. The border around this area is mostly comprised of native plants with seasonal interest and attributes to attract native pollinators. One side of the food garden includes a grape arbor with bird houses on the supporting posts. Two types of chickadees nest in the birdhouses.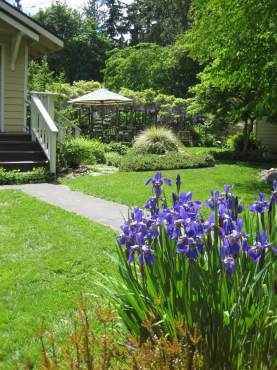 "I love mixing flowers and veggies together in the same beds," Boyle says. One whole edge of the garden beds is planted with giant, golden sunflowers and a row of shorter, red sunflowers in front. Fruits include several types of grapes, blueberry bushes, a very old apple tree, four-way pear, four-way plum and figs. The vegetable and herb crops this year are yellow squash, peppers, tomatoes, candy apple red onions, carrots, horseradish, yellow zucchini, cream of the crop white squash, oregano, thyme and rosemary.
Boyle will also add in peas and beans during the growing year. Strawberries run here and there throughout the gardens. Some are in beds, some are even in the path, but "it's hard to confine strawberries," she says.
Arbors and trellises are nestled throughout the property. Nearly all are festooned with strings of solar-powered lights. One arched trellis supports clematis, a climbing rose and honeysuckle. Both evergreen and deciduous clematis in various colors drape themselves up and around the trellising.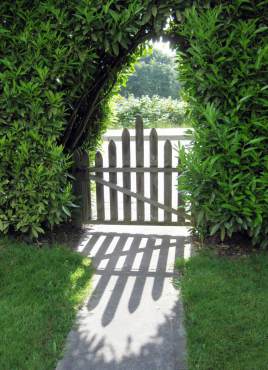 Paths are from a variety of materials, from bark to crushed rock. A beautiful yet secluded formal pond is right outside the Boyles' bedroom window. Sheltered nearby is a huge cage filled with lovely doves.
"We love hearing the doves cooing and the water flowing when we're going to sleep or waking up each day," Boyle says. The birds came with the property. Several other decorative cages included cockatiels and conyers (a type of parrot). She says, "Every electrician or workman that came to our home went home with some birds."
Plants found in varying shady areas of the landscape are oxalis, hostas, hellebores, rhodies, yellow alpine poppy, columbine, salal and evergreen huckleberry. Trees and woody shrubs anchor and mingle throughout the property. Some of these woody plants are flame willow, snowball viburnum, weeping birch, lilacs, Japanese maples in a variety of colors, Gingko and a pair of Stewartia mirroring each other. "Flower Carpet" roses in shades of white, pink and red; Deutzia; a sedum garden and many flowering quince also add interest to the landscaping.
Still Time to Play
It's not all work at the Boyles' home and gardens. A cable-operated tram elevator takes Jean, Jim and any guests down to the shoreline. A gorgeous, huge deck with a fire pit (made of metal plates and a drain) takes center stage. The metal plates protect the deck from the heat and the drain prevents the fire pit from becoming too heavy.
Their work through Kitsap Tours is also pleasurable for the couple. "It's been great fun. We've had visitors from every state and 20 or 30 countries. They're all usually happy. You never know what you're going to get," Boyle says.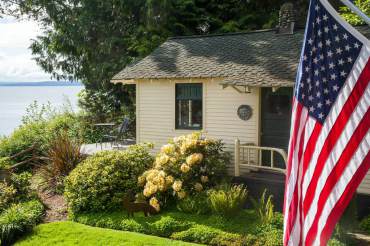 One time, they had a tour made up of only French and Russian speaking people. "We used a lot of hand signals to communicate," she says. "During one year when Texas had 100 days of 100 degree weather, we provided lots of tours to Texans. We still get lots of Texans.
"We get lots of hugs and Jim's gotten lots of standing ovations," she adds. When asked how they manage to live and work together, she replies, "We divide up the labor. Jim does the driving and cleaning. The bus is spotless inside and out. And I do the talking, marketing and record keeping."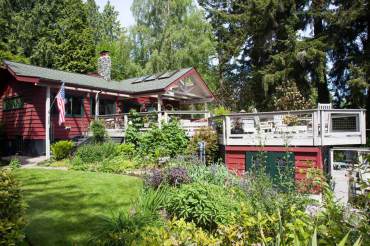 Kitsap Tours has 6,800 people following the business on Facebook. It's the fourth year receiving the Award of Excellence from Trip Advisors.
They'd move after Tours like to sell Kitsap Tours and retire. What will they do? Their plan is to purchase a motor home or travel trailer and hit the road on adventures, exploring new places and meeting new people. Their home base will remain in Suquamish. And, of course, Jean will still garden and enjoy plants.
Bethany's Garden
The landscaping at Bethany and Kevin McDonald's home has evolved over 35 years. For privacy, years ago they installed a Russian laurel hedge around the perimeter of most of the property.
Bethany McDonald says, "We built the hedge as a living fence. Russian laurel only takes half the pruning required than English laurel does and it matures at 15 feet."
The couple met years ago when he was her landlord. The gardens began as a big, blank slate made up mostly of lawn, bordered by native trees on the back side of the land. There was an old orchard that has evolved into three apples, two Asian pears and a plum.
"We never get apple maggot," McDonald says. "As we progressed on changing the landscape, we were thankful that our two sons could help and were excellent weeders and hole diggers."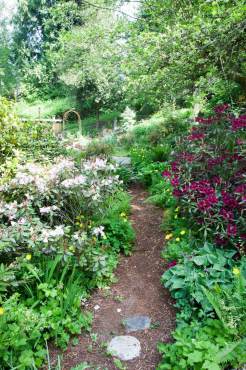 They were also good with wheelbarrows, hauling in soil amendments. One of their sons will be married in the garden next August.
McDonald is a member of Suquamish Garden Club and several years ago coordinated the local summer garden tours. She worked at Bloedel for 10 years and served on the North Kitsap School Board for eight years.
She's very much enjoying her retirement. "I love how relaxing my garden is. There is always something to do but I'm comfortable with all of it," she says.
Kevin is a master craftsman who is renowned for his cabinetry. Their home was remodeled and was lifted up with an addition of a full basement. He created all the cabinetry in the home.
The property was covered in blackberries that were removed and converted to lawn, with a few plantings of rhodies and other woody plants. They've removed areas of lawn through the years and the remodel and additions to their home allowed them to rethink some of the gardening areas. They dug up and relocated the rhodies and created flowing borders and garden rooms. There is a sign tucked into one of the borders stating, "It all started in the garden."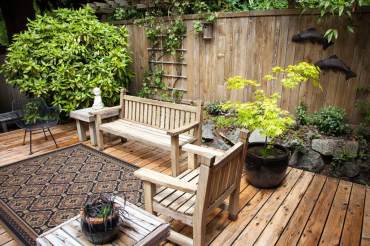 Boyle and McDonald love to visit nurseries together. "We can shop without being competitive," says McDonald. Their tastes in plants are indeed individual. She prefers more structured gardening areas. She has selected color palettes of red, white/cream and yellow. Red primroses run the length of one area. "They hold their own in March," she says.
However, both sisters lean toward easy-care plants and both have vegetable gardens and fruit trees. But McDonald's food-production garden is bordered by a white picket fence with more formal paths. Nearby she, too, has a soggy area.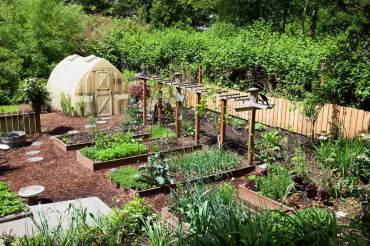 Most paths meandering between and around the gardens are formed by lawn. Some paths are made from cement stones salvaged from nearby Suquamish Elementary School during its remodel. Mature native trees of madrone, grand fir, amalanchier and cedar provide shade on the back of the property and near the shop. In a sunnier area, two giant black locust trees anchor a field full of daffodils. This area doesn't get mowed until the daffodil foliage dies back in early summer.
White/Cream, Yellow and Red Plants
McDonald loves white and cream plants. Nearly every bed has plants with white flowers. Her choices of white-flowering plants include numerous amalanchier (serviceberry plants in both tree and shrub form), hostas, bleeding heart, spirea, oak leaf hydrangeas, Japanese iris, hellebores, star magnolias, Stewartia and white rhododendrons with yellow centers (cultivar Madam Mason).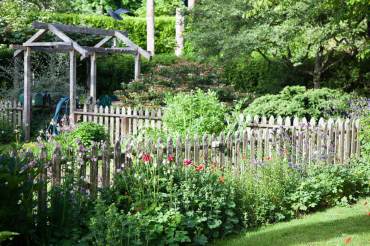 For flashes and pops of color, she uses reds and yellows also in nearly every bed. Red primrose borders shine in late winter. Yellow daylilies glow in summer into fall. A soft-yellow magnolia called Yellow Fever takes center stage. Yellow is also added with alpine poppies, daffodils and lots of bulbs. Red and yellow sunflowers border the white picket fence.
She likes plants that "stay put" but she's realized that plants grow and spread out. "We just expand the garden beds when that happens or create new beds by digging up and moving plants or digging up and dividing perennials," McDonald says.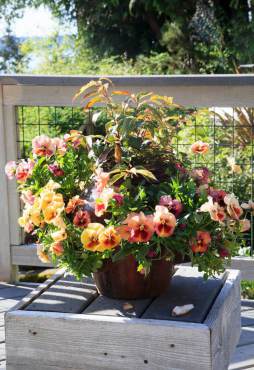 A windowed arbor is covered with purple wisteria. Sometimes McDonald allows other colors into the garden. She says, "The purple/blue columbines have all chosen me." She also loves hardy fuchsias but the red and white ones are her favorite.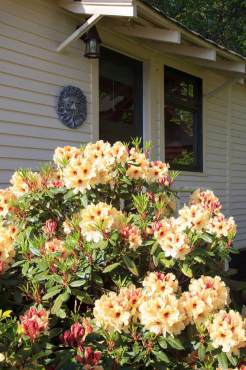 The garden palette changes, ebbs and flows throughout the year. Plants are chosen for all-season interest. Beautiful splashes of color abound in the fall when deciduous plants change their foliage. Evergreen plants provide the backdrops. In fall the plants are painted in shades of crimson, orange, gold and yellow. The bones of the garden are on display throughout the winter, and spring and summer provide a never-ending panorama of plant life.
Garden Accoutrements
Art, sculpture and structures give additional interest. One shady patio area near the approach to their home features water dripping softly drop by drop from a tree and into a barrel with a recirculating pump. Birds love this feature.
Nearby are varying height stacks of rocks placed one on top of another, creating mini towers. "No glue or drilling. I just balance them," McDonald says.
A whole arbor wall constructed with old, wooden windows hung from an arbor invites visitors into one area of the garden. Adirondack chairs in bright colors offer places to rest and contemplate. A tall, dead Disanthus, painted red, lights up a dusky corner. The McDonalds' home includes an old-fashioned porch across the front and a side porch with inviting views of the surrounding gardens.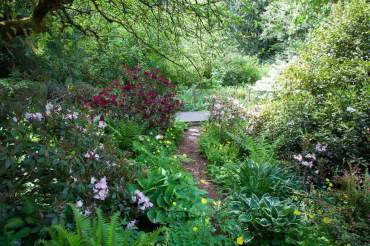 The main event they're currently working toward is their son's wedding in August 2015. McDonald has many plans and will be working hard moving plants, planting plants and perhaps constructing a few new beds, or two, or three or more. She adds, "Our son has plans too. Right now we're trying to figure out where to put the dance floor."
Two Sisters, Two Friends, Two Gardeners
It is feast for the eyes to explore both Jean's and Bethany's gardens. Both sisters enjoy each other's company and share gardening ideas and plants. Both sing praises of each other's pieces of gardening heaven. They both agree that gardening should be fun and enjoyable and they both personify those thoughts.