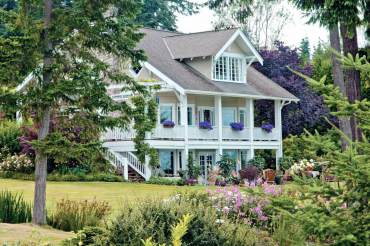 Sue Spencer still recalls the day she received a call at 2 a.m. from her husband, Bill, announcing he found their dream home. It was summer of 1973, and Bill had moved to Washington with a job from Nalley Foods while Sue, who was teaching tennis, temporarily remained in Cincinnati with their young child.
"I saw this island with a bridge and thought we could live there," Bill says.
Fox Island, in the Gig Harbor area, was within a long but easy commute to his work, and the rural lifestyle suited the couple.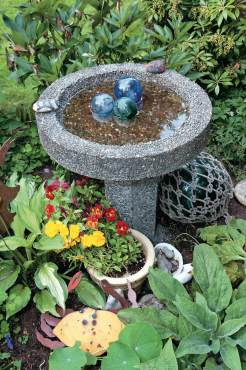 The 1907 home, with views of water and Mount Rainier, was charming enough for them to fall in love with it — but not exactly what comes to mind when one thinks of a dream home.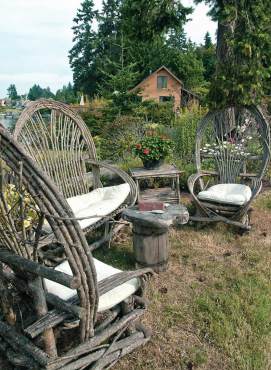 "The place was a wreck when we bought it," Bill says. The yard had nothing much but blackberry bushes and overgrown trees. The plumbing system was less than cooperative and leaked — Bill would have to crawl under the home and haul out buckets of mud just to get to the problem area. A hose was ran inside the home to connect to the water supply and Sue had to turn it on every morning to avoid various problems.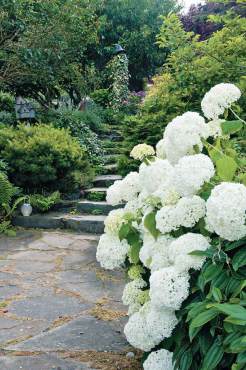 "The sink never stopped running. We flushed the toilet with a bucket we kept under the sink and the tub drained every third day," Sue recalls, adding that they didn't have hot water either, so she warmed water with a kettle.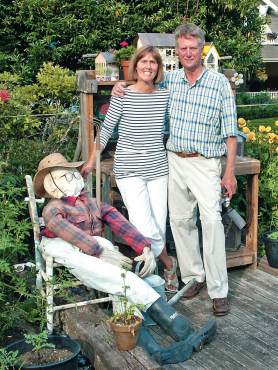 Adding to the mix during their first winter in the house was an oil embargo that caused heat to be rationed, based on prior use. The house had been empty for some time, so the Spencers' rations were nonexistent. "We could literally see our breath that winter," Bill says.
Visiting the Spencers' 14-acre property and home nearly 40 years later gives no hint of those early days, when the family kept about a hundred chickens (trading eggs for bread and milk), along with a goat, three horses and ducks.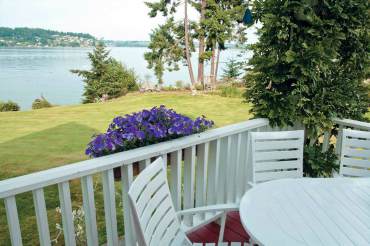 Inside, the Craftsman home exudes a quiet charm with its country décor comprised almost entirely of family antiques. The three-bedroom home now has a daylight basement and various interior and exterior enhancements (as well as excellent plumbing), following a remodel the couple undertook in the late '90s.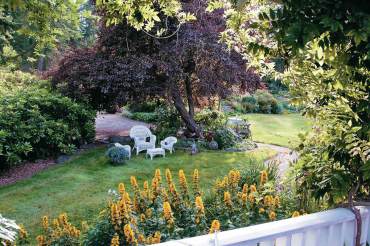 Outside, the landscape showcases Sue's talent at garden design and Bill's handiwork at everything from building arbors to clearing the land with a backhoe. The beautiful gardens surround the property, adding to the feeling of a refuge. A veggie garden abundant with artichokes, tomatoes and other goodies; a concord grape vineyard; about 50 blueberry bushes and an apple orchard all contribute to the couple's sustainable lifestyle.
Something Old, Something New
The Spencers moved away from Fox Island for 20 years, returning in 1996. Bill, once again, came first, and was greeted by a somewhat eerie view. After being vacant for so long, the home had an interior addition: a wisteria that grew around the fireplace.
"Our friends called it the Jumanji house," Bill says, referring to a movie starring Robin Williams. "You literally felt like the wisteria was going to grab you."
Once Sue moved back in a few months later, they turned their attention to the potential they saw in the home 20 years prior, when the location and the architecture — including features such as 12-foot ceilings — convinced them this was their dream home.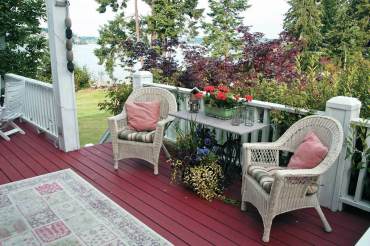 One of the first to-do projects was to lift the house and add a solid foundation. Raising it by 5 feet allowed for the addition of a daylight basement for a "mother-in-law apartment"— though, as it turned out later, neither one of their moms would move in.
On the second floor, they added a second bathroom and dormers at the end of the hallway upstairs for better daylighting.
They decided against moving the kitchen and making other reconfigurations in order to honor the original home.
"We tried to keep it in the same character," Bill says.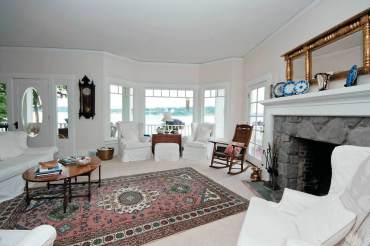 Exterior changes included an expanded overhang along with the addition of a side deck and a porch, either at the front or the back of the house, depending on who's talking. Sue refers to it as the front porch, to correspond with what is now the front door. Bill still sees that part as the back of the house — originally, the front door faced the water because people came by boat.
Surrounded by History
The home, known to old-timers as the Old Price Place, is part of Fox Island's history. In the old days when there wasn't much to do on the island, the home was a gathering place for evening dances and was furnished with a jukebox.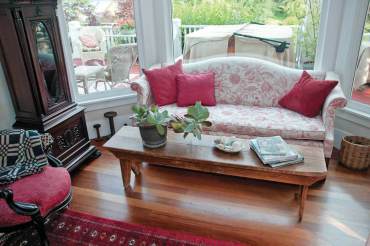 The Spencers have added their own historic touches, surrounding themselves with antique family treasures. The walls are decorated with a mix of new and old family photographs, including of Bill's great-great-great-great-great-grandfather Abeil Leonard, who is part of history in a way, too: He was mentioned in a book about George Washington's march on Boston as the minister who delivered the sermon at the church where Washington stopped before the battle.
A 1907 Royal typewriter, old clocks and books are part of the country décor, and many of the pieces have their own interesting history. Including an old secretary that once graced the warden's office at a penitentiary in Missouri's capital after being transported down the Mississippi River — Sue's mother knew the warden's daughter and obtained the treasure in the '50s.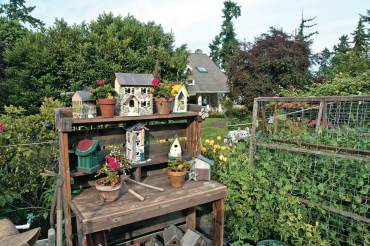 "Everywhere we look, we are surrounded by history, and we love that," Sue says.
Sue doesn't like to buy anything new; her favorite store is Goodwill. Not that she has to shop that much — just about everything in the house, from furniture and décor to dishes, has been inherited from one side of the family or another.
An Outdoor Paradise
The historic theme expands to the outdoors. An old schoolhouse desk given by a friend, along with a telephone that Sue grew up with (eventually retrofitted with a dial), are part of the porch décor. A seat from an old wagon that her father found in the '60s lives on as garden art. Many other bits and pieces, in fact, have been repurposed — from a stained glass window from the original home that was framed and hung on the porch, to the cedar walkway in the garden that Bill built from wood a neighbor wanted to burn. The previous grape arbor (since then collapsed and rebuilt) was made out of an old tennis-court fence.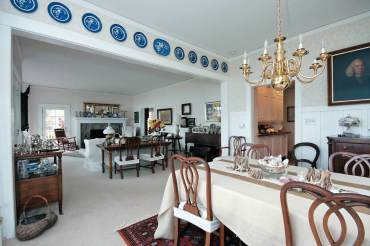 "We recycle everything," Sue says.
The garden was the result of another project after the couple returned to Fox Island. During their first stay, Sue would mow the lawn with a push mower after teaching tennis, as Bill worked full-time. "It gave me the chance to walk it and think about what I wanted there," she says.
A friend, Jean Peterson, helped her get started in 1997 and five years later, the property was featured on the Fox Island Garden Tour. The Gig Harbor Garden Tour followed in 2004. Since then, the garden has been going through additions and fine-tunings.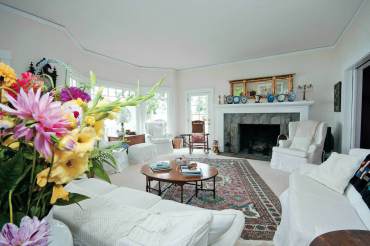 "It's like my therapy. Some people like to paint and do pottery. I like to dig in the garden," Sue says.
Just like the home décor, the garden is filled with memories. "Most of the plants are gifts from friends. I call it my friendship garden," Sue says.
Dahlias, which bloom splendidly among hops, calla lilies, foxgloves and peonies, are one of many examples. A tennis student got her started and she's been adding to the collection since. Tennis students also brought raspberry bushes, which have multiplied and "taken over the garden."
An Island to Call Home
Sue Spencer is a bit of an island icon herself. Hailing from a tennis family that includes Wimbledon players and international hall of famers, she has been teaching tennis for nearly 40 years.
When the Spencers returned to Fox Island, she launched a tennis program with eight students that eventually grew to more than 200 kids and adults. In the same spirit that preserved a local historic chapel, the island community raised money to build a tennis court on property owned by the local church, which donated the use of the land. Her tennis students competed at district level (encompassing several states) and were on the Gig Harbor High School team (first boys, then girls) that for the first time in long time, or perhaps ever in history, defeated Bellarmine Preparatory School in mid-2000s. Although she has mostly retired, Sue is back to teach private tennis lessons.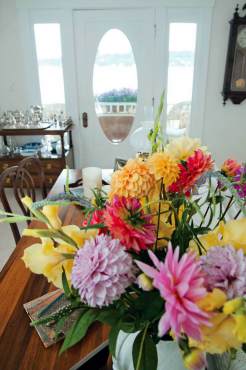 In addition to their own tennis court, the Spencers' property includes wooded areas popular for family camping (the couple has nine grandchildren). The grounds have hosted three weddings, for two of their four children and a neighbor, and — in a tribute of sorts to the Old Price Place tradition — are home to an annual gathering of friends and neighbors for Independence Day.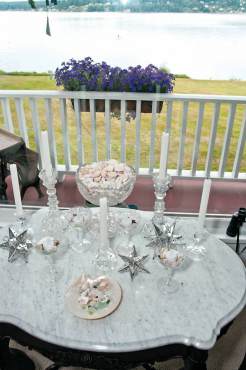 "The island is so special. We feel blessed because there's a community out here, which you sometimes don't find anywhere else," Sue says.
Five years ago, Sue and Bill purchased the property next door with a beach house for family use and vacation rental. The one-bedroom beach house, which has a waterfront deck and a boat ramp, has seen visitors from as far as Singapore, France and Iceland, including many repeat guests.
Nearly 40 years after that 2 a.m. phone call, Sue and Bill Spencer are content about their decision to give their rough gem of a property a chance.
"It has the feeling I wanted it to have," Sue says. "It feels good. It has developed into the dream home he promised me in 1973."