Much by his own design, Jim Valley inhabits a color-filled world.
During summers on his property in the Cromwell area of Gig Harbor, for instance, he has only to look out the windows of his house to behold the rich, evolving tapestry of his gardens, including the multihued zinnias that were his first foray into growing flowers nearly 35 years ago.
If he wanders outside to sit on one of the many benches that offer places to quietly meditate and strategic vantage points, he may stop along the way to admire the dahlias or roses as well, or to check how a particular plant is adjusting to a move, or to run his fingers down the branches of a weeping cedar, sequoia or larch tree.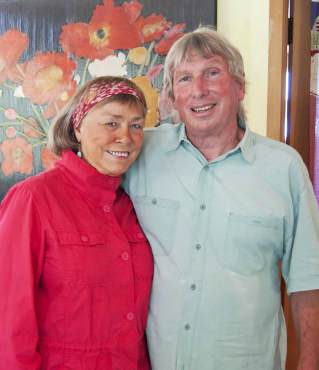 "Most of the trees are petting trees," Valley says with a smile. "Nothing pokes you."
You get the distinct impression that meandering out into the gardens to visit with and check on the wellbeing of his plants is something Valley does on a regular basis. By the looks of it, the plants appreciate the careful attention.
In 2011, Valley's home and gardens were part of the Gig Harbor Garden Tour. A few years prior to that, he began working with Randy Raub, owner of Randy's Nursery (one of the regular vendors at the Gig Harbor Farmers Market).
At first, Raub says, Valley asked him just to prune some pine trees. Then he added Japanese maples into the mix (Raub worked for many years at Yang's Nursery in Gig Harbor, and Valley professes such a love for Yang's that he says, "I'm almost Yang poor"). Eventually, Valley trusted Raub to work in other areas of the yard. Over the years, the two have collaborated to make Valley's yard a show-stopper but, Raub says, "He always watches me prune."
One time Valley sent Raub home with a tree — an ukigumo, or floating cloud, Japanese maple — because it wasn't thriving in its afternoon-sun-soaked location in Valley's yard. Raub kept the tree for two years but says Valley continued asking about it, even going as far as to give Raub a "plant-sitting fee" for looking after it. Eventually, the maple made its way back home, now occupying a much more suitable location in Valley's yard, where it receives the right combination of morning sun and afternoon shade.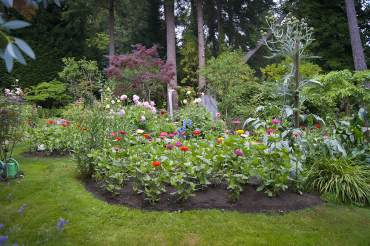 Valley says Raub helps him "keep things in check" but the end result is as much about balance as anything else. "I like the concept of wild to cultivated," says Valley, who doesn't even begrudge the wandering deer and their occasional snacking (another advantage to growing zinnias, Valley says, is that the deer don't like them).
Dotted throughout the yard are reminders of Valley's whimsy as well as his working life. There is, for instance, the garden shed that Valley had patterned after a two-story Amish outhouse with a ladder. He saw it years ago while traveling (an example, he says, of "Amish humor"). There are also pieces he's brought back from his travels, like the Thai spirit house that perches just outside his kitchen windows.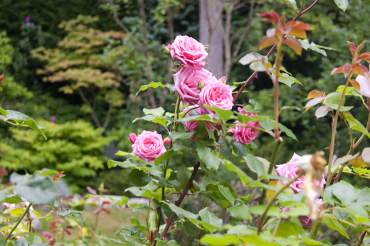 It is here, on the threshold of the home he shares with longtime partner Wendy Givan, that photographs better tell the story: The inside of Valley's home is as much of a visual feast as the outside, and a detailed description of the treasures within, collected from across the globe, would require its own separate article. Rather, it's a good place to pause and contemplate how Valley came to inhabit such a rich and colorful life in the first place.
A Global Musical Career
In the 1960s, the Pacific Northwest was home to a burgeoning garage-rock music scene, providing the local roots (some say) for the later punk-rock and grunge groups that made the Seattle music scene famous.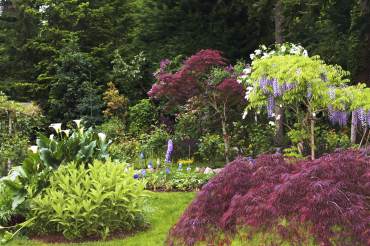 Valley, who knew from a young age that he loved and wanted to make music, was by 1958 and the age of 15 writing his own songs, one of which propelled him into the formation of his first band, Vince Valley and the Viceroys.
In 1965, he joined Don & the Goodtimes out of Portland, and it was during this time that he met and befriended Gig Harbor rock photographer Jini Dellaccio, whom Valley instantly regarded as "a second mom" and who would become a pivotal influence in his life.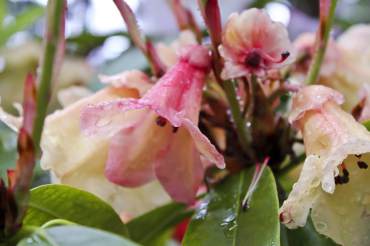 "We were flower children, and she was the essence of all that. She was beautiful, artistic, peaceful. She just glowed. We just became related at that moment," Valley says. (Their close relationship would last until Dellaccio's death this past July at the age of 97.)
The next year, Valley was asked to join Paul Revere & the Raiders. His bandmates nicknamed him "Harpo," and for a brief time Valley enjoyed the fame that came from touring the United States with the Raiders, being on the cover of fan magazines and appearing on television, including on Dick Clark's show "Where the Action Is." Creative differences prompted Valley to leave the Raiders in 1967 but not before he'd made a lasting impression on many local fans, who remember him and his time with the Raiders to this day.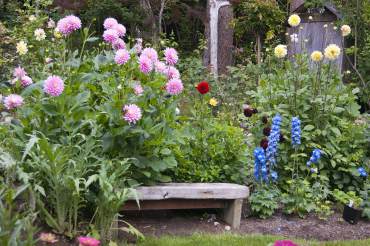 By 1970, he'd returned to the Pacific Northwest and recorded a couple of singles but not much happened with them. For a time, he worked for the railroad and sang in churches. He also dabbled in bands, including one he started, named "Sweet Talkin' Jones."
Then, in 1980, two events occurred that changed the course of his life. First, he was asked by Dellaccio's husband, Carl, who was an administrator for Tacoma Public Schools, if he would be interested in conducting a series of contemporary music workshops for gifted high school students. Though he didn't know it at the time, Valley was on the cusp of what would become his life's work for the next 30-plus years.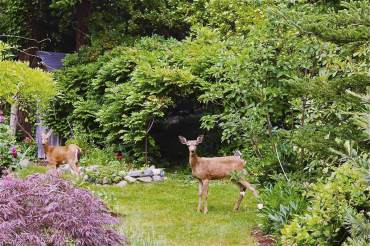 Second, he was invited by Dick Russell to come visit him on a farm in Cromwell, where Russell was living at the time. At first, Valley stayed in a converted chicken house on the property, but he soon found an old log cabin to rent on the water at the location of the old ferry dock.
Three years later, he found a nearby house to rent that just happened to be the old Cromwell General Store, built in 1898. Valley rented it for 13 years. In 1996, he bought the property and, with landscaping plans drawn up by his friend, Jody Stark, as a guide, became its longtime caretaker and transformer.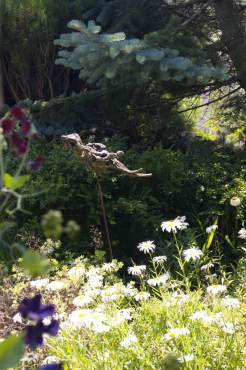 He was also asked by the owners of a nearby vegetable farm if he would grow annual cut flowers to sell; the couple provided him with a plot of land and space in their greenhouse. After seeking out planting and growing advice, Valley started growing sweet peas, zinnias and dahlias.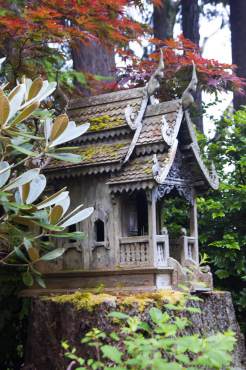 Meanwhile, Valley's work in the schools progressed and he began working more and more with younger students — an age group he felt especially drawn to because of their "young minds and fresh imaginations" — conducting assemblies that were a high-energy mix of music and movement. An article in the Tacoma News Tribune at the time anointed him the "Pied Piper of School Town."
A principal in Spanaway saw the article and called Valley with a proposition: Could he write a song to help his diverse student body get along? Valley ended up staying at the Spanaway school for almost a month; during that time he wrote the song "Rainbow Planet," which includes a nod to Buckminster Fuller's vision of the Earth as a spaceship with the lines: "We all ride the same spaceship/Traveling through our universe."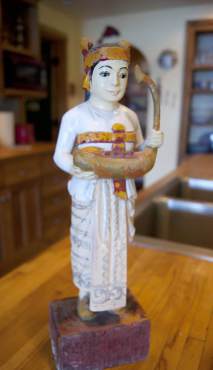 Other schools heard about Valley's work and started calling him. In 1983, he recorded his first "Rainbow Planet" album, which won a Parents' Choice Award. Then a school from Spokane called and paid to fly him out to do a workshop. One of the teachers at the school invited him to perform at a national teacher's conference in Santa Cruz, Calif., and following that he was soon traveling all over the country.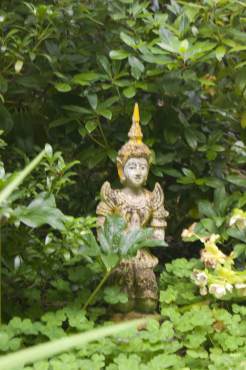 In 1990, "Rainbow Planet" went global: Valley was invited to Rio de Janeiro, and soon after he began traveling several times a year to international schools. To date, he estimates he's been to 22 countries on five continents, conducting workshops that, in his words, "celebrate friendship, self-esteem, the environment and our planet."
His trips abroad have slowed down over the past few years (the grandfather of seven claims to be "semi-retired") but this past spring he embarked upon a trip to Abu Dhabi and Sharjah in the United Arab Emirates and Kathmandu in Nepal. At the school in Abu Dhabi, the music teacher had the children write poems ahead of Valley's arrival for a three-day workshop during which the goal was to set a poem to music, rehearse the resulting song and have it ready for a concert on the fourth day.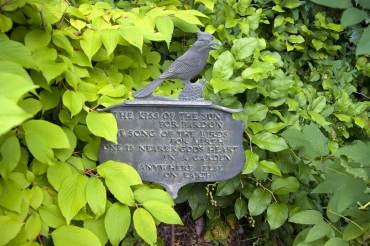 "And all of a sudden I've got 50 to 60 poems to work with," Valley says with a smile that suggests he didn't really mind the ensuing chaos. Many of the songs he's written with his students over the years have made their way onto one of the seven "Rainbow Planet" albums he's produced.
It's easy, once you know what Valley's been up to for past three decades, to see why his home, both inside and out, has grown to reflect his international travels and global outlook. In 1998, two years after he'd finally bought the cabin on the water, he added onto it, keeping much of the old general store intact as the house grew to three stories around it. Walking through his gardens and the rooms of his house is a bit like getting to vicariously travel around the world.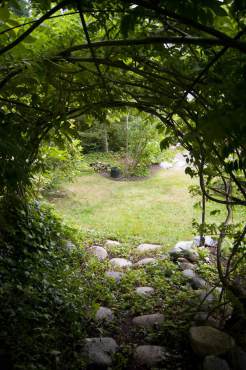 "There are things that come back with me sometimes," Valley says by way of explanation. The result is a style that manages to be — at least in the interior of his home — somehow inviting, warm and delightfully eclectic all at the same time.
"It's kind of like a museum here in a sense, a playful museum," Valley says.
It is that attitude of playful, childlike joy that perhaps best defines Valley's enduring popularity. ("Jim Valley brought us into our childhood," said a woman recently after participating in one of Valley's workshops.)
Valley admits that he was probably born happy, something his own grandmother told him early on. "It's not that I haven't felt some sadness, but there was always a lot of fun happening in my life," he says.
Is it fair, then, to say that Jim Valley has led a charmed life? "I've gotten to follow my passion," he says. "I've gotten to follow my dream, in a sense."
And that dream has always revolved around music, from singing with his family on road trips, to playing the trumpet in the fourth grade, to picking up his first guitar and falling in love with something called rock 'n' roll.
"Even in the last 30 years, Rainbow Planet has been an incredible life, taking me places I never thought I'd go… Music was always magic for me," Valley says. "I never dreamed I'd get to do what I've gotten to do."
Video by Rodika Tollefson