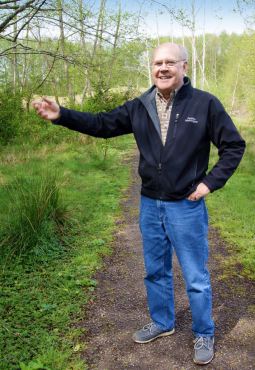 Tom Nordlie has been an instrumental force behind Poulsbo's Fish Park. The property, once part of a Suquamish tribe retreat area, had been owned at different times by Weyerheuser and Quadrant Homes. The site was slated to be developed into a retail/business park.
The city of Poulsbo included the acquisition of the site in its 1994 capital improvement plan, following an identified need for open space in the west area of town. Grants received by the city paid for purchase as well as planning and restoration.
Nordlie met with the Poulsbo mayor and director of parks and recreation in 2003 and shared some conceptual ideas for the property. When the Fish Park steering committee was created, he was elected as chair. The committee has been meeting monthly to plan the ongoing development of the park.
Poulsbo's Fish Park started as 13 acres originally and has now expanded to about 40 acres through property donations and grant-funded acquisitions. The park's success is due to the dedication and contributions of local volunteers as well as supporters such as service groups, churches, businesses and school clubs.
For Nordlie, volunteering is a family affair. His son, Erik, frequently works with Tom at the park. The family is also involved with Fishline's thrift store, Second Season. He says what makes his efforts worth it is seeing volunteers including his son create beauty in the park and watching educational opportunities develop such as the new amphitheater.
Why Become Involved
My wife and I had an interest in owning a bed and breakfast. We lived in Colorado and traveled west in search of potential opportunities up and down the western coast. Each trip created a chance to visit our daughter in Boise, Idaho. She was working for AmeriCorp at the time, building trails at Morrison-Knudsen Nature Park in Boise. The inspiration originated there. A nature preserve park in the heart of a city. The concept, though not original, was irresistible.
Best Part About Contributing
To serve with volunteers. The best success for Poulsbo's Fish Park (PFP) definitely comes from the tremendous support of volunteers. Seeing young and old volunteers embrace the park and claim ownership is very rewarding. Also knowing that in years to come, PFP will be the best natural setting in the city, aiding Poulsbo in becoming a more desirable destination. There are many other best parts, from watching the camaraderie between the Suquamish Tribe and city of Poulsbo and seeing the results of breeding birds, mammals and amphibians develop, to observing the maturing of 5,000-plus native trees planted under the direction of steering committee charter member Joan Hett.
What Makes it Worth It
It's worth it when over 100 visitors show up for events we put on. It's worth it when the parking lot is overflowing with visitor activity, viewing migrating salmon in the fall. When a small child gets excited spotting a small tree frog. It's worth it seeing kids trying to catch tadpoles. The changing seasons are worth it. Oh, it's definitely worth it!
Biggest Challenge
Blackberries, blackberries, blackberries! Other invasive plants like scotch broom, holy, ivy are issues too, but easier to manage. An occasional dog off leash, especially during spring nesting season, and dog litter is an issue. We supply doggie bags but they need to use them, then carry out and not just toss in the weeds. Human trash and graffiti, about rounds it out. Like most projects, money and donations are helpful.
Best Compliment
Real satisfaction comes from when you're hot, sweaty and grubby from pulling blackberries and visitors walking by comment, "What a beautiful place this is" or "What a nice job you're doing." That's the "stuff" that keeps you coming back for more.
Things I Can't Do Without
Volunteers! PFP has developed from 13 original acres in 2003 to approximately 40 acres today. Our small group of dedicated volunteers, which meets the third Sunday of every month from 1 to 4 p.m., is challenged to handle the load. Consequently, we just kicked off a new stewardship program where we recruit businesses, groups, churches and service clubs to adopt specific areas of the park to manage. These areas are intended to be interesting and not just focused on blackberry removal. They include trails, ponds and streams, varying vegetation, and the opportunity to improve a natural environment for your community. It's actually fun! Please contact us if your group or organization is interested.
Best Way to Relax
A walk in the park.
Hobbies Outside of 'Work'
Work is my hobby, but time permitting, "why wish when you can fish."