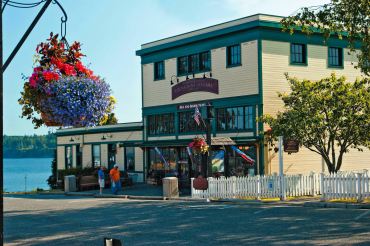 A walk through the quaint town of Port Gamble is like stepping back in time. But for 88-year-old Lorene Klamke, the town is more than just history. It's where she attended grade school, met her true love and gave birth to the first two of her six children. Over the years, buildings changed or were torn down but her memories depict snapshots of true life and love in Port Gamble between 1920 and 1960.
Klamke sits at her kitchen table surrounded by the black-and-white photographs of those memories. Spread out before her are Silvertone "Fold-a-Pak" photos printed accordion-style, with blue covers that are faded from more than a half-century of time and light exposure. She beams as she picks up one particular photo.
It shows Klamke at 17, a high school girl in love, standing in front of her parents' home in Port Gamble. The year was 1942 and she was head-over-heels for 20-year-old Henry Klamke, a handsome dairy farmer and milkman in Port Gamble.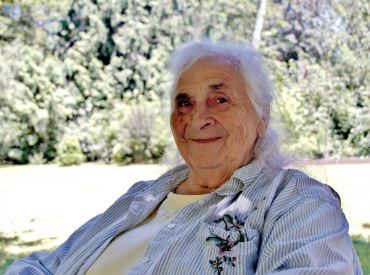 "This was the picture I gave to Henry," Klamke says. "This was the picture he had asked for on his birthday. He asked me to marry him when I gave him this picture."
Lorene and Henry Klamke are one of many couples who made their home and raised a family in Port Gamble in the mid-20th century.
Henry had asked for her hand in marriage, but there was one problem — Lorene's father had accepted a job in Oregon that would move the family more than 200 miles away from Port Gamble. When the family moved, Lorene and Henry vowed to stay in touch.
Moving wasn't unusual for Lorene and her parents, John and Blanche Hagen. John held various positions in the timber industry for the Pope & Talbot Co. and often moved between the Port Gamble and Port Ludlow lumber mills. When lumber business was slow, her parents tried to earn money by working seasonal jobs, including picking fruit in Yakima.
Their moves were rarely consistent with the school year. Before returning to Port Gamble in 1940, Lorene attended grade school in Kingston, Port Gamble and Chimacum. In her 12 years of grade school, the Hagen family moved 13 times.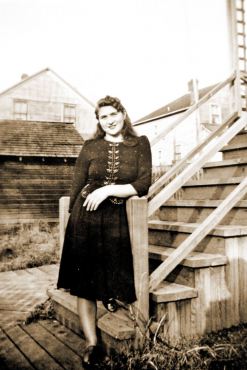 The Hagens settled in Port Gamble — for the second time — when her father took a job at the Puget Mill in Port Gamble. "We lived in Skunk Hollow," Klamke tells a visitor seated at her kitchen table, adding, "I am sure it was given that name for a reason."
The Hagens' home now would be located on South Teekalet Avenue, the first street on the right driving east on Highway 104 from the Hood Canal Bridge. The house is long gone, torn down years ago after it was badly damaged in a fire.
"Port Gamble looked different then," Klamke says. "The open field by [Mike's 4 Star BBQ] used to be full of family houses for the workers at the mill. They were painted red — a great deal of them, anyway."
She remembers going to the Port Gamble Community Center, called "The Hall" by locals, for town dances and movies. Tickets cost 25 cents. Today, the community center houses the town's post office, theater, barber shop and other small businesses. Mill workers ate either at the mess hall or at the Puget Hotel, which had the town's only restaurant. The hotel, which was located where the Hood Canal Vista Pavilion is today, was torn down after being badly damaged in the Columbus Day wind storm in 1962.
"Daddy and Mom were good dancers," Klamke says. "I remember this big logging ship came in one weekend and I danced with a man from Norway."
Social gatherings and dances were highlights for the family, and she remembers that her parents were "pretty hip" for the day. It helped that her father was an accomplished home brewer. From 1919 to 1933, the Prohibition barred production of all alcoholic beverages but home brewing wasn't uncommon.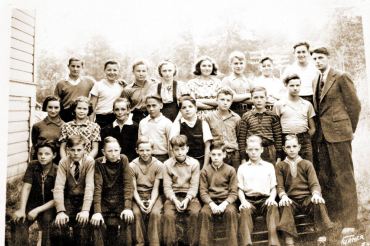 Klamke helped with her father's home brewing. "I even bottled beer in a 5-gallon keg," she says. "I think I still have the bottle capper."
She settled into life at North Kitsap High School, at that time located in what is now the city of Poulsbo's Parks and Recreation building on Front Street in downtown Poulsbo. After school, she made plans to go to the movies or dances at "The Hall" with her friends but sometimes the options seemed dull.
"There weren't many places for young people to go," Klamke says. "Poulsbo had a bowling alley but we only really went for the food."
To get out of town, high school girls needed parents to drive them — or a boyfriend with a car. Fortunately, one of her friends knew a guy who had a car. His name was Henry Klamke. He was handsome and three years older than Lorene.
Henry was of Danish decent. He had sandy-blond hair, a strong physique and skin that would tan after a single day in the sun. Henry's uncle, Dr. Edmond Klamke, worked at the hospital in Port Gamble, which was located in the New York House on the left of the Masonic Lodge.
As a teenager, Henry dropped out of high school to help run the Klamke dairy farm. Although he had no formal diploma, he was smart, savvy and a hard worker. He also loved Lorene deeply.
In October 1942, less than four months after Lorene and her family moved to Oregon, the couple were married, moved back to Port Gamble and started their family. Eventually, they raised six children, two of whom were born in the same hospital in Port Gamble as Henry.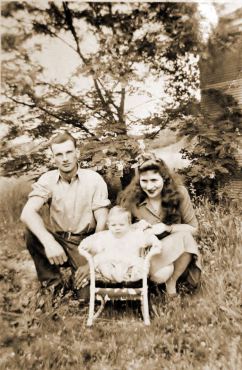 Henry briefly worked for the Black Ball Ferry Lines, but eventually returned to Port Gamble to work for Pope & Talbot at the lumber mill. He worked the "green-chain" sorting and sawing timber to size before it went to dry. Since World War II, the mill enacted 24-hour operations to provide the government with necessary resources.
"Henry worked hard," Klamke says. "He worked the night shift."
Klamke reaches across the table for another photograph. In this one, she is 29 and pregnant with her fourth child. Her husband is beside her, his arms wrapped around her. The year is 1953 and they are standing on the front porch of Port Gamble's Puget Hotel, attending Port Gamble's centennial town party hosted by Pope & Talbot.
Henry Klamke left Pope & Talbot in 1956, when he took a job with the Washington State Ferries, working primarily at the Lofall Ferry Dock. He died at age 58 from cancer.
When Lorene Klamke lost her husband, she lost her best friend and lifelong love. So she poured everything into her four daughters, Dolores, Darlene, Jeanette and Lorna, and two sons, Irving and Nicholai. If her personal success can be measured in extended family, she is a wealthy woman. She has 21 grandchildren, 29 great-grandchildren and 10 great-great-grandchildren.
To her, there is nothing more important than seeing her kids and grandkids earn an education, know the value of hard work and travel.
"I didn't graduate from high school because I got married," Klamke says. "Once you got married, you weren't allowed back in school because you would talk about what married life was like. Teachers feared it would be a distraction to the other kids. [Romance] was a bad word."
Though she didn't graduate from high school, she was driven to continue learning, teaching herself how to cook, sew and knit. She became skilled at knitting and took a position working at the Yarn Barn, where now Molly Ward Gardens is on Big Valley Road. Klamke eventually opened her own store, The Yarn Corner, in Poulsbo and operated it for 10 years until retirement.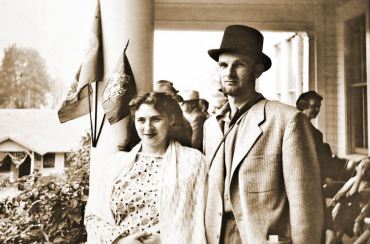 Retired, however, may never be the right word to use for Klamke. When she is not busy knitting baby clothes and blankets for great-grandchildren, she is making blankets for the local chapter of Project Linus, which provides handmade blankets to children in hospitals, shelters and social service agencies where they may be in need of comfort and security. The Kingston chapter meets each Wednesday and she attends as often as she can.
Klamke lives near the Kitsap Memorial State Park but Port Gamble will always be central to her memories and a place to share with her extended family.
"I'm fortunate to have a fairly good memory, yet," Klamke says. "If there is one more thing I could say to Henry, I would say thank you for trusting in me and believing in me. He would always tell me, 'You can do anything you set your mind to.' He was so proud of all the knitting I'd done and all that I had made. He was my push."
As Klamke talks, her daughter, Lorna, walks into the kitchen. She is visiting her mother for the week. Klamke hands her the photo of a 17-year-old girl in Port Gamble in 1942.
"You know, that wasn't the first time your father asked me to marry him," she tells her. "He had asked me once before, sitting in his car at the end of one of our dates. I said yes but no big to-do was made of it. We each thought the other was joking."
Klamke turns to her daughter. "You never heard that story, did you?"
"No, Mom," Lorna shakes her head and rests a hand on her mother's shoulder. "But I'm sure glad I just did."