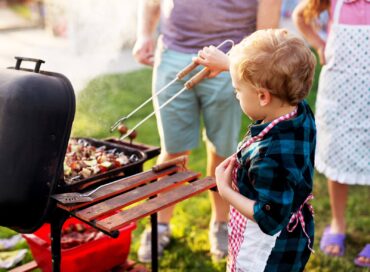 If you're one of the 70% of all households in the United Sates to own a grill or smoker, you're probably looking forward to summer cookouts and barbecues. However, with the rising cost of food, your backyard get-togethers might cost more than in previous years.
You don't have to skimp on your meats and vegetables to have an affordable grilled meal. The Hearth, Patio & Barbecue Association (HPBA) reminds backyard chefs that they can still have a fun cookout without overheating their wallets.
Here are five tips for grilling on a budget this summer from grilling authority Steven Raichlen.
1. Use cheaper cuts of beef.
Buying meats and other proteins for your cookout doesn't have to be expensive. While rib-eye and strip steaks are popular, "you might start with well-marbled cuts from the beefy-tasting chuck, such as flat-iron steaks and petite filets, or steaks cut from the sirloin, like filet of sirloin," Raichlen shared with HPBA. "Even though their per pound price is substantially lower, these lesser-known steaks deliver a richly satisfying experience when grilled over live-fire."
2. Look for chicken and seafood alternatives.
If you're grilling poultry, "substitute chicken thighs, legs or leg quarters for breasts," Raichlen suggested. "Turkey is often a bargain, especially during prime grilling season."
For pork, try grilling spareribs or country-style ribs instead of baby backs or smoke-roast budget-friendly pork chops or pork tenderloins. Cook less expensive fish, too. "Grill mackerel, sardines and kingfish instead of tuna or halibut — they're less expensive and better for you," he said.
3. Host a grilling potluck.
Just because you're hosting a party doesn't mean you have to be solely responsible for feeding everyone. Turn your backyard barbecue into a potluck and ask everyone to bring something to share. Your guests don't even have to cook anything. Invite them to bring their own meat so they can mingle while you grill it up for lunch or dinner.
Hosting a grilling potluck saves you money and with everyone bringing something, you'll likely have more variety than if you had planned the menu on your own.
4. Go heavy on the sides.
While meats may be the star of the show at any cookout, there are only so many burgers and hot dogs one can eat. Plan to make some affordable sides like baked potatoes, coleslaw and salads to accompany your steaks and brats.
This is another area you can ask guests to chip in. If your friends or family members have signature side dishes they're known for, ask them to bring these dishes to your next cookout.
5. Get creative with veggies.
No barbecue is complete without some grilled vegetables, especially onions.
"From a grill master's point of view, onions are one of the cheapest and most versatile veggies that pair well with most meats," Raichlen said. "Use half an onion and impale it on the grill to oil the grill grate. You can also puree onions and use the juice as a marinade, a flavor-boosting technique used by grill masters throughout Central Asia."
Get creative and see what this humble root vegetable can do for your grilled dishes.
Another idea is to blend ground meats with legumes, mushrooms and other vegetables. Blending vegetables with ground meats extends the meat you have on hand and enhances the flavor of whatever you're making.
Using these five tips, you'll be ready to host a great backyard cookout without spending a fortune. For more grilling tips and inspiration, visit WhyIGrill.org.