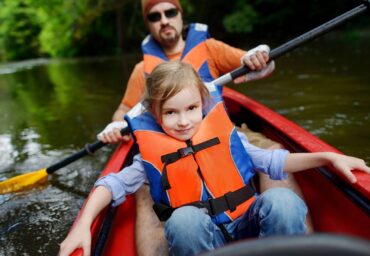 Every year as Father's Day comes and goes, my thoughts turn to water safety. I think about how so many people's lives changed on one fateful Father's Day and how my search and rescue K9 partner Chips and I became part of this story.
Sadly, this was not the only time we witnessed a tragedy that might have ended differently if only a life jacket were worn. The loss, sadness and grief I have witnessed are the reasons I am — and will always be — an outspoken advocate for water safety and the benefits of wearing a life jacket. I'm sharing this story — as well as water-safety tips — to encourage you to stay safe on the water, now that the boating season is under way.
A Father's Day Tragedy
This story is true, though I have left out or changed some of the details in respect for the families. It was Father's Day several years ago when "Guy" decided to start the day off with an early-morning fishing trip. He loaded up his boat and fishing gear, and even prepared a cooler with snacks and drinks. He kissed his wife goodbye, told her he would be back in time for the afternoon's planned festivities with the kids. Then he headed to the nearby river for a peaceful start to his day. He would not keep his promise to his wife.
The same day, another father took his 9-year-old son to the same river to enjoy the sunshine and maybe catch some fish for the afternoon barbecue. Shortly after launching, they saw a cooler bouncing along the river, bobbing from current to current. The dad navigated to the cooler and the son reached out and hoisted it into their boat. Curious, they checked it and saw scrawled in marker "Guy's lunch."
Several minutes later, they saw a life jacket dipping in and out of the swift-moving water. The dad thought someone must be missing these items and told his son to grab the life jacket and they would try to find "Guy" to return his missing items.
The son tried to haul the life jacket into their small craft, but it was too heavy and floated past them. They took another run at the jacket and this time, to his horror, he saw the reason it was so heavy — Guy was still in the life jacket, floating face down in the river. As unthinkable as this was, it got worse. Guy had failed to buckle the safety device and when the son gave one final tug, the jacket flew up in the air and Guy sank in the river.
After approximately 30 minutes following a frantic call to 911, my husband and I arrived on the scene, along with our K9 Chips. Chips' specialty was water recovery and we were often called out to water incidents.
We spent the next few days trying to find where the fast-moving cold water had deposited Guy's body. On the afternoon of Father's Day, we were in the boat-launch area waiting to redeploy and I came face-to-face with Guy's wife, who had come looking for her husband. At the time, I didn't know she was the wife of the drowned fisherman, as the sheriff had not ascertained the identity. Though unspoken, I knew deep down that she knew. I will never forget the look on her face.
I have told this story to family and friends and implore them to wear a lifejacket. Neither my stories nor passion seem to make an impact as I'm told repeatedly that it is OK, they have a life jacket on the boat and they are good swimmers. I'm sharing this story now in hopes that maybe, just maybe, it will make a difference and save a life. I'm hoping that if I tell you that during the three seconds where you catapulted through the air after a vessel collision, you won't have time to find, let alone put on, that life jacket.
Staying Safe on the Water
Christina Fremont with the Washington State Parks Boating Program shares my passion and goals for water safety and life jackets. She told me that one of the biggest risks in Washington's waterways is cold-water shock. This happens when a person is suddenly immersed in cold water and the body has uncontrollable physiological reactions such as gasping.
"A lifejacket can buy you time," Fremont says.
She has received feedback from some who argue that it cannot be that dangerous because people jump into ice cold water during Polar Plunge events and they survive.
"I believe there's conflicting information about cold-water immersion that leads to a misperception of risk," Fremont says. "I think the Polar Plunge is one event that sends a conflicting message to the public. The bottom line, an unexpected fall overboard is very different than intentionally jumping in the water."
Gig Harbor Police Chief Kelly Busey also agrees that if you are going to recreate on the water, you should wear a lifejacket.
"An overwhelming number of fatalities could have been prevented by wearing a life jacket," Busey says.
According to the U.S. Coast Guard's 2019 recreational boating statistics, the top cause of water death was drowning. Of these fatalities, 86 percent were not wearing a life jacket.
I asked Fremont if she knew why people chose not to wear a lifejacket and we came up with the top five reasons (and why they are wrong). Please note that Washington state law requires children age 12 and younger to wear a properly sized, Coast Guard approved life jacket or vest on vessels less than 19 feet long while the vessel is underway.
5 (Wrong) Reasons Why People Don't Wear Life Jackets
1. "I'm a good swimmer."
Even Olympic swimmers can't survive in the water if they are unconsciousness. Chips and I spent time looking for a young lady who lost consciousness after being thrown into the water during a vessel collision.
2. "I have time put find and put on a life jacket."
Accidents are just that — accidents. We don't see them coming and they often happen in a split second. In that split second, you could find yourself floating in choppy icy water.
3. "Life jackets are hot and uncomfortable."
Today's life jackets are not your grandfather's or even your father's life jacket. Though they require regular maintenance and safety checks like any safety device, CO2- triggered inflatable lifejackets have a low footprint and can be worn around the waist or around the neck.
4. "I am physically fit and will survive a cold-water plunge."
In the case of cold-water shock, as is prevalent in our area, a person with low body fat will actually succumb to those conditions much more quickly.
5. "I cannot afford a life jacket."
Before COVID-19, many recreational areas had life jacket loaner programs available. Unfortunately, these stations have gone away with concerns over how to meet sanitizing requirements. The Washington State Parks Boating Program is working on developing other methods to get lifejackets in the hands of those who need one, but can't afford it.
You can find a coupon on the Parks' website for 25 percent off a life jacket at participating Big 5 Sporting Goods stores.
As the National Park Service's website states, "Even strong swimmers have needed to be rescued or even drowned because they were overcome by the water. Wearing a life jacket can save your life."
I'll leave you with a final plea from me: Please, please, please, wear a lifejacket when you are powerboating, sailing, paddle boarding, kayaking, wind surfing, jet skiing or otherwise participating in recreational water activities. Don't become part of someone else's stories.