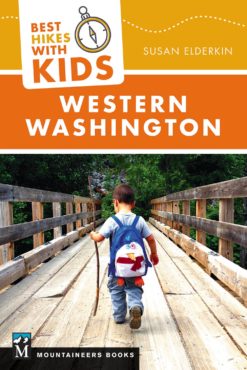 Editor's note: While the weather is still gorgeous, are you trying to pack in as much outdoor times as possible? If you have little ones, hiking can be a challenge. This excerpt was adapted from hiking expert Susan Elderkin's book, "Best Hikes With Kids: Western Washington" (Mountaineers Books, April 2018), recommends several hikes around our region that are great for strollers and little legs.
Point Whitehorn Marine Reserve
Bellingham; 1.6 miles roundtrip with 75-foot elevation gain; year-round destination
A wheelchair-accessible trail winds through wetlands and upland forest to a bluff with views out across the Strait of Georgia to a dozen San Juan Islands, including Orcas, Lummi, Cyprus and Sucia.
Stairs to the cobblestone beach below offer opportunities to bask in its south-facing sun and dip bare feet into the chilly waters. The preservation of this sweet 54-acre tract is owed to a series of deft and creative land transactions by the Whatcom Land Trust in the early 2000s, which protects this habitat near the heavy industrial footprint of the Cherry Point Refinery.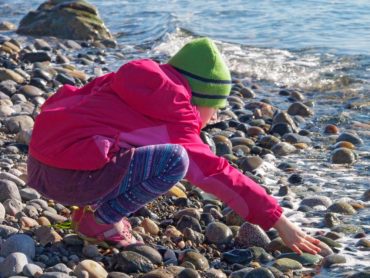 Tips: Start your hike at the sign located in the middle of the parking area. Because it is a designated marine reserve, dogs are not allowed. The trail is wide enough to walk side by side and is suitable for strollers. Interpretive signs add context for kids.
The forest includes a variety of native conifers like Douglas fir, Sitka spruce, western hemlock and western red cedar. It's also boggy, but your way is dry thanks to a series of small bridges and boardwalks.
Soon, the conifers give way to deciduous forest of black cottonwood, big-leaf maple and more. Emerging from the forest, the trail travels along the bluff for a short distance, with three overlooks graced by lovely, polished stone benches at 0.75 mile.
This is where strollers must stop, but hikers can proceed 75 feet down the steep bluff and stairs to the beach. When the tide is low, you can explore and investigate tide pools (please step lightly and leave all marine life where you see it).
The West Hylebos Wetlands
Federal Way; 1.4-mile loop with 25-foot elevation gain; year-round hiking option
The West Hylebos Wetlands is one of those surprising places — a thriving oasis of green tucked away in a busy suburban area. Here, birds sing and frogs croak. Moss, lichen and ferns attach to nearly every surface. Water oozes from the ground, flows and pools. Very old trees, plus two historic cabins, give visitors a sense that they are entering a world of yesteryear. And a level boardwalk sweeps through it all, making it an ideal destination for feet and strollers (sorry, bikes and dogs are not allowed).
This is one of the last, and largest, remaining peat bogs in South King County. The spongy soil is 30 feet deep in places and supports a diverse array of plants and animals — from tiny fungi and shy garter snakes to a Sitka spruce more than 400 years old.
Tips: Begin your walk at the two historic cabins adjacent to the parking lot. These buildings date to the 1880s, but they didn't originate here. The distinctive Denny Cabin once housed a real estate office on Queen Anne Hill in Seattle, and the Barker Cabin sat a few miles away from this spot. Take time to peer inside and read the signs.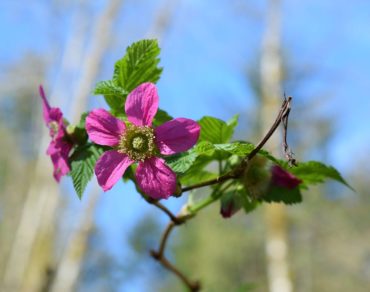 A wide, crushed-gravel pathway curves gently downhill, past a picnic area, about 0.2 mile to the beginning of the boardwalk. Shortly thereafter, reach a junction. The trail runs in a loop, and the interpretive signs tell a more logical story if you take it clockwise.
Make sure to stop and read the first sign on the loop, which depicts the different kinds of wetlands you'll encounter — the younger scrub shrub and the older forested wetlands — then look for the transitions during your walk.
The trail visits a few interesting nooks and crannies. The first is called the "deep sink," a hole that used to be 20 feet deep, but is now filling in with mud and vegetation.
Follow the boardwalk above the squishy wetlands, and at 0.5 mile reach an ancient Sitka spruce that's 175 tall, but leaning rather precariously. A curious, large, carved wooden mushroom sits to the side of the trail.
At 0.7 mile, take the short detour to Brooklake. It's just 500 feet and worth the effort to walk over the swampiest part of the trail and to gaze at the lovely reflections on the lake. Take a seat on a bench and soak up the peacefulness of this place.
Return to the junction, going straight, and then meander 0.2 mile back to where you first began your circuit. Turn left and return up the gravel pathway to the parking area. Make sure to return in a different season to see how the wetlands change.
Read about Gold Creek Pond, Nisqually Vista and Rainy Lake in Part 2.