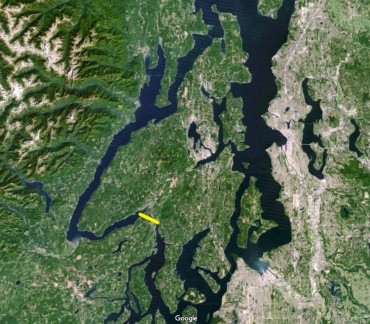 What if we could create a West Puget Sound Island, bigger than Whidbey, bigger than either Bainbridge or Vashon — an island that would become a true Mecca for recreational boaters? And what if we could save the ecosystem of Hood Canal in the bargain?
Forget "Big Bertha" and the ill-fated (so far) tunnel under the Alaskan Way in Seattle. All we need to do is excavate a 3-mile-long navigable channel to turn the "Great Peninsula" into the "Great Puget Sound Island," by joining Hood Canal with the South Sound's Case Inlet.
Yes, there is a 300-foot elevation to be overcome. But once completed at sea level, the waterway would have a constant current heading north, much like Vashon's Colvos Passage does presently.
The result would include significant tidal flushing of Hood Canal and South Sound tidal waters into the Strait of Juan De Fuca, where the waters could mix and be refreshed with seawater from the mighty Pacific Ocean.
By contrast, the Panama Canal is about 50 miles long and reaches a height of about 86 feet above sea level. It uses a series of some eight locks to control the flow of water and to lift and lower the huge tankers and container ships that are its bread and butter. Gatun Lake constitutes a midsection of the Panama Canal, which was designed to incorporate the lake.
The 98.1-acre Devereaux Lake, at elevation 213 feet, sits about halfway between Hood Canal's Lynch Cove and Case Inlet's North Bay. Its maximum depth, according to Washington Department of Fish and Wildlife, is about 55 feet, meaning its bottom is about 160 feet above sea level. A canal connecting it to Hood Canal and Case Inlet would, like the Panama Canal, presumably require sets of locks to keep from draining the lake. Unfortunately, locks would no doubt disrupt the cleansing flow out of Hood Canal's dead zone but any removal of old, deoxygenated water would be helpful, even if only a lock-full at a time. Of course, excavation to eliminate locks would be great, and 300- or 400-foot depth is done by strip miners all the time, but would be more expensive. And where would the removed soil go?
What would it cost? Probably a billion dollars, or about as much as the cost of CenturyLink field and Safeco Field together. Or about 10 percent of the estimated presently ongoing widening of the Panama Canal cost, about 1/3 of the cost of Seattle's Alaskan Way tunnel project, and about a quarter of the $4.56 billion cost of the new SR-520 bridge across Lake Washington.
Who would benefit? All property owners and shrimp, clam, oyster and crab fishermen who use Hood Canal and the South Sound. Plus, recreational boaters could have fabulous three- or four-day Great Island circumnavigation excursions that would attract visitors from all over the world, much as the San Juan Islands do now.
Specifically, every South Sound marina, bed and breakfast, hotel and restaurant would benefit from having more overnight guests, food service consumers, gasoline and diesel sales etc. The Dungeness crab fishery in Hood Canal would return to a healthy state. Salmon runs might eventually use the new waterway to migrate back to their streams of origin.
Presently Hood Canal's sea water and seabed is a dead zone anywhere east of Sister's Point (just across the canal from the town of Union at the great bend in the canal) to Belfair, Mason County. There's very low oxygen at depth, according to a Skokomish Tribal marine biologist and most every other marine scientists.
On the downside, there would be more boat traffic on Case Inlet and the Eastern reach of the canal — and with that, more noise and greater need for sewage pump-out stations and potable water sources for boaters.
So for a billon bucks, the quiet reaches of the South Sound could have many more visitors and a much richer and more diverse seafood population. The cleaner, more oxygenated sea water could also attract orcas, dolphins, king salmon, wealthy visitors and other majestic creatures, and result in a thriving West and South Sound tourist industry reaching South to Olympia.
If the new canal were as wide as the man-made Lake Washington Ship Canal, it could provide an alternate seaway route for commercial traffic headed from the Southern reaches of Puget Sound to Port Townsend, Port Angeles and Victoria and Vancouver, B.C. Doesn't that sound like a worthy dream?