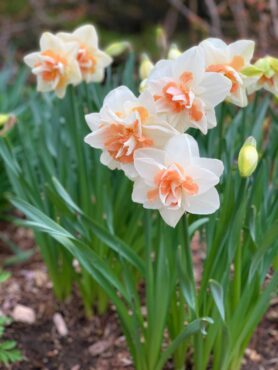 There are so many reasons to love daffodils. These spring-blooming bulbs aren't fussy about where they are planted. They come back to bloom again year after year, and are not bothered by deer, rabbits or other garden pests. But there's also a whole world of beautiful daffodils beyond the classic yellow ones. Daffodils are available in unusual flower styles and unexpected colors that can bring a whole new look to spring gardens.
Get an early start on next year's daffodil season with Barrett Browning, a variety with pure white petals and brilliant red-orange trumpets. It's an excellent choice for naturalizing. Pink Charm also boasts white petals but has a large coral-pink trumpet with ruffled edges. It's considered one of the best pink daffodils and known for its vigor and reliability.
Add eye-catching color with the dependable heirloom Red Devon's brilliant yellow petals and flashy orange cups. For a more subtle approach, choose the pastel hues of British Gamble. Its white petals are a perfect backdrop for the ruffled peachy-pink trumpet on these enormous, 5-inch blossoms.
Change the shape of things with some split trumpet daffodils. Cassata is a strong grower with a ruffled lemon-yellow cup that lies almost flat against broad white petals. Cum Laude boasts big, bright, extra frilly flowers with peachy accents. Lemon Beauty's flowers feature pure white petals, and its split trumpet resembles a bright yellow star.
Double daffodils add elegance to gardens and spring floral arrangements. They also stretch the season by blooming several weeks later than most other types. La Torch's upward-facing, fragrant, double flowers are a mix of yellow petals and bright orange ruffles. Delnashaugh is a late-blooming double with layers of pure white petals interspersed with apricot-pink ruffles. Lingerie's extra-large blooms have thickly ruffled centers of white-and-golden-yellow petals.
Some daffodils produce a bouquet of blossoms on each stem. Pueblo grows just 12 inches tall, and its primrose yellow flowers gradually fade to creamy white. Beautiful Eyes has two to three flowers per stem, with white petals, bright orange cups and a gardenia-like fragrance.
Take it down in size by planting a few miniature daffodils. Tuck them into rock gardens, under shrubs, along paths and in containers, and mix them with other spring-flowering bulbs and perennials. Tete a Tete has perky, bright yellow blossoms and grows just 7 inches tall. Tete Boucle is similar in size, but its double flowers display layers of yellow, gold and green petals.
Jet Fire is another outstanding miniature daffodil. It has bright orange trumpets and golden-yellow, swept-back petals and is a great small-scale naturalizer in the landscape. Minnow is an adorable little gem with pale-yellow petals and bright yellow trumpets. Sundisc's petite flowers have pale-yellow petals and an almost flat, deep-yellow trumpet. Miniature daffodils are a particularly good choice for perennials gardens, where they won't overwhelm neighboring plants.
For more on these and other unique daffodils, read Longfield Gardens Types of Daffodils to Know and Grow. With so many daffodil varieties to choose from, you are sure to find new ways to add spring beauty to your yard and gardens.