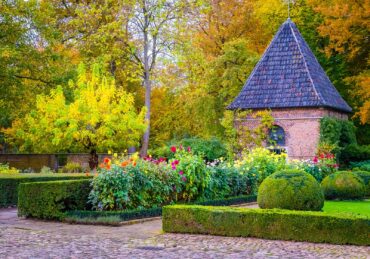 Therapeutic gardens, typically seen at healthcare facilities, are "designed for use as a component of a treatment, rehabilitation or vocational program… to meet the needs of a specific user or population…to accommodate participant's goals and to facilitate people-plant interactions, according to the American Horticultural Therapy Association.1 Also defined as enabling gardens, they are used by horticultural, recreation, occupational and physical therapists working with elders, veterans, at-risk youth and other populations for physical rehabilitation, strengthening of limbs and exercise regimens.
Therapeutic gardens provide a plant-rich site for delivery of services addressing a range of health goals.
Some therapeutic gardens are classified as restorative, where the primary intent is to provide mental repose and restoration, distinct from physical healing. Meditation, contemplation and sensory gardens fall within this category, according to one framework for healing gardens.2 Restorative gardens are used, for example, with people who have experienced trauma, grief, cancer, addictions or mental health challenges who benefit from cognitive, emotional or psychological restoration in passive, nature-focused environments.3
All types of therapeutic gardens seek to provide health improvements, be they physical or mental, and are recognized by distinct characteristics. Garden design elements address specific health goals for those who will be using the garden. Therapeutic gardens used in healthcare settings may be used by multiple populations or may be designed and used primarily by a single population — veterans, people living with dementia or pediatric patients. Universal design and accessibility principles as well as evidence-based research guide therapeutic garden design.4 Many of these same principles can be adapted for use by the home gardener.
Therapeutic-Garden Ideas for Home Gardens
Determine if a specific priority, health focus or function is desired. For example, do you want a sensory garden or a sanctuary garden, or one where you can do physical exercise? Then research the type of therapeutic or healing gardens that can provide information, design specifics and ideas.
Quick tip: Learn how to create your own scented garden.
Consider a professional garden designer experienced in translating garden elements into desired preference or function with enabling or restorative attributes (labyrinth for meditation, long views or winding paths used for contemplation gardens, for example)
Quick tip: This healing landscape network website offers a lot of info and lists of gardens and their designers.
Think about safety and accessibility; these may become crucial throughout life stages (raised beds, vertical gardening, ergonomic tools, wheelchair- or walker-friendly path surfaces).
Quick tip: Read about making your own vertical gardens and about building a simple raised bed.
Create a plant-rich environment, incorporating preferences for edibles and ornamentals, avoiding poisonous or thorny plants while supporting of multifunction activities (gathering spot, shade, easy access, plants used for crafts and year-round color).
Quick tip: Adaptive gardening adopts several ideas to make a garden more accessible as one's life situation changes.
Investigate healthcare facilities and their therapeutic gardens and therapeutic horticulture programs for loved ones who may be hospitalized or living in dementia care, hospice or rehabilitation centers.
Quick tip: Many of the therapeutic gardens listed here can be visited and would be happy to tell how they developed their own therapeutic gardens.
Sources:
American Horticultural Therapy Association (2020), "Definitions and Positions"
Diehl, L. (2013). "A Framework for Categorizing Healing Gardens," AHTA News Magazine 3.
Fleming, L. and Kirby, J. (2018). "Therapeutic Gardens, Enabling Gardens, Restorative Gardens" in Fleming, House & Kirby (Eds.) "Half-day Intensive Grow Your Professional Skills: Gardening, Gardens & Therapeutic Horticulture," Canadian Therapeutic Recreation Association 2018: Dartmouth, NS.
Cooper Marcus, C. and Sachs, N. (2014). "Therapeutic Landscapes: An Evidence-Based Approach to Designing Healing Gardens and Restorative Outdoor Spaces." Hoboken, New Jersey: John Wiley and Sons. Inc.