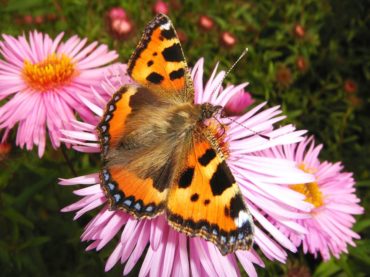 Container planters can help you play a part in attracting pollinators, even if you don't have a yard. In the United States, one-third of all agricultural output depends on pollinators — we need pollinators and pollinators need us.
Help the pollinators do their job by planting pollinator-attracting plants in your containers.
Easy Tips for Container Planters
Containers: Choose a container with drainage holes at the bottom. This helps avoid the root rot, fungi and insects that too much water attracts.
Soil: Fill your containers with a quality commercial potting soil. Never use soil directly from your garden. Your garden soil, when dry, will harden into a solid mass.
Plants: Choose plants that require similar soil, light and watering conditions. Base your selection on where you plan to put your container, how often you plan to water it and if the plant needs special soil.
Watering: Water frequently. Remember that plants in containers need more water than those grown in the ground. In the heat of summer, check your containers once or twice a day. Container plants dry out quickly. It's best to water in the early morning to cut down on disease.
Fertilizer: To keep plants their healthiest through the season, be sure to add supplemental fertilizer every three to four weeks throughout the growing season.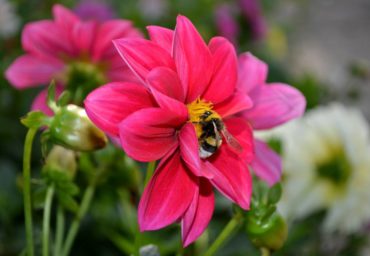 Overwintering: To overwinter your perennials for next year, you will need to protect them from the extremes of the winter weather. After the first few frosts, place your containers in an unheated garage or if not available, keep pots outside covered with protection. Remind yourself to water these container planters about once a month to keep them from drying out throughout the winter.
Pollinator-Friendly Plants for Containers
Below are just a few of the different containers that can be designed for pollinators (see more examples here). These selections were created by breeders and have been tested to ensure a combination of plants that work and grow well together. You can also create your own combinations.
Annuals: Putting together a bright, colorful container of annuals is a sure fire way to attract pollinators. Annuals are easy to grow and often bloom from spring to frost making them the perfect flowers to use in containers.
To create a splash of color and bring elegance to your garden design, fill your planters with different color plants of the same variety, like calibrachoas or petunias. Add containers filled with bright colored calibrachoas like these below and you can attract hummingbirds, butterflies, bees as well as other beneficial insects.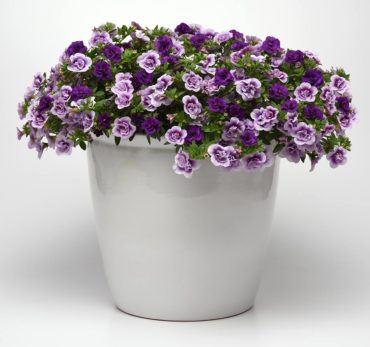 Example: Trixi On The Double — the double blooms are like mini "roses" and you and your pollinators will love the purple tone-on-tone color array.
Planter includes:
Calibrachoa hybrida MiniFamous Uno Double Dark Blue
Calibrachoa hybrida MiniFamous Uno Double PlumTastic
Mixed varieties: These designs bring together a mixture of different plant varieties that give pollinators a choice. Mixing more than one type of plant in a container planter creates a minilandscape with a variety of colors and textures giving the design more depth.
Example: Bee Fabulous — your hanging baskets and containers will generate some buzz with pollinators with this combination.
Planter includes:
Bidens hybrid Beedance Painted Red
Petunia hybrid Surfinia Deep Red
Lobelia hybrid Trailing White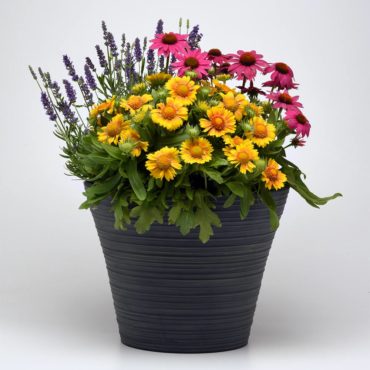 Perennials: Yes, you can enjoy the beauty and pollinator power of perennials in a container on your deck, patio or balcony.
Container planters are the perfect solution when you want to enjoy the perennial's beauty up close or you want to expand the palette of growable perennials in your area, enjoying those perennials that might not enjoy your climate or soil conditions. Added bonus, you can overwinter perennials and enjoy them again next year.
Example: Plug & Play® Sun Sea and Rosé — a pollinator magnet, this perennial combo attracts bees, butterflies and songbirds with its fresh color and fragrance and will be blooming through frost.
Planter includes:
Echinacea purpurea PowWow Wild Berry
Gaillardia x grandiflora Mesa Peach
Lavandula angustifolia Blue Spear