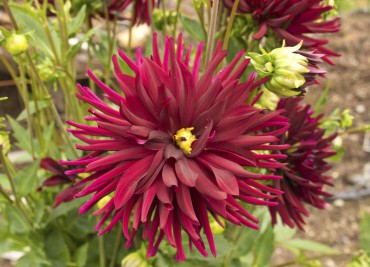 The National Gardening Bureau has declared 2019 as the Year of the — and what better excuse to plant some news ones in your garden? You won't enjoy their gorgeous blooms until closer to fall, but planting season is spring. Which makes now the time to start making plans
According to NGB, the generic source of hybrid dahlias grown today are the native dahlias from the mountains of Mexico and Guatemala. The 16th-century Spanish conquistadors pursued side explorations while conquering the Aztecs, and New World plant discovery was one of the results. It took another 200 years for the dahlia seeds, roots and plant to make their way to Europe, though primarily the interest at the time was in dahlias as a food source.
The parents of today's hybrids were a combination of early varieties and D. juarezii, the sole survivors of a box of dahlia roots sent in 1872 from Mexico to Holland. Luckily for modern gardeners, D. juarezii produced a brilliant-red bloom that had rolled-back, pointed petals — gorgeous!
To this day, Mexico calls dahlias its national flower.
The American Dahlia Society (ADS) categorizes the species into quiet a few groups based on size, form and color. Form alone has18 classifications, while size has nine and color has 15.
If you're new to growing dahlias, read this article that Peg Tillery wrote a few years ago. You'll learn all the basics such as choosing, planting, watering and dividing. The National Garden Bureau also has some great tips here. The American Dahlia Society is also a wealth of information.
Locally, if you want to learn more about dahlias, get in touch with the Kitsap County Dahlia Society. And watch for its annual tuber sale, coming up on April 20 this year. KCDS also hosts an annual show at the fairgrounds in August, where you'll find lots of inspiration and ideas.
If you're feeling up to traveling north, the Puget Sound Dahlia Society also has regular tuber sales. They're typically in March and April at various King County locations. And, of course, make sure to check with your favorite local nursery, as many stock different varieties in spring.
A great thing about dahlias is their versatility —you'll find a variety for every corner of your garden. And they're deer-resistant. Need we say more?